China High-speed Rail Industry Indepth Research and Investment Strategy Report, 2013-2017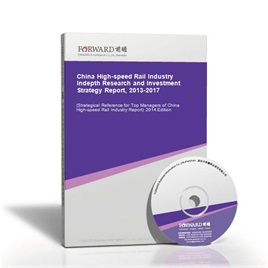 Last Update:2014-05-30
Form of services:Book + (pdf or doc file) + CD
Send method:EMS 2-3 days for delivery
English Service:+86 0755 33220413
Chinese Service:+86 800-8306390 800-8306395
E-mail:service.en@qianzhan.com
Report price:$7900 Print: $7800 CD: $7800
Special statement:
Recently we find there are some sites steal report contents from Qianzhan.com who put those contents on their sites for sale by making a little changes about the contents or remaining the same which deceives buyers(e.g. unable to get full or correct reports, or main body differs from contents that announced on sites).Therefore, we recommend paying a visit to Qianzhan personally or by your friends, and make payment after confirmation. Special statement: Qianzhan is the only and right holder of all the research reports, and has never used a third party to sell any reports, please be aware of the trademark " " when purchasing. Qianzhan is the largest and strongest consultancy, who owns the greatest number of researchers. Here followed "
Nine standards of companies' identificatios
"。
This table of content is original, without written permission of Qianzhan, any unit or individual shall not use, copy, or transfer the reports.
Preface
Table of Content
Railway, as a main part of national economy, a important national infrastructure, and a transport tool for the public, plays an important role in China's economic and social development. Since the reform and opening up, great progress has been made in China railway, which makes a vital contribution to economic construction. However, the atmosphere of "hard to find one ticket and hard to find a train" is a very acute problem. Accelerating to construct high-speed rail is a principal way to deal with the bottleneck.
At the end of 2010, China had the world's second longest railway network, with 91,000 km; and China had the world's longest high-speed rail network with 8,358 km. It's predicted there will be 4,715 km high-speed rail, which will be newly and put into operation. The mileage of high-speed rail route reach above 13,000 km in total. As of the end of 2010, there were 1,200 EMU leaving every day, with above 120% attendance and with 925,000 passengers every day.
With the development of China high-speed rail, and the realization of "Four Verticals and Four Horizontals" high-speed rail passenger transport network and Six Inter-cities Passenger Transport Network, it's predicted the network effects will be formed by 2012 and 2013, which will greatly affects the current transport landscape. The construction and operation of high-speed passenger railway line will be beneficial for fundamentally easing tension conditions of railway transportation, improving the railway's transport capability and service quality, and providing a guarantee of transport ability for the modernization realization; it will be beneficial for improving the comprehensive transport system, providing services with higher quality and richer contents, to meet all levels of customers demand; it will be beneficial for advancing the energy saving and environmental protection, giving full play to the advantages of land saving, energy saving and safety, lowering the social transport cost, and promoting the coordinate development of economy and society; it will be beneficial speeding up the modernization progress of railway, driving the fast development of China' economy construction, improving the self-independent innovation capability, and further speeding up the progress of China railway transportation.
At present, the Integrated Transport System Development Plan of "Twelfth Five-year" (Draft) has been basically competed. The Plan points out during the "Twelfth Five-year" Plan period, China Railway Construction Corporation shall complete "Four Verticals and Four Horizontals" passenger transport lines, including Being to Harbin (Dalian), Beijing to Shanghai, Shanghai to Shenzhen, Beijing to Shenzhen, Qingdao to Taiyuan, Xuzhou to Lanzhou, Shanghai to Chengdu, and Shanghai to Kunming, etc. Meanwhile, construct the auxiliary lines, extension lines and connection lines of passenger transport lines, including Beijing to Hohhot, Zhangjiakou to Chengdu via Xi'an, Chengdu to Guangzhou via Guiyang, Hefei to Fuzhou, Nanjing to Hangzhou, Hefei to Bangbu, Jilin to Huichun, Shenyang to Dandong, and Harbin to Kiamusze, etc. to expand the coverage area of fast train, and fast operational railway lines, with mileage of 45,000 km, which will connect national capital cities and basically cover the cities with more than 500,000 population. With the overall launch of high-speed rail construction, the demand for high-speed rail building projects and equipment will massively increase, which will beneficial for the high-speed industrial chain.
The report mainly analyzes the development environment of China high-speed rail industry; the development status of international high-speed rail industry; the development status and economic effects of China high-speed rail industry; the construction situation of China high-speed railway; high-speed rail influence on Surrounding cities and urban clusters; the market situation of high-speed rail equipment; the technology level of high-speed rail; the construction operational mode and investment/financing modes of China high-speed rail industry; China high-speed rail influence on transport landscape; the leading construction and equipment corporations' operational conditions in China high-speed rail industry; as well as the development prospects of China high-speed rail industry. Meanwhile, with comprehensive and specific first-hand market data over the past 5 years, Forward helps you to grasp the market and development trends of high-speed rail industry, so as to win advantages from competition!
The most distinctive characteristics of this report is forward-looking and timeliness. Through analyzing forward-looking characteristic of abundant first-hand market data, we deeply and objectively dissect China current high-speed rail industry's overall market capacity, market size and competitive landscape. Furthermore, based on future development tracks and years' practice experience of high-speed rail industry, we conduct prudent analysis and forecast for high-speed rail industry's future development trend. This report helps high-speed rail construction enterprises, high-speed rail manufacturing enterprises, R&D institutions and investment enterprises to precisely grasp current latest developments of the industry. Afterwards, they can make wise operating decisions and define enterprises' development directions.
Here, we would like to express our sincere gratitude to State Information Center, Bureau of Statistics of China, International Information Research Institute, Chinese Academy of International Trade and Economic Cooperation, Tsinghua University Library, Development Research Center of the State Council and Beijing Essence Forward Research Center, for their great support when we conduct this report!
Notice: All the market data, especially corporations' ranking data in the report, only for business reference. Please do not take the data for enterprise publicity. Thank you! Or Forward shall not take any responsibility for any consequences!
Qianzhan Business Information Co., Ltd. Industry Research Center
Research Team of High-speed Rail Industry
China High-speed Rail Industry Report" related reports »