China Potash Industry Production and Marketing Demand and Investment Forecast Report, 2013-2017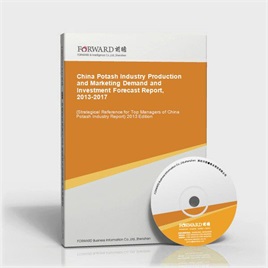 Last Update:2014-05-04
Form of services:Book + (pdf or doc file) + CD
Send method:EMS 2-3 days for delivery
English Service:+86 0755 33220413
Chinese Service:+86 800-8306390 800-8306395
E-mail:service.en@qianzhan.com
Report price:$7900 Print: $7800 CD: $7800
Special statement:
Recently we find there are some sites steal report contents from Qianzhan.com who put those contents on their sites for sale by making a little changes about the contents or remaining the same which deceives buyers(e.g. unable to get full or correct reports, or main body differs from contents that announced on sites).Therefore, we recommend paying a visit to Qianzhan personally or by your friends, and make payment after confirmation. Special statement: Qianzhan is the only and right holder of all the research reports, and has never used a third party to sell any reports, please be aware of the trademark " " when purchasing. Qianzhan is the largest and strongest consultancy, who owns the greatest number of researchers. Here followed "
Nine standards of companies' identificatios
"。
This table of content is original, without written permission of Qianzhan, any unit or individual shall not use, copy, or transfer the reports.
Preface
Table of Content
Global potash resources are distributed in Canada, Former Soviet Union and the Middle East, with 8 billion tons demonstrated reserves, which accounts for more than 90% of total global reserves. China's demonstrated potash reserves just take up 1% of it. Potash industry is a resource-based industry, thus its highly dense distribution results in a world's concentration potash industry. At present, the potash output of four regions listed above takes up 75% of total output. Comparing to international potash production giants, China is lack of potash resources; the potash demand is very huge, and China depends on import potash resources for a long time. China is the second largest potash importer, just after India, and also a potential market with the hugest demand. China imports 46% of potash resources from Russia, who is the largest potash importer to China. Besides, China imports 26% of potash resources from Canada.
At present, the existing domestic potash production center is mainly concentrated in Golmud, Qinghai province and Lop Nor area, Xinjiang province. In 2010, China's accumulative output reached 3,967,569 tons (pure potash), which grew by 12.7% over the previous year. According to calculate the potash production, there were 45,200 tons in North China, with a increase of 41.16% over the previous year; there were 324,600 tons in South China, with a growth of 25.93% over the previous year; there were 3,552,000 tons in north-west of China, with a increase of 13.45% over the previous year; there were 100 tons in East China, with a decrease of 99.78% over the previous year; there were 1,256 tons in south-west of China, with a increase of 6.69% over the previous year; there were 3,320 tons in North China, with a decrease of 20.74% over the previous year.
In recent years, "Three Rural Issues" is rising up to one of most important political problems. All efforts have been made in the Central No.1 Documents annually to ensure the stable of agricultural production and promote farmers to get rich since 2004. The Third Plenary Session of the Seventeenth Central Committee aimed at advancing the rural reform and its development, so as to realize the goal of all families in rural areas can be well-off. The session started with stating specific supporting, protecting and assisting policies to farmers. China is a large agricultural nation, as well as a fertilizer consumption nation. It's estimated that China's population would increase to 1.6 billion, whereas the agricultural land is decreasing. It's impossible to increase agricultural area to ensure food production. Instead, China should ensure food production via using fertilizer, so it provide great development opportunities for fertilizer industry.
With the development of people's living standard, higher and higher requirements rise up. People more and more tend to depend on potash resources. Moreover, with the advancement of economy and agricultural production technologies, less and less time are spent in producing crops, then there will be a increasingly demand for compound fertilizer, formula fertilizer, one-time fertilizer,which will further promote the expansion of potash.
With Forward's long-term tracking and collecting market data of potash industry, we roundly and accurately analyze the industry structure system for you from the view of mastering the whole industry.
This report mainly focuses on China potash industry's production and development status, current market environment of the industry; market environment and corporations' competitiveness of potash industry; market demand characteristics of potash industry; import and export markets of potash industry; competitive landscape and trend of potash industry; development status of potash major market segmentation; leading corporations' operational condition in potash market; and development trend and prospect forecast of potash industry. Meanwhile, with comprehensive and specific first-hand market data in 5 years. Forward helps you to grasp the market and development trends of potash industry, so as to win advantages from competition!
The most distinctive characteristics of this report is forward-looking and timeliness. Through analyzing forward-looking characteristic of abundant first-hand market data, we deeply and objectively dissect the status of market capacity of China potash industry, its market size, its competitive landscape and characteristics of market demand. Furthermore, we conduct prudent analysis and forecast for potash future development trend. This report helps potash manufacturing enterprises, R&D institutions, marketing enterprises and investment enterprises to precisely grasp current latest developments of the industry. Afterwards, they can make wise operating decisions and define enterprises' development directions. What's more, this is the first report on potash up/down stream industrial chain, as well as a weighty report on systematically analyzing key corporations in this industry.
Here, we would like to express our sincere gratitude to China Petroleum and Chemical Industry Association, Branch Association of China Inorganic Potassium Salt Industry Association, State Information Center, Bureau of Statistics of China, China Customs, International Information Research Institute, Chinese Academy of International Trade and Economic Cooperation, Tsinghua University Library, Development Research Center of the State Council and Beijing Essence Forward Research Center, for their great support when we conduct this report!
Notice: All the market data, especially corporations' ranking data in the report, only for business reference. Please do not take the data for enterprise publicity. Thank you! Or Forward shall not take any responsibility for any consequences!
Qianzhan Business Information Co., Ltd. Industry Research Center
Research Team of Potash Industry
China Potash Industry Report" related reports »