China Garden of Ancient Buildings Industry Indepth Market Research and Investment Strategy Analysis Report, 2013-2017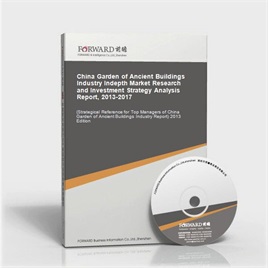 Last Update:2014-05-10
Form of services:Book + (pdf or doc file) + CD
Send method:EMS 2-3 days for delivery
English Service:+86 0755 33220413
Chinese Service:+86 800-8306390 800-8306395
E-mail:service.en@qianzhan.com
Report price:$7900 Print: $7800 CD: $7800
Special statement:
Recently we find there are some sites steal report contents from Qianzhan.com who put those contents on their sites for sale by making a little changes about the contents or remaining the same which deceives buyers(e.g. unable to get full or correct reports, or main body differs from contents that announced on sites).Therefore, we recommend paying a visit to Qianzhan personally or by your friends, and make payment after confirmation. Special statement: Qianzhan is the only and right holder of all the research reports, and has never used a third party to sell any reports, please be aware of the trademark " " when purchasing. Qianzhan is the largest and strongest consultancy, who owns the greatest number of researchers. Here followed "
Nine standards of companies' identificatios
"。
This table of content is original, without written permission of Qianzhan, any unit or individual shall not use, copy, or transfer the reports.
Preface
Table of Content
The long history and rich resources of Chinese culture cultivate an enormous opportunity for China cultural industry. And the attracting investment fields of cultural industry are expending. In current years, local governments and related departments make tremendous efforts to promote the cultural undertakings by the way of government as leader, public finance as supports and grass roots as major. Leading by governments, diversified investments are introduced that public cultural service investment ways trend to be diversified and the diversified investment system is forming. With the two concepts of "cultural industry" and "city greening", the garden of ancient buildings industry is more and more popular by businessmen.
As an industry which has a bigger impact from fixed asset, the garden of ancient buildings industry maintains a growing trend under the macro background of urbanization in current years. The urban garden of ancient buildings operational model, of which the Tang Paradise is the representative, and the screen culture garden of ancient buildings operational model, of which the SongCheng Culture is the representative both gain excess earnings and are widely accepted. In the meantime, the gradually serious environmental problems make the whole society pay attention to ecological environment. The fixed investment of national city greening keeps a high growth from 2001 to 2010, that the investment amount increases from 16.32 million Yuan to 123.59 billion Yuan and with a average growth rate of about 22%. It fully shows that the urban garden greening industry is a sun raising industry. The green coverage area of Chinese urban built up area in 2010 reaches 1.4945 million hectares; the green coverage rate of built up area is 38.22%; the greening rate is 34.17% and the citizen garden greening area per capita is 10.66 square meters.
The garden of ancient buildings not only can efficiently inherit the traditional culture, but also plays a positive role in city greening and environmental protection. Chinese government makes great efforts to promote the cultural industry and environmental protection during the "twelfth five years". Under such great trend, garden of ancient buildings will have a further and significant development.
With Forward's the long-term tracking and collecting market data of garden of ancient buildings industry, we roundly and accurately analyze the structure system for you from the view of mastering the whole industry. This report will base on the macro condition of current garden of ancient buildings industry, production and marketing condition, industry demand trend of auto industry, then detailed analyzes the current market capability, market scale, development speed and competitive landscape of China garden of ancient buildings industry.
Major characteristics of this report are forward-looking and timeliness. Base on the forward-looking analysis of massive research data, we further analyze the development scale and competitive landscape of garden of ancient buildings industry. Along with the industry development route and our practical experience, we analyze and predict the future development prospect of garden of ancient buildings industry. This report contains a high value for enterprises like industry corporations, R&D institutions and investment corporations that they can accurately know the latest industry development trend, obtain market opportunities and determine an insightful operation strategy and development direction.
Here, we'd like to express our sincere gratitude to National Statistics Bureau of China, International Information Institute, National Institute of the Ministry of Commerce, National Tsing Hua University Library, Institute of Market Economy of the State Council Development Research Center, and Beijing Qinghua Forward Market Research Center, etc. Thank you so much!
Notice: all the market data, especially the corporation list data in this report is only for business reference. Please don't take the data for enterprise publicity. Thank you! Or Forward shall not take any responsibility for any consequences!
Qianzhan Business Information Co., Ltd. Industry Research Center
Research Team of Garden of Ancient Buildings Industry
China Garden of Ancient Buildings Industry Report" related reports »