China Central Air-conditioning Industry Production & Marketing Demand and Investment Forecast Report, 2013-2017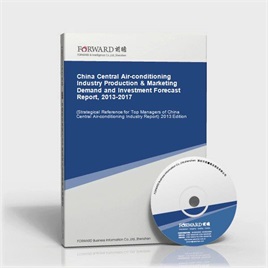 Last Update:2014-04-27
Form of services:Book + (pdf or doc file) + CD
Send method:EMS 2-3 days for delivery
English Service:+86 0755 33220413
Chinese Service:+86 800-8306390 800-8306395
E-mail:service.en@qianzhan.com
Report price:$7900 Print: $7800 CD: $7800
Special statement:
Recently we find there are some sites steal report contents from Qianzhan.com who put those contents on their sites for sale by making a little changes about the contents or remaining the same which deceives buyers(e.g. unable to get full or correct reports, or main body differs from contents that announced on sites).Therefore, we recommend paying a visit to Qianzhan personally or by your friends, and make payment after confirmation. Special statement: Qianzhan is the only and right holder of all the research reports, and has never used a third party to sell any reports, please be aware of the trademark " " when purchasing. Qianzhan is the largest and strongest consultancy, who owns the greatest number of researchers. Here followed "
Nine standards of companies' identificatios
"。
This table of content is original, without written permission of Qianzhan, any unit or individual shall not use, copy, or transfer the reports.
Preface
Table of Content
With the strict quality requirements of industrial process and people's increasing demand for the comfortableness of living and working environment, the demand for central air-conditioning in domestic will steadily increase. At present, besides the industrial field and commercial field, the central air-conditioning has been applied in residential districts, to realize concentrated heating and cooling. In addition, in terms of technology, the central-air conditioning can completely meet the needs of miniaturization and small cooling load. Thereby, the central air-conditioning can expand its application in household consumption field. In 2011, the industry market size reached 45 billion Yuan. In the following year, the industry market was further expanded. Only in the first half of 2011, the market size reached 30 billion Yuan, with a year-on-year increase of more than 40%.
In terms of enterprise competitiveness, the enterprises with more than 10% of market occupancy include Daikin, Midea and Gree, which has formed the first-tier team of central air-conditioning in China. Specially, the semi-annual sales volume of Daikin exceeds 4 billion Yuan, which continues to lead the development of China central air-conditioning industry. Midea has become a leader in domestic semi-market. The four big US-invested water-cooled chillers enterprises, York, Carrier, Trane, and McQuay continue to keep in the second-tier team, and they have prominent advantages in water-cooled chiller market; moreover, they can't be caught up with in a short time. The Hisense-Hitachi, as a professional frequency conversion multi-unit enterprise, which is in the second-tier team as well, maintains a fast growth rate with the help of professional development strategy.
In addition, in terms of the product pattern analysis of the first half of market, generally speaking, the situation of all major products occupancy is relatively stable with gently changes in the first half of 2011, comparing with that of the year of 2011.However, it also shows some noteworthy changes: the whole occupancy of both multi-unit and water source heat pump declined slightly, while the while occupancy of unit plant increased significantly. The phenomenon shows the multi-unit products in China central air-conditioning industry has reached a peak of the market to some degree. After experiencing the rapid growth, the increase of water source heat pump products gradually calms down. However, promoted by some home appliance enterprises, such as Gree and Midea, the demand for unit plant increases and the growth is particularly rapidly.
With the growing competition in central air-conditioning industry, acquisition and capital operation among large enterprises become more and more frequent. The domestic excellent central air-conditioning manufacturing enterprises pay more attention to the industry market research, especially to the indepth researches on the industry development environment and product buyers. Because of this, a large number of excellent central air-conditioning brands rise up rapidly, and gradually become leading corporations in central air-conditioning industry!
The report mainly analyzes the production and development of China central air-conditioning industry; the current market environment and enterprise competitiveness of central air-conditioning industry; the market demand characteristics of central air-conditioning industry; the competitive landscape and competitive trend of central air-conditioning industry; the development situation of air-conditioning major products market segmentation; the leading corporations' operational conditions in central air-conditioning industry; the development trend and prospects forecast of central air-conditioning industry. Meanwhile, with comprehensive and specific first-hand market data over the past 5 years, Forward helps you to grasp the market and development trends of central air-conditioning industry, so as to win advantages from competition!
The most distinctive characteristics of this report is forward-looking and timeliness. Through analyzing forward-looking characteristic of abundant first-hand market data, we deeply and objectively dissect China current central air-conditioning industry's overall market capacity, market size, competitive landscape and characteristics of market demand. Furthermore, based on future development tracks and years' practice experience of central air-conditioning industry, we conduct prudent analysis and forecast for central air-conditioning industry's future development trend. This report helps central air-conditioning manufacturing enterprises, R&D institutions, marketing enterprises and investment enterprises to precisely grasp current latest developments of the industry. Afterwards, they can make wise operating decisions and define enterprises' development directions. Moreover, this report is the first and weighty report on analyzing the upstream and downstream industrial chain of central air-conditioning industry and analyzing its leading corporations in an all-round and systematical way.
Here, we would like to express our sincere gratitude to China Refrigeration and Air-conditioning Industry Association, Ministry of State Information Center, Bureau of Statistics of China, China Customs, International Information Research Institute, Chinese Academy of International Trade and Economic Cooperation, Tsinghua University Library, Development Research Center of the State Council and Beijing Essence Forward Research Center, for their great support when we conduct this report!
Notice: All the market data, especially corporations' ranking data in the report, only for business reference. Please do not take the data for enterprise publicity. Thank you! Or Forward shall not take any responsibility for any consequences!
Qianzhan Business Information Co., Ltd. Industry Research Center
Research Team of Central Air-conditioning Industry
China Central Air-conditioning Industry Report" related reports »