China Aero-engine Industry Indepth Research and Investment Strategy Planning Report, 2013-2017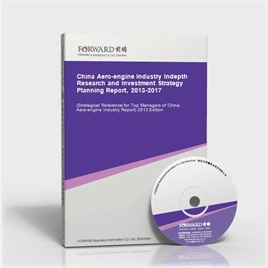 Last Update:2014-05-19
Form of services:Book + (pdf or doc file) + CD
Send method:EMS 2-3 days for delivery
English Service:+86 0755 33220413
Chinese Service:+86 800-8306390 800-8306395
E-mail:service.en@qianzhan.com
Report price:$7900 Print: $7800 CD: $7800
Special statement:
Recently we find there are some sites steal report contents from Qianzhan.com who put those contents on their sites for sale by making a little changes about the contents or remaining the same which deceives buyers(e.g. unable to get full or correct reports, or main body differs from contents that announced on sites).Therefore, we recommend paying a visit to Qianzhan personally or by your friends, and make payment after confirmation. Special statement: Qianzhan is the only and right holder of all the research reports, and has never used a third party to sell any reports, please be aware of the trademark " " when purchasing. Qianzhan is the largest and strongest consultancy, who owns the greatest number of researchers. Here followed "
Nine standards of companies' identificatios
"。
This table of content is original, without written permission of Qianzhan, any unit or individual shall not use, copy, or transfer the reports.
Preface
Table of Content
Development Overview
Aero-engine is the heart of aircraft, known as "flower of the industry". It directly affects the performance, reliability and economy efficiency of an aircraft, and it's an important mark of national science and technology, industry and national defense strengths. At present, there are few countries, such as US, UK, France, Russia and China, which are able to independently research and develop high-performance aero-engines, so the industry has high technical barrier to entry.
As a capital and technology-intensive industry, aero-engine has extremely high value-added. According to statistical data from Ministry of International Trade and Industry, if calculated the value by the single product weight, the ship is 1; the automobile is 9, the TV is 50, the electronic computer is 300, the large aircraft is 800 and the aero-engine is 1400. In addition, the growth of aero-engine industry will drive the development of high-end compounding materials, electronic components, and mechanical processing industry.
Competitive Landscape
Aero-engine industry has unusually high barriers to entry. The research and production of aero-engines have extremely higher requirements for equipment and techniques. As matter of fact, these production machines are high-tech products as well, which needs investing in a huge sum of money, so the capital barrier is extraordinarily high. Because the research and production cycle of aero-engine is long, the capital investment is huge, and there are numerous technical and economic risks behind the research and production procedures, there are only several aero-engine companies, which are able to independently research and produce aero-engines in the world. Therefore, the industry concentration is really high.
At present, the global aero-engine manufacturing enterprises mainly concentrate in the developed countries in EU and USA. The GE and Pratt & Whitney in US, the SNECMA in France and the R-R in UK are four world's aero-engine giants. According to relevant data, these four aero-engine manufacturing enterprises occupy 84% of the world's market shares. Among which GE takes an absolutely dominant position, occupying 40% of market shares. The second largest enterprise is R-R, with 22% of market shares. And the SNECMA and Pratt & Whitney account for 22% and 13% of market shares respectively.
Gap Between China and Foreign Countries
In recent years, China aviation industry develops very fast. There are all kinds of fighters being researched and produced in China, such as the successful trial flight of J-20 stealth fighter. On contrary, the backward of China aero-engine manufacturing industry will severely disturb the development of new fighters. China depends on foreign aero-engines for the long-term, which will bring a huge threat to China national strategy safety. Aero-engine is one of toughest difficulties that need to be urgently solved in China. Compared to developed countries in EU and America, there is a gap between China and them in the planning and investment of aero-engine's advanced research. For the long-term, the developed countries in EU and America attach highly importance to the research and development of aero-engine. They invest a huge sum of money and conduct advanced aero-engine technology research and testing plans consecutively to lay the solid foundation for occupying the leading position in the world's aero-engine field.
Prospects Forecast
During the "twelfth five-year" period, domestic aero-engine is anticipated to list in major national science and technology project, which provides the necessary support to the development of aero-engine industry as a long-term strategic industry. It reveals relevant State Council departments have approved aero-engine industry listing into the major national science and technology project. Nowadays, the Ministry of Science and Technology and the Ministry of Industry and Information have steadily promote the industry and adopt the way of major national science and technology projects, which is beneficial for resources integration, stimulating the enthusiasm from enterprises and all social parties, as well as promoting and accelerating the development of domestic aero-engine industry.
The "Twelfth Five-year" Plan for National Defense Technology is expected to develop the aero-engine as one of key breakthrough technologies. And it will invest a large sum of money to promote its development, and improve the pedigree of China aero-engines. Zhang Hong'an, a NPR representative, suggests, on basis of current plans, the State increases 1.5 billion Yuan annually for the consecutive 20 years, with the total investment of 30 billion Yuan to make a emonstration flight by a series of type pedigree, forming a kind of shelf commodity. Meanwhile, the State invests more 60 billion Yuan in raw materials, components, manufacturing equipment and trial equipment of aero-engines. The total investment will be 100 billion Yuan and each year, the investment was 5 billion Yuan annually in the future 20 years.
Report Overview
With the growing competition in aero-engine industry, acquisition and capital operation among large enterprises become more and more frequent. The domestic excellent aero-engine enterprises pay more attention to the industry market research, especially to the indepth researches on the industry development environment and product buyers. Because of this, a large number of excellent aero-engine enterprises rise up rapidly, and gradually become leading corporations in aero-engine industry! With Forward's long-term tracking and collecting market data of aero-engine industry, we roundly and accurately analyze the industry structure system for you from the view of mastering the whole industry. This report mainly focuses on analyzing China aero-engine industry's market size, development speed and competitive situation, depending on macro-prosperity of current aero-engine industry and relying on its production and marketing conditions as well as the demand trend.
The report pay more attention to analyze the development environment of China aero-engine industry; the industrial chain of aero-engine industry; the development situation of global aero-engine industry; the import and export situation of China aero-engine industry; the technological level situation of aero-engine industry; the competitive landscape of aero-engine market; the corporations' operational conditions in aero-engine industry; as well as the risk analysis and prospects forecast of aero-engine industry. Meanwhile, with comprehensive and specific first-hand market data over the past 5 years, Forward helps you to grasp the market and development trends of wind power equipment industry, so as to win advantages from competition!
The most distinctive characteristics of this report is forward-looking and timeliness. Through analyzing forward-looking characteristic of abundant first-hand market data, we deeply and objectively dissect China current aero-engine industry's overall market capacity, market size, competitive landscape and characteristics of market demand. Furthermore, based on future development tracks and years' practice experience of aero-engine industry, we conduct prudent analysis and forecast for aero-engine industry's future development trend. This report helps aero-engine manufacturing enterprises, enterprises related to aero-engine, R&D institutions, and investment enterprises to precisely grasp current latest developments of the industry. Afterwards, they can make wise operating decisions and define enterprises' development directions.
Here, we would like to express our sincere gratitude to State Information Center, Bureau of Statistics of China, China Customs, International Information Research Institute, Chinese Academy of International Trade and Economic Cooperation, Tsinghua University Library, Development Research Center of the State Council and Beijing Essence Forward Research Center, for their great support when we conduct this report!
Notice: All the market data, especially corporations' ranking data in the report, only for business reference. Please do not take the data for enterprise publicity. Thank you! Or Forward shall not take any responsibility for any consequences!
Qianzhan Business Information Co., Ltd. Industry Research Center
Research Team of Aero-engine Industry
China Aero-engine Industry Report" related reports »