China Ship Leasing Industry Indepth Research and Investment Strategy Planning Report, 2013-2017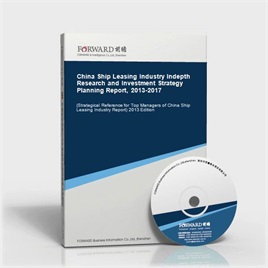 Last Update:2014-04-28
Form of services:Book + (pdf or doc file) + CD
Send method:EMS 2-3 days for delivery
English Service:+86 0755 33220413
Chinese Service:+86 800-8306390 800-8306395
E-mail:service.en@qianzhan.com
Report price:$7900 Print: $7800 CD: $7800
Special statement:
Recently we find there are some sites steal report contents from Qianzhan.com who put those contents on their sites for sale by making a little changes about the contents or remaining the same which deceives buyers(e.g. unable to get full or correct reports, or main body differs from contents that announced on sites).Therefore, we recommend paying a visit to Qianzhan personally or by your friends, and make payment after confirmation. Special statement: Qianzhan is the only and right holder of all the research reports, and has never used a third party to sell any reports, please be aware of the trademark " " when purchasing. Qianzhan is the largest and strongest consultancy, who owns the greatest number of researchers. Here followed "
Nine standards of companies' identificatios
"。
This table of content is original, without written permission of Qianzhan, any unit or individual shall not use, copy, or transfer the reports.
Preface
Table of Content
Ship leasing industry has bright prospects for development: ship leasing industry is a rising industry in modern services industry, with advantages of huge power of driving economy, great capability of tax creation, improvement of industrial structure and promoting the development of related industries. Shipping industry and shipping transport industry make huge contributions to the development and improvement of the industry, but they need great financial support. Thus the shipping industry, shipping transport industry has closely relationship with each other. In the global shipping trade financing market, leasing accounts for a considerable proportion. Every year, the financial transaction volume related to shipping is as high as hundreds of billion US dollars, among which the shipping loans reach 300 billion US dollars, and the shipping leasing size reaches generally 70 billion US dollars. Its annual financing size is just lower than bank loans, amount to 1/4 of the bank loan size, which is much higher than the financing in capital market.
In the past, many China's shipping enterprises buy ships via loans or their own capital. However, this traditional financing way, on one hand, will lead to a tight cash flow due to occupy a large sum of money; on the other hand, bank loan will note this down to enterprise debt sheet, which both restrict the fast development of shipping enterprises. In order to deal with liquidity risk caused by financial risks, many shipping enterprises with acute insight continuously seek for new financing methods, and ship leasing emerges under these circumstances and becomes more and more popular.
Leasing is an effective way to adjust to shipping enterprises: throughout the entire shipping industry, it's not hard to find the industry is always lingering on a funny, conflict and vicious cycle. When the industry prosperity rises up, the transport cost begins to go up, then every shipping enterprise is about to crazily place orders to buy ships, which leads to over capacity for transport. Therefore, the industry prosperity begins to fall down, and the whole industry sinks in a loss situation. While when the industry prosperity goes up again, all enterprises want to expand their incomes and profits, then they begin to order ships again. It goes in a full circle.
Shipping enterprises should have forward-looking vision, tracking the market trend and precisely grasping the development tracks of shipping industry, then to adjust the development strategies in time and control the transport capacity size. Maintaining a stable and appropriate transport capacity can avoid losing heavily when the industry is in a downturn. When the industry in a rising period, enterprises can solve transport capacity via renting ships. Moreover, according to normal operational conditions, shipping enterprises can act as a leaser, making full use of resources and improving enterprise profits. Therefore, ship leasing is an effective way to deal with transport capacity problems for shipping enterprises.
The report mainly analyzes the development environment of China ship leasing industry; the development situation of international ship leasing industry; the development situation of China ship leasing industry; the financial decisions of shipping enterprises; the risks and avoidance of ship leasing industry; the major leading corporations' operational conditions in ship leasing industry; as well as the investment prospects and forecast of ship leasing industry. Meanwhile, with comprehensive and specific first-hand market data over the past 5 years Forward helps you to grasp the market and development trends of ship leasing industry, so as to win advantages from competition!
The most distinctive characteristics of this report is forward-looking and timeliness. Through analyzing forward-looking characteristic of abundant first-hand market data, we deeply and objectively dissect China current ship leasing industry's overall market size and competitive landscape. Furthermore, based on future development tracks and years' practice experience of ship leasing industry, we conduct prudent analysis and forecast for ship leasing industry's future development trend. This report helps ship leasing enterprises and investment enterprises to precisely grasp current latest developments of the industry. Afterwards, they can make wise operating decisions and define enterprises' development directions.
Here, we would like to express our sincere gratitude to State Information Center, Bureau of Statistics of China, International Information Research Institute, Chinese Academy of International Trade and Economic Cooperation, Tsinghua University Library, Development Research Center of the State Council and Beijing Essence Forward Research Center, for their great support when we conduct this report!
Notice: All the market data, especially corporations' ranking data in the report, only for business reference. Please do not take the data for enterprise publicity. Thank you! Or Forward shall not take any responsibility for any consequences!
Qianzhan Business Information Co., Ltd. Industry Research Center
Research Team of Ship Leasing Industry
China Ship Leasing Industry Report" related reports »