China Reconstruction of "Village in City" Indepth Research and Investment Strategy Planning Report, 2013-2017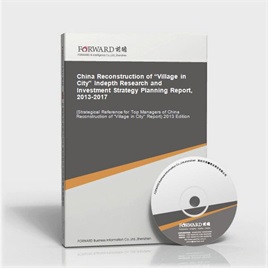 Last Update:2014-05-26
Form of services:Book + (pdf or doc file) + CD
Send method:EMS 2-3 days for delivery
English Service:+86 0755 33220413
Chinese Service:+86 800-8306390 800-8306395
E-mail:service.en@qianzhan.com
Report price:$7900 Print: $7800 CD: $7800
Special statement:
Recently we find there are some sites steal report contents from Qianzhan.com who put those contents on their sites for sale by making a little changes about the contents or remaining the same which deceives buyers(e.g. unable to get full or correct reports, or main body differs from contents that announced on sites).Therefore, we recommend paying a visit to Qianzhan personally or by your friends, and make payment after confirmation. Special statement: Qianzhan is the only and right holder of all the research reports, and has never used a third party to sell any reports, please be aware of the trademark " " when purchasing. Qianzhan is the largest and strongest consultancy, who owns the greatest number of researchers. Here followed "
Nine standards of companies' identificatios
"。
This table of content is original, without written permission of Qianzhan, any unit or individual shall not use, copy, or transfer the reports.
Preface
Table of Content
With the rapid development of China's Society, economy, as well as urbanization, new cities and towns have been sprung up and cities become larger and larger. For the cities' expansion, many original villages are surrounded by cities, so as to form a kind of community with the characteristic of "half city and half countryside", which is called "village in city". For reasons of solving problems of city function degeneration, enhancing the value of city land and improving the environment, China's government positively promotes the reconstruction of "village in city". Moreover, vast majority villagers are willing to reconstruct their homes because of the environmental deterioration, unharmonious landscape with the city, and a profitable prospect of "village in city" reconstruction.
Almost every city, start with Guangdong Province, from north to south, from coastal eastern to border western, from first-tier cities to small towns, has begun to reconstruct "village in city" or entered "the restless period " to reconstruct since 1990s. On one hand, new "villages in city" have been mushroomed by reconstruction. On the other hand, old "villages in city" have been perished by reconstruction.
There are about 1000 "villages in city" in Shenzhen, among which there are about 200 inside the special economic zone. The Strategies for "Village in city" Reconstruction are different by the boundaries of special economic zone (Shenzhen city was divided into two parts: inside special economic zone and outside special economic zone). The Measure of "Reconstruction in a vast area, and implementation step by step" is taken inside the special zone, which encourages to conduct an overall planning to the "villages in city", within adjacent areas, as well as similar and close relevant functions. Moreover, the "villages in city" inside special zone should be reconstructed in the direction of "Center to Axis-oriented /Gradient-oriented". Previous researches and coordinated works should be carried out with great efforts, for the sake of creating favorable reconstructing environment and activating the reconstruction market.
There are 138 "villages in city" in Guangzhou, with an area of 87,500 sqm, which accounts for 22.67% of the total urban planning and constructing land. These "villages in city" locate in 6 districts of Guangzhou, namely, Baiyun District (52 "villages in city"), Tianhe District (24 "villages in city"), Zhuhai District (20 "villages in city"), Liwan District (21 "villages in city"), Huangpu District (15 "villages in city"), and Yuexiu District (6 "villages in city"). The 138 "villages in city" reconstruction project requires the investment of 200 billion Yuan. As we can see in this case, numerous "villages in city" needs huge capital support, which has become an obstacle to affect China's urban management and urban comprehensive development. That's why we need enterprises to participate the reconstruction of "villages in city".
What's more, there are over 180 "villages in city" in the 190,000 sqm built-up area of Xi'an and there are 200,000 villagers. It's estimated that the investment of Xi'an "villages in city" reconstruction was accumulated to 70.85 billion from 2007 to 2010. The reconstruction contributed to an increase of 177 billion Yuan of total social and economic output, and realized an increase of 60.18 billion Yuan of GDP, which accounted for the same period of GDP of over 33% increase. In short, it remarkably enhances the development of economy.
At present, the scales of "villages in city" are still huge among national large and medium cities. According to public information, it shows that Beijing government has taken measure to regulate 171 "villages in city" from 2006 to May 2010. And based on estimation, there are still over 100 "villages in city" in Beijing city. Another example, There are 138 "villages in city" in Wenzhou's built-up area, the government and villagers keep considering reconstructing them, but all failed to be reconstructed completely and totally to integrate into the city. "Village in city" Phenomenon prevails in China's many cities, such as, Shanghai, Wuhan, Chengdu, Chongqing, Hefei, Zhengzhou, Baoji, Yinchuan, hohhot, Guiyang, etc.
With Forward's long-term tracking and collecting market data of "village in city", we roundly and accurately analyze the reconstruction market of "village in city". The report mainly focuses on status and prospect of China's "village in city" reconstruction, external environment of "village in city" reconstruction, choices for reconstruction models of "village in city", reconstruction market size and investment opportunities of "village in city", representative cities with good selection strategies for "village in city" reconstruction models, benchmarking real estate enterprises of "village in city" reconstruction, development trend and prospect forecast of "village in city" reconstruction. Meanwhile, with comprehensive and specific first-hand market data. Forward helps you to grasp the market and development trends of distributed energy sources industries, so as to win advantages from competition!
The most distinctive characteristics of this report is forward-looking and timeliness. Through analyzing forward-looking characteristic of abundant first-hand market data, we deeply and objectively dissect the status of China's present reconstruction of "village in city", policy environment and existing problems. Furthermore, we conduct prudent analysis and forecast for "village in city" reconstruction's future development trend. That is, this report helps "village in city" reconstruction investing building enterprises, operating enterprises, planning and design institutes and other related departments to precisely grasp current latest developments of the reconstruction. Afterwards, they can make wise operating decisions and define enterprises' development directions.
Here, we would like to express our sincere gratitude to State Information Center, Bureau of Statistics of China, International Information Research Institute, Chinese Academy of International Trade and Economic Cooperation, Tsinghua University Library, Development Research Center of the State Council and Beijing Essence Forward Research Center, for their great support when we conduct this report!
Notice: All the market data, especially corporations' ranking data in the report, only for business reference. Please do not take the data for enterprise publicity. Thank you! Or Forward shall not take any responsibility for any consequences!
Qianzhan Business Information Co., Ltd. Industry Research Center
Research Team of "Village in City" Reconstruction
China Reconstruction of "Village in City" Report" related reports »