China Third-party Medical Diagnosis Industry Market Forecast and Investment Strategy Planning Report, 2013-2017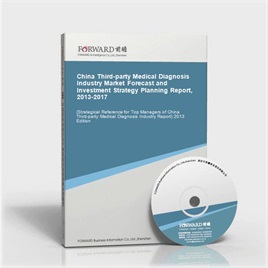 Last Update:2014-05-30
Form of services:Book + (pdf or doc file) + CD
Send method:EMS 2-3 days for delivery
English Service:+86 0755 33220413
Chinese Service:+86 800-8306390 800-8306395
E-mail:service.en@qianzhan.com
Report price:$7900 Print: $7800 CD: $7800
Special statement:
Recently we find there are some sites steal report contents from Qianzhan.com who put those contents on their sites for sale by making a little changes about the contents or remaining the same which deceives buyers(e.g. unable to get full or correct reports, or main body differs from contents that announced on sites).Therefore, we recommend paying a visit to Qianzhan personally or by your friends, and make payment after confirmation. Special statement: Qianzhan is the only and right holder of all the research reports, and has never used a third party to sell any reports, please be aware of the trademark " " when purchasing. Qianzhan is the largest and strongest consultancy, who owns the greatest number of researchers. Here followed "
Nine standards of companies' identificatios
"。
This table of content is original, without written permission of Qianzhan, any unit or individual shall not use, copy, or transfer the reports.
Preface
Table of Content
As a basic need for human being, the medical healthcare consumption has a prominent characteristic of rigid demand, and in general, with the growth of resident' income, it has a priority to be stratified. Moreover, the government attaches the great importance to develop health protection. The government makes increasing effort to give fiscal support to health protection, so the medical service industry develops rapidly, known as one of the "forever sun-rising industries".
In 2007, the total health expenditure is first to break through 1 trillion Yuan, reaching 1.13 trillion Yuan. The year-on-year increase of total health expenditure from 2008 to 2009 is generally above 20%. The national total health expenditure approached to 2 trillion Yuan in 2010, reaching 1.99 trillion Yuan. While China's total health expenditure in 1980 was just 14.32 billion Yuan. During the period of 1980 to 2010, the compound annual growth rate of China's total health expenditure was 17.88%.
China's huge population base, urbanization, population aging and the increasing awareness of life health are the final forces to promote the demand growth of China's medical services, while new healthcare reform will become a new force to release the demand. In recent years, with the continuing and healthy development of national economy, the increasing improvement of people's living standard and the promotion of people's medical and health awareness, the number of patient visit continues to increase. In 2010, the number of patient visit in the national medical institutions (excluding village clinics) reached 5.838 billion patients, with a year-on-year increase of 6.38%.
The third-party medical diagnosis refers to the independent medical institution, provides the medical diagnosis and monitoring services for hospitals, community medical service center, health clinics in towns, health examination centers, disease control centers, etc. The medical examination centers, which are set up by the third-party medical diagnosis enterprises are also known as independent medical laboratories. Traditionally, clinical laboratories and pathology department in medical institutions and so on mainly provide medical diagnosis services. However, when all various medical institutions are not able to (some new technology or needing some special qualifications) or unwilling to provide (non-profit) parts of diagnosis projects, the outsourcing is necessary, which provide development space for the third-party medical diagnosis which is with the scale production economy as its core competitiveness.
In some economic developed areas of North America, Europe or Japan, independent medial laboratory has become a kind of mature operation mode. Taking US as an example, the statistics shows, in 1980s, hospital occupied around 60% of the clinic testing market, the private laboratory occupied around 20% of it. While in the mid-1990s, the independent medical laboratory had occupied 36% of the clinic testing market.
The first domestic independent medical testing laboratory, Yangzhou Medical Testing Center (a public institution), was set up in 1985.There is real social independent laboratory in China until the 21st century. Now, there are various kinds of 100 independent medical testing laboratories in China. Except for those chain operation comprehensive enterprises such as Kingmed Diagnostics, ITCOM, Dian Diagnostics, Gaoxin DaAn Health and so on, a group of professional enterprises with the feature of testing come in to being in recent years, such as, Beijing Adinovo (tumor individualized treatment inspection) and Zhiyuan Laboratory (pathogenic microorganism inspection).
At present, the market size of domestic third-party medical diagnosis is about 800-1,000 million Yuan, only occupying 1% of the medical diagnosis market, which is lagged far away from the developed countries. Analysts consider, China third-party medical diagnosis is still in its early growth stage. Its development level is amount to that of US in 1980s. Therefore, China's market has the great growth potentials.
The report mainly analyzes the definition, the policy environment, economic environment and technology environment of China third-party medical diagnosis industry; the industrial chain of third-party medical diagnosis industry; the development situation of third-party medical diagnosis industry; the key regions analysis of third-party medical diagnosis industry; the leading corporations' operational conditions in third-party medical diagnosis industry; as well as the investment potential analysis of third-party medical diagnosis industry. Meanwhile, with comprehensive and specific first-hand market data over the past 5 years, Forward helps you to grasp the market and development trends of third-party medical diagnosis industry, so as to win advantages from competition!
Here, we would like to express our sincere gratitude to State Information Center, Bureau of Statistics of China, International Information Research Institute, Chinese Academy of International Trade and Economic Cooperation, Tsinghua University Library, Development Research Center of the State Council and Beijing Essence Forward Research Center, for their great support when we conduct this report!
Notice: All the market data, especially corporations' ranking data in the report, only for business reference. Please do not take the data for enterprise publicity. Thank you! Or Forward shall not take any responsibility for any consequences!
Qianzhan Business Information Co., Ltd. Industry Research Center
Research Team of Third-party Medical Diagnosis Industry
China Third-party Medical Diagnosis Industry Report" related reports »