China Cosmetic Industry Market Monitoring and Analyzing Monthly Report, January, 2012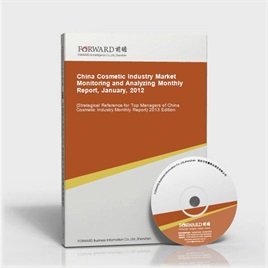 Last Update:2014-05-04
Form of services:Book + (pdf or doc file) + CD
Send method:EMS 2-3 days for delivery
English Service:+86 0755 33220413
Chinese Service:+86 800-8306390 800-8306395
E-mail:service.en@qianzhan.com
Report price:$26000 Print: $25800 CD: $25900
Special statement:
Recently we find there are some sites steal report contents from Qianzhan.com who put those contents on their sites for sale by making a little changes about the contents or remaining the same which deceives buyers(e.g. unable to get full or correct reports, or main body differs from contents that announced on sites).Therefore, we recommend paying a visit to Qianzhan personally or by your friends, and make payment after confirmation. Special statement: Qianzhan is the only and right holder of all the research reports, and has never used a third party to sell any reports, please be aware of the trademark " " when purchasing. Qianzhan is the largest and strongest consultancy, who owns the greatest number of researchers. Here followed "
Nine standards of companies' identificatios
"。
This table of content is original, without written permission of Qianzhan, any unit or individual shall not use, copy, or transfer the reports.
Preface
Table of Content
Currently, Biotherm which belong to L'Oreal China high-end cosmetic department start business in the International Trade Building in Yichang, which is the first shoppe in third-tier city. Market for most high-end cosmetic in first and second tier cities is saturated at present. Thus high-end cosmetic brands, including Biotherm, expand the potential market to third and fourth tier cities. View from the over ten years market development history, we can find that the growth rate of cosmetic sales volume in the first tier cities is far lower than that of the second and third tier cities. However, growth of high-end brand in low tier cities should base on the brand recognition and quality guarantee. Comparatively speaking, high-end brand culture and channels of new product information are easier to be accepted in the first and second tier cities. For that in the third and fourth tier cities, time and efforts should be paid to cultivate the consumer group' high-end brand consumption culture.
Presently, super-market channel for most high-end brands in the third and fourth tier cities is not yet matured but with wide development space.
According to statistics, demand of moisturizing skin-care for consumer group ranks first all the time. However, some brands which core positioning is moisturizing products lost the mainstream status after the market upgrading because of relatively simple function, low added value and over-abundant competitive brands.
With the development of high added value and technology as well as recognition of import moisturizing brands, such as Biotherm, H2O+ and CLINIQUE, the traditional moisturizing cosmetic is stepping into the high-end competitive era. As the market growth in the first and second tier cities is almost saturated, most high-end moisturizing import brands are looking for the new growth in the third and fourth tier cities.
Yet, view from the market performance of China high-end cosmetic in the first tier, there is an advantage for the brands with full-range products containing moisturizing, wrinkles-preventing and essence, etc. than the brands which core positioning is only moisturizing. This reflects the fact that it is necessary for high-end brands to up-grade product line and reshape brand image. The traditional moisturizing high-end brands like CLINIQUE and H2O+ is establishing a more perfect product line by promoting essence and other collagen functional products. It will upgrade the overall brand image and recognition thus to help the consumer groups to get rid of the fixed structure of simple function positioning for a certain brand.
In spite of this, many experts in the industry express their worry to the issue that whether the tax rate reduction will bring great impacts to national brands or not. According to analysis, the import cosmetic consumers are all medium and high end customers. Price of foreign brand will be more inexpensive and attract more consumers if the duty reduces. Therefore national brands will loss the price advantages. More and more foreign cosmetic brands will enter the domestic market in the latter stage and competition for domestic cosmetic market will be fiercer. Consequently, domestic cosmetic brands will face serious challenge.
Qianzhan Business Information Co., Ltd. Industry Research Center
Research Team of Cosmetic Industry
China Cosmetic Industry Monthly Report" related reports »