China Agricultural Products Cold-chain Logistics Market Foresight and Investment Forecast Report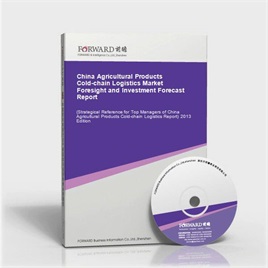 Last Update:2014-05-17
Form of services:Book + (pdf or doc file) + CD
Send method:EMS 2-3 days for delivery
English Service:+86 0755 33220413
Chinese Service:+86 800-8306390 800-8306395
E-mail:service.en@qianzhan.com
Report price:$7900 Print: $7800 CD: $7800
Special statement:
Recently we find there are some sites steal report contents from Qianzhan.com who put those contents on their sites for sale by making a little changes about the contents or remaining the same which deceives buyers(e.g. unable to get full or correct reports, or main body differs from contents that announced on sites).Therefore, we recommend paying a visit to Qianzhan personally or by your friends, and make payment after confirmation. Special statement: Qianzhan is the only and right holder of all the research reports, and has never used a third party to sell any reports, please be aware of the trademark " " when purchasing. Qianzhan is the largest and strongest consultancy, who owns the greatest number of researchers. Here followed "
Nine standards of companies' identificatios
"。
This table of content is original, without written permission of Qianzhan, any unit or individual shall not use, copy, or transfer the reports.
Preface
Table of Content
Presently the proportion of China's vegetable output to global total output is 60% while that of the fruits and meat is 30% and that of the poultry, egg and marine products is 40%. The output of fresh agricultural products grows rapidly that there are about 400 million tons of fresh farm products involving in the circulation in China annually. The ratio of cold chain logistic gradually increases that it is 5%, 15% and 23% for garden stuff, meat and aquatic product while the ratio of refrigerated transport for them is 15%, 30% and 40%. There is a serious post-harvest loss for China's farm products for a long time, that the loss rate of garden stuff, meat and aquatic product is 20-30%, 12% and 15%. The economic loss for garden stuff only is over 100 billion Yuan annually.
The Development Plan on Agricultural Products Cold Chain Logistics (short for Plan) which was issued by Development and Reform Commission in July, 2010. The Plan proposed that by 2015 China's cold chain flow rates of fruit and vegetable, meet, and aquatic product are over 20%, 30% and 36%; while the refrigerated delivery rates of them are about 30%, 50% and 65%, and the product loss rates in the circulation link will decrease to 15%, 8% and 10%. Moreover, the Plan clearly proposes seven primary missions to the development of agricultural products' cold-chain logistics as follows: firstly, popularize the ideology and technology of modern cold-chain logistics; secondly, complete the standard system of cold-chain logistics; thirdly, establish the cold-chain logistics system of main varieties and agricultural products in major regions; fourthly, fasten the cultivation of third-party cold-chain logistics enterprises; fifthly: strengthen the infrastructure construction of cold-chain logistics; sixthly, fasten the upgrading of clod-chain logistics' equipment and technology; seventhly, promote the informationization of cold-chain logistics. The Plan also proposes eight key projects as follows: firstly, construction of refrigeration storage; secondly, construction of cryogenic distribution processing center; thirdly, refrigeration Equipments and vehicles for cold-chain logistics; fourthly, cultivation of cold-chain logistics enterprises; fifthly, cold-chain logistics system with a whole-process monitor and backdating; sixthly, cold-chain logistics for meat and marine products; seventhly, cold-chain logistics for fruits and vegetables; eighthly, the supervision and check system for cold-chain logistics.
In the Executive Meeting of the State Council which is held by Premier Wen Jiabao in June, 2011, logistics healthy development was proposed. The meeting pointed out that a complete set of policies should be made to promote the healthy development of logistics. It also proposed eight "should" which is known as "state eights". Here follow is the content of the "state eight": first, should effectively reduce the tax burden on the logistics enterprises; second, should enhance the land-policy supports for logistics; third, should ensure convenience for logistic vehicles; fourth, should improve the management for logistics corporations; fifth, should encourage corporations to integrate logistic facilities resource; sixth, should promote the logistic technical innovation and application; seventh, should enlarge the logistics investment; eighth, should promote the development of agricultural product logistics. To speed up the development of agriculture-supermarket, agriculture-schools, and agriculture-enterprises. To complete the VAT policy for agricultural products and encourage large-scale corporations engaging in the agricultural products' logistics. To establish the cold-chain logistics system of main varieties and agricultural products in major regions. To enhance government investments and policies supports for agricultural wholesale market and farmers' market. To strictly implement the green channel policy for fresh agricultural products, and the policies for delivery vehicles to enter urban areas 24 hours available and with convenient stops.
The Circular on Checking Up Toll Roads Work (short for Circular) which was issued by Ministry of Transport, the National Development and Reform Commission , Ministry of Finance , Bureau of Supervision , the State Council Office for Rectifying in June, 2011. The Circular proposed the following requirements: to comprehensively check up illegal or unreasonable tolls such as overdue toll, over-high toll in one year; to cancel toll program which toll time is expired; cancel the toll stations which station spacing is not suitable according to related regulations; to correct various irregularities.
Along with favorable policies and the detailing of policies later, the prospects of China's agricultural product logistics market are extremely bright. The demand of cold-chain logistics market for third party is in the fast growing stage.
This report mainly analyzes the following aspects: development environment of agricultural products cold-chain logistics in China; development status of agricultural products cold-chain logistics; the circulation pattern of agricultural products in developed countries; market demand of agricultural products cold-chain logistics; application condition of agricultural products cold-chain logistics technology; leading corporations' operational condition of agricultural products cold-chain logistics; risks and credit suggestions for agricultural products cold-chain logistics. Meanwhile, together with the comprehensive and detailed market data which is accumulated for years, Forward helps you to grasp the market and development trends of agricultural products cold-chain logistics, so as to win advantages from competition!
Major characteristics of this report are forward-looking and timeliness. Base on the forward-looking analysis of massive research data, we further analyze the development scale and competitive landscape of agricultural products cold-chain logistics. Along with the industry development route and our practical experience, we analyze and predict the future development prospect of agricultural products cold-chain logistics. This report is of a high value for agricultural products cold-chain logistics and investment corporations to accurately know the latest industry development trend, and obtain market opportunities and determine an insightful operation strategy and development direction.
Here, we'd like to express our sincere gratitude to National Statistics Bureau of China, International Information Institute, National Institute of the Ministry of Commerce, National Tsing Hua University Library, Institute of Market Economy of the State Council Development Research Center, and Beijing Qinghua Forward Market Research Center, etc. Thank you so much!
Notice: all the market data, especially the corporation list data in this report is only for business reference. Please don't take the data for enterprise publicity. Thank you! Or Forward shall not take any responsibility for any consequences!
Qianzhan Business Information Co., Ltd. Industry Research Center
Research Team of Agricultural Products Cold-Chain Logistics
China Agricultural Products Cold-chain Logistics Report" related reports »