China Tablet Computer Industry Report 2014-2018, In-depth Research and Investment Strategic Planning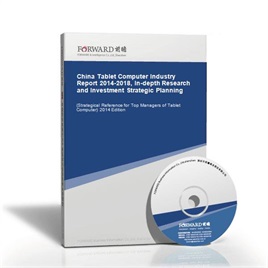 Last Update:2015-09-29
Form of services:Book + (pdf or doc file) + CD
Send method:EMS 2-3 days for delivery
English Service:+86 0755 33220413
Chinese Service:+86 800-8306390 800-8306395
E-mail:service.en@qianzhan.com
Report price:$7900 Print: $7800 CD: $7800
Special statement:
Recently we find there are some sites steal report contents from Qianzhan.com who put those contents on their sites for sale by making a little changes about the contents or remaining the same which deceives buyers(e.g. unable to get full or correct reports, or main body differs from contents that announced on sites).Therefore, we recommend paying a visit to Qianzhan personally or by your friends, and make payment after confirmation. Special statement: Qianzhan is the only and right holder of all the research reports, and has never used a third party to sell any reports, please be aware of the trademark " " when purchasing. Qianzhan is the largest and strongest consultancy, who owns the greatest number of researchers. Here followed "
Nine standards of companies' identificatios
"。
This table of content is original, without written permission of Qianzhan, any unit or individual shall not use, copy, or transfer the reports.
Preface
Table of Content
Statistics show that in 2013, growth rate of keyword search volume of tablet PC reached 1,328%. Tablet PC has brought a revolutionary impact to the traditional PC industry and even the entire 3C industry. Meanwhile, with the popularity of tablet computer, manufacturers of different industries, such as consumer electronics, PC, communications, software and other manufacturers have entered the tablet PC industry. Advisory bodies also show optimistic forecasts throughout the Tablet PC industry. For a time, from the upstream to the terminal, from the operating system to the software application, an industry ecosystem of tablet PC has formed. Each link of tablet industrial ecological chain has gained rapid development.
With the rapid development of tablet PC, position of tablet PC in the PC industry will become more important and its share in the PC industry will also increase. From the international market, in 2015, global tablet PC market will reach $ 49 billion. From the stage of industrial development, tablet PC will proceed from birth to pre-mature stage and the entire industry has kept a development trend. During this period, industrial development direction, market scale, industry structure and consumer demand are not clear. A number of market opportunities will appear and each link of industry chain will have a new brand. Among them, hardware terminals, service contents and peripheral equipment will be more focused and obvious.
Attracted by development prospects of tablet PC, whether multinational or local companies are speeding up the tablet PC market layout. Major PC manufacturers, handset manufacturers, chip manufacturers, appliance manufacturers and other digital manufacturers have started to get involved in this emerging market and have launched their own tablet products. According to incomplete statistics, about more than 30 brands of tablet PCs have appeared on the Chinese market. This makes the market competition become increasingly intense.
During the tablet PC sales in the market, users' demand determines the development direction of products. Therefore, combination of user demand, in terms of hardware, adding fashion elements is the development direction; in terms of software, innovation of application software is breakthrough to break homogeneous competition. While in product applications, commercial products will eventually exceed entertainment products into the mainstream of future development.
With high portability, lightweight applications, extensive use of touch technology, simple operation and other characteristics, tablet PC is more portable than a laptop, more powerful than a cell phone and is the ideal mobile Internet terminal. Compared with traditional Internet, "mobile Internet" has advantages of portable, easy to use and powerful functions. A necessary condition to play these two advantages is network platform and terminal equipment. Combination of tablet PC with 3G network is undoubtedly the development direction of mobile Internet era. Perfect combination of mobile Internet era will allow people to enjoy the wonderful and rich mobile Internet applications.
Tablet Computer" related reports »