China Functional Food Industry Production & Marketing Demand and Investment Forecast Report, 2013-2017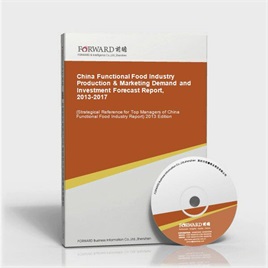 Last Update:2014-05-10
Form of services:Book + (pdf or doc file) + CD
Send method:EMS 2-3 days for delivery
English Service:+86 0755 33220413
Chinese Service:+86 800-8306390 800-8306395
E-mail:service.en@qianzhan.com
Report price:$7900 Print: $7800 CD: $7800
Special statement:
Recently we find there are some sites steal report contents from Qianzhan.com who put those contents on their sites for sale by making a little changes about the contents or remaining the same which deceives buyers(e.g. unable to get full or correct reports, or main body differs from contents that announced on sites).Therefore, we recommend paying a visit to Qianzhan personally or by your friends, and make payment after confirmation. Special statement: Qianzhan is the only and right holder of all the research reports, and has never used a third party to sell any reports, please be aware of the trademark " " when purchasing. Qianzhan is the largest and strongest consultancy, who owns the greatest number of researchers. Here followed "
Nine standards of companies' identificatios
"。
This table of content is original, without written permission of Qianzhan, any unit or individual shall not use, copy, or transfer the reports.
Preface
Table of Content
The concept of functional foods was first proposed by Japan in the 1980s, and a complete classification and definition was given then. View from the proportion of nutrition industry in developed countries and regions such as America, Europe and Japan, that the market share of functional food is biggest which is 37%, and follows that of the dietary supplement which is 35%. The Ministry of Science and Technology has put the series of "functional food system and development" into the Technology Support Program during the "eleventh five years". The central and local governments together with corporations have invested 0.15 billion Yuan into the reaches from three levels—key and common technologies, five industrializations, the "twelfth five years" strategic researches—that includes "research of functional food evaluation technology", "research of high-efficient separation and key manufacturing technology for functional food", "research of steady-state technology of functional factor biological activity", "research and industrialization of functional traditional food", "research and industrialization of anti-oxidant functional food", "research and industrialization of weight-loss functional food" and others. All the researches lay a good foundation for the development of China functional food.
View from the global range that the international competition of functional food risen to a higher level. Early in 2007 the Ireland government helped the functional food producers to improve their international competitiveness. The government provided special training which included successful promotion of current product technology and knowledge, assistance of developing new functional food and drinks and so on for medium and small-sized corporations in functional food industry. Moreover, Ireland government also set up a working party of "New Additives Science" which would in charge of releasing some important statements such as functional food science, trading marks and others.
The "functional drink" has become a gradually popular new drink for Thailand consumers. The major supporting factor is the emphasis on the rising health trend to stimulate the continuously growth of functional drink market. Competition between functional drink manufacturers is fiercer that the manufacturers try to take more market shares by making the product more widely known through the adoption of various marketing communications. According to data, the market value of 2010 Thailand functional drink is about 4 million Thai Baht which doubles comparing with that of last year. The high market value partially because of the marketing activities as well as new entrants.
The functional food research in China starts late. The "Strategic Alliance of Tianjin Functional Food (Healthcare Products) Industry Technology Innovation" was established in Tianjin University of Science & Technology in 2011. And this is the first functional food industry alliance in China. There is every indication that corporations and governments should pay attention to the functional food industry as it relates to the health, nutrition and quality of countries, society and citizens.
China functional food experiences three development stages. During the development progress it goes through the transformation of medicine to food, expansion of special group to the public, and development track of purposiveness to daily life. Since Red Bull starts China functional drink market, the concept of functional food gradually penetrates various foods market and subclass products (such as functional dairy food, functional edible oil, functional baking food and healthcare drinks) have been developed. The entry of abundant food and drink corporation as well as traditional medical corporations makes the functional food become a hot consumption item in the market. However, comparing with foreign market China functional food research is still on the beginning stage. Even though there are large sum of products, but few of them are the real "health care" products which are approved by government. And most of the corporations just follow the trend of speculation. Lacking of industry standards, the supervision is difficult and the market is still feeling its way. It can be forecasted that competition of the future functional food market will be quite fierce.
The functional food industry belongs to the board category of national healthy industry and bases on the healthy economy. It contains various industries which benefit the health of people and society and of incalculable value. The healthy economy covers more than 16 industries and can be classed into 5 industrial clusters such as agriculture, food and drinks in accordance with meeting people's different demand levels. The proportion of American healthcare expenditure to total household expenditure is 5.9% (which is almost a historic peak since 1901) which reaches 2976 USD. This is a good example for reference. According to the target of 8% GDP for healthy industry which made by China Ministry of Health, the growth rate of China healthy industry in current years may exceed 25% and reach 28%. Such a fast growing trend will definitely promote the rapid growth of functional food industry.
Here, we'd like to express our sincere gratitude to National Statistics Bureau of China, International Information Institute, General Administration of Customs, National Institute of the Ministry of Commerce, National Tsing Hua University Library, Institute of Market Economy of the State Council Development Research Center, and Beijing Qinghua Forward Market Research Center, etc. Thank you so much!
Notice: all the market data, especially the corporation list data in this report is only for business reference. Please don't take the data for enterprise publicity. Thank you! Or Forward shall not take any responsibility for any consequences!
Qianzhan Business Information Co., Ltd. Industry Research College
Research Team of Functional Food Industry
China Functional Food Industry Report" related reports »