China Cigarette Package Printing Industry Production & Marketing and Investment Forecast Report, 2013-2017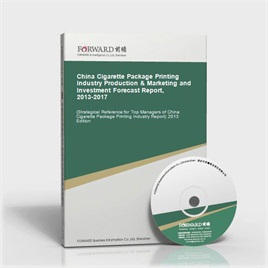 Last Update:2014-05-18
Form of services:Book + (pdf or doc file) + CD
Send method:EMS 2-3 days for delivery
English Service:+86 0755 33220413
Chinese Service:+86 800-8306390 800-8306395
E-mail:service.en@qianzhan.com
Report price:$7900 Print: $7800 CD: $7800
Special statement:
Recently we find there are some sites steal report contents from Qianzhan.com who put those contents on their sites for sale by making a little changes about the contents or remaining the same which deceives buyers(e.g. unable to get full or correct reports, or main body differs from contents that announced on sites).Therefore, we recommend paying a visit to Qianzhan personally or by your friends, and make payment after confirmation. Special statement: Qianzhan is the only and right holder of all the research reports, and has never used a third party to sell any reports, please be aware of the trademark " " when purchasing. Qianzhan is the largest and strongest consultancy, who owns the greatest number of researchers. Here followed "
Nine standards of companies' identificatios
"。
This table of content is original, without written permission of Qianzhan, any unit or individual shall not use, copy, or transfer the reports.
Preface
Table of Content
Due to strong demand of downstream cigarette industry, every profitable indicators of cigarette package printing industry went up in 2010. According to data released by NBS, there are 271 cigarette package printing enterprises above designated size, with a total asset of 42.063 billion Yuan. They achieve the sales revenue of 43.066 billion Yuan, with a year-on-year increase of 25.81%; they gain the total profit volume of 3.694 billion Yuan, with a year-on-year increase of 27.94%. Generally speaking, China cigarette package printing industry develops steadily, with a growing increase of its sales revenue, as well as its profit volume.
The implementation of "The Framework Convention on Tobacco Control" (FTCT) becomes a huge challenge for tobacco industry, which means the development tobacco industry should be limited by framework convention. Meanwhile, it greatly affects the cigarette printing industry, which matches with the tobacco industry. The convention clearly states: as to cigarette package, the warning words and pictures should occupy 50% of its visible package surface, or at least, it should take up over 30%. Therefore, the package for tobacco industry should be changed, which brings a huge demand to tabacco industry. At the same time, it raises much higher requirement for cigarette package printing enterprises' design capability and other capabilities.
In addition, with the implementation of strategies for cultivating large-sized tobacco groups by FCTC and China Cigarette, the standard of requirements for cigarette package printing becomes higher and higher. Apart from meeting the requirements of chromatograph edition precision, cutting specifications, pollution of printing, transport, storage and so on, it should adapt to a high-speed packaging machine. All these put forward higher requirements for cigarette package printing enterprises in the following aspects: financial strength, technical level, quality control, service capability, R&D and renovation capability. So, those small-sized enterprises which reply on one or two cigarette package printing production will not be able to meet the requirements of "high quality and mass manufacturing", and they will gradually be eliminated from the market. Thus, the industrial concentration will be promoted and "the strong will be stronger" competitive landscape will be formed in the future.
The development tendencies for future cigarette package printing industry: firstly, cigarette package printing industry is stepping into an industry rapid integration period and its industrial concentration will obviously improved in the next few years; secondly, the market demand for high-end cigarette package printing will be higher than the industry average growth, and the sales growth of high-end cigarette package printing enterprises with competitive advantages will higher than the market average growth.
Under the comprehensive influence of all factors, it's predicted that China cigarette industry will maintain a stable development, and thereby drive the development of cigarette package printing industry. According to estimation, the sales revenue of China cigarette package printing industry will break through 50 billion Yuan and its growth rate will exceed 20%.
Here, we would like to express our sincere gratitude to State Information Center, Bureau of Statistics of China, China Customs, International Information Research Institute, Chinese Academy of International Trade and Economic Cooperation, Tsinghua University Library, Development Research Center of the State Council and Beijing Essence Forward Research Center, for their great support when we conduct this report!
Notice: All the market data, especially corporations' ranking data in the report, only for business reference. Please do not take the data for enterprise publicity. Thank you! Or Forward shall not take any responsibility for any consequences!
Qianzhan Business Information Co., Ltd. Industry Research Center
Research Team of Cigarette Package Printing Industry
China Cigarette Package Printing Industry Report" related reports »