China Carbon Fiber Industry Indepth Research and Investment Strategy Report, 2013-2017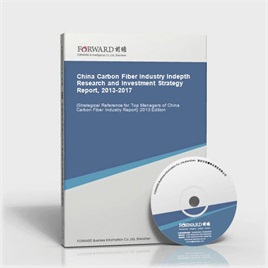 Last Update:2014-05-07
Form of services:Book + (pdf or doc file) + CD
Send method:EMS 2-3 days for delivery
English Service:+86 0755 33220413
Chinese Service:+86 800-8306390 800-8306395
E-mail:service.en@qianzhan.com
Report price:$7900 Print: $7800 CD: $7800
Special statement:
Recently we find there are some sites steal report contents from Qianzhan.com who put those contents on their sites for sale by making a little changes about the contents or remaining the same which deceives buyers(e.g. unable to get full or correct reports, or main body differs from contents that announced on sites).Therefore, we recommend paying a visit to Qianzhan personally or by your friends, and make payment after confirmation. Special statement: Qianzhan is the only and right holder of all the research reports, and has never used a third party to sell any reports, please be aware of the trademark " " when purchasing. Qianzhan is the largest and strongest consultancy, who owns the greatest number of researchers. Here followed "
Nine standards of companies' identificatios
"。
This table of content is original, without written permission of Qianzhan, any unit or individual shall not use, copy, or transfer the reports.
Preface
Table of Content
Carbon fiber refers to the inorganic polymer fiber which contains more than 90% of carbon. It can be made from polyacrylonitrile fiber (PAN), pitch fiber, viscose or phenolic fiber after carbonization. Among which the PAN as raw materials take a market share of over 75%. The carbon fiber compounded material is the typical representative of advanced compounded materials. As an integration component material of structure and/or function, it plays an irreplaceable role in military plan, missile, carrier rocket, satellite spacecraft, and wind turbine blades. At present, the containing amount of compounded material has become one of the important indexes to measure the advance of aircrafts. Moreover, the composite airframe also turns to be a significant index to the advance of aircrafts.
The production of PAN base carbon fiber in the world starts in 1960s, keeps stable during the 70s and 80s, then develops rapidly in the 90s and is matured in the beginning of the 21st century. Originally, carbon fiber is mainly used in war industry and space navigation. After more than 40 years of development, the fields of application are enlarging and developing towards industrial and commercial applications. Now it has developed into two major types, the large tow carbon fiber and small tow carbon fiber. Data shows that the total productivity of global carbon fiber is 78,000 tons in 2009.
According to the latest data from "2010 U.S. Carbon Fiber Meeting", the carbon fiber consumption amount of aerospace industry in 2010 is 6,390 tons and it will increase to 11,550 tons by 2014 with a growth rate of about 80%; that of the consumable and entertainment industry is 7,000 tons in 2010 and will increase to 8,840 tons by 2014 with a growth rate of about 26.3%; that of energy and industry is 25,850 tons in 2010 and will increase to 58,870 tons by 2014 with a growth rate of 128% and compounded growth rate of 22.85%. Among them, the proportion of energy and industrial application will increase from 65.88% to 74.32%.
The production and application of domestic carbon fiber is still in the initial stage. Currently, the domestic carbon fiber market is in strong demand, but almost all the carbon fiber base on imports due to the bottlenecks of productivity and technology. According to statistics, the domestic production of PAN-based carbon fiber in 2008 is less than 500 tons while the import amount is about 6,000 tons. By the end of 2009, the total demand of domestic carbon fiber has been over 8,000 tons while the domestic output is only about 900 tons. The importing rate is as high as 83.9%.
Because of the market shortage, there is a "carbon fiber hot" in current China. Many scientific research institutions and corporations launch the carbon fiber research or industrialization project of thousand-ton-level. Up to now, China has invested 9 billion Yuan in carbon fiber industry (including productivity of some compounded material products). Even though the carbon fiber products still in large demand for current Chinese market, there are some disadvantages such as blind development of low-end products, existing risks, and standstill of product R&D which means new supporting series of products cannot be afforded. After the implementation of thousand-ton-level projects, over capacity of production is inevitable.
Lacking supports of independent intellectual property rights, the domestic corporations still not master the complete core technologies of carbon fiber. Gap of carbon fiber's quality, technology and production capacity between China and foreign countries is big. For the high performance carbon fiber technology, it is monopolized or blockaded by Japan and other western countries. The entry of foreign-owned carbon fiber corporations promotes the coming era of "competition together with cooperation" for China carbon fiber industry. Supporting by government's industrial policies, many key corporations, such as ZHONGFU SHENYING CARBON FIBER COMPANY, SINCOCON, and Jilin SHENZHOU break through the international monopoly and gain a great achievement.
This report mainly analyzes the following aspects: overview and market environment of China carbon fiber industry; condition of carbon fiber raw material market; development condition of carbon fiber industry at home and abroad; downstream demand condition of carbon fiber industry; leading corporations' operational condition of carbon fiber industry; investment analysis and suggestions for carbon fiber industry. Meanwhile, together with the comprehensive and detailed market data which is accumulated for 5 years, Forward helps you to grasp the market and development trends of carbon fiber industry, so as to win advantages from competition!
Here, we'd like to express our sincere gratitude to National Statistics Bureau of China, International Information Institute, National Institute of the Ministry of Commerce, National Tsing Hua University Library, Institute of Market Economy of the State Council Development Research Center, and Beijing Qinghua Forward Market Research Center, etc. Thank you so much!
Notice: all the market data, especially the corporation list data in this report is only for business reference. Please don't take the data for enterprise publicity. Thank you! Or Forward shall not take any responsibility for any consequences!
Qianzhan Business Information Co., Ltd. Industry Research Center
Research Team of Carbon Fiber Industry
China Carbon Fiber Industry Report" related reports »