China Supermarket Chains Industry Indepth Research and Investment Strategy Planning, 2013-2017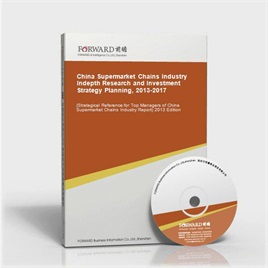 Last Update:2014-05-18
Form of services:Book + (pdf or doc file) + CD
Send method:EMS 2-3 days for delivery
English Service:+86 0755 33220413
Chinese Service:+86 800-8306390 800-8306395
E-mail:service.en@qianzhan.com
Report price:$7900 Print: $7800 CD: $7800
Special statement:
Recently we find there are some sites steal report contents from Qianzhan.com who put those contents on their sites for sale by making a little changes about the contents or remaining the same which deceives buyers(e.g. unable to get full or correct reports, or main body differs from contents that announced on sites).Therefore, we recommend paying a visit to Qianzhan personally or by your friends, and make payment after confirmation. Special statement: Qianzhan is the only and right holder of all the research reports, and has never used a third party to sell any reports, please be aware of the trademark " " when purchasing. Qianzhan is the largest and strongest consultancy, who owns the greatest number of researchers. Here followed "
Nine standards of companies' identificatios
"。
This table of content is original, without written permission of Qianzhan, any unit or individual shall not use, copy, or transfer the reports.
Preface
Table of Content
In the late of 1980s and the early of 1990s, supermarkets sprung up in the first-tier cities, such as Guangzhou and Shanghai, etc. Compared to foreign retail industry, the entire retail industry in China is backward. However, with respect to the business formats of convenience store and shopping mall, supermarket has undergone the three stages of development, so it becomes relatively mature. Nowadays, general merchandise store (GMS) leads the market development, and standard supermarket as well as convenience store have followed suit, which strengthens the market penetration of business formats for fast moving consumer goods (FMCG).
Since 2002, the total outlet quantity, total areas, staff number, total sales revenue and total profits of China supermarket industry have shown a steady uprising trend. In recent years, the net sales rate is 2.35%, with an average rate of 2.6%. In terms of China's top 100 ranking of chain enterprises, the concentration of retail industry is being promoted, and the supermarket industry also shows the same trend. The top 10 of them account for 2.7% and 52.8% of total retail sales of consumer goods and the ratio of retail top 100 in chain supermarket. The ratio of total outlet quantity of top 10 supermarkets and total outlet quantity of top 100 chain supermarkets reached 34.1% in 2009.
In terms of its total quantity, the quantity of outlets, total areas of stores, staff total quantity, total sales revenue, total profits occupy an absolutely leading position, due to the large second-tier city base. From the perspective of average data, the average single outlet sales and average people effect in the second-tier cities exceed that of first and third-tiers cities. There is a tiny difference among average profit volume of single outlet in the first and second-tiers cities, with the profit volume of 0.42 m and 0.45m respectively, which surpassed the 0.24m in the third-tier cities. However, per capital profit volume in the second-tier cities reaches 13.01/per person, higher than the 11.33k/per person and 6.95k/per person.
In terms of future development, the constitution of retail formats is closely related to the GDP level. When the GDP is between 1,000 to 3,000 US dollars, chain supermarket and GMS begin to become popular, and they become the main formats based on their strong expansion characteristic. China's per capital GDP exceeded 1,000 US dollars in 2003, and it surpassed 3,000 US dollars in 2008, which shows that chain supermarket and GMS are in the process of rapid development, while standard market has been in the stage of mature/recession.
From a macroscopic view, China will be able to hold 4,801 supermarkets by the year of 2018, with a area of 48.01 million sqm.
From a microscopic view, the upper limit area of supermarket will be 49.67 million sqm in theory.
Here, we would like to express our sincere gratitude to State Information Center, Bureau of Statistics of China, International Information Research Institute, Chinese Academy of International Trade and Economic Cooperation, Tsinghua University Library, Development Research Center of the State Council and Beijing Essence Forward Research Center, for their great support when we conduct this report!
Notice: All the market data, especially corporations' ranking data in the report, only for business reference. Please do not take the data for enterprise publicity. Thank you! Or Forward shall not take any responsibility for any consequences!
Qianzhan Business Information Co., Ltd. Industry Research Center
Research Team of Chain Supermarket Industry
China Supermarket Chains Industry Report" related reports »