China Food Safety Testing Instrument Industry Prospect and Investment Forecast Report, 2013-2017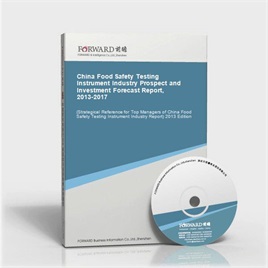 Last Update:2014-05-10
Form of services:Book + (pdf or doc file) + CD
Send method:EMS 2-3 days for delivery
English Service:+86 0755 33220413
Chinese Service:+86 800-8306390 800-8306395
E-mail:service.en@qianzhan.com
Report price:$7900 Print: $7800 CD: $7800
Special statement:
Recently we find there are some sites steal report contents from Qianzhan.com who put those contents on their sites for sale by making a little changes about the contents or remaining the same which deceives buyers(e.g. unable to get full or correct reports, or main body differs from contents that announced on sites).Therefore, we recommend paying a visit to Qianzhan personally or by your friends, and make payment after confirmation. Special statement: Qianzhan is the only and right holder of all the research reports, and has never used a third party to sell any reports, please be aware of the trademark " " when purchasing. Qianzhan is the largest and strongest consultancy, who owns the greatest number of researchers. Here followed "
Nine standards of companies' identificatios
"。
This table of content is original, without written permission of Qianzhan, any unit or individual shall not use, copy, or transfer the reports.
Preface
Table of Content
Current these years, the frequent domestic food safety accidents—from food additives to pesticide residues—reflect serious problems of China food safety. Food safety relates to people's health, economic development and social harmony and stability and was attached great attention by government. TheFood Safety Law of the People's Republic of China which is issued by the Standing Committee of the National People's Congress in 2009 established a scientific management system which is based on monitoring and evaluation and regards the evaluation result of food safety risk as scientific basis for making and amending food safety standards as well as food safety implementation and management. What's more, the State Council Notice on the Issuance of Food Security Major Work Arrangement in 2011 which is issued by State Council in March, 2011 widens the checking range of food safety.
The food safety issue works as a time bomb which may do some damages to the related corporations and the whole industry. Food corporations have a strong willingness to strengthen safety management in order to avoid risks and shape brand image. Dairy giant Sanlu Group goes bankrupt because of the melamine tainted milk scandal; Shuanghui Group faces billions Yuan losses because of clenobuterol hydrochloride scandal. All these issues form the consensus of strengthening safety management for domestic food corporations. In the meantime, government requires that corporations should be responsible to quality testing. The related corporations are also willing to improve the safety testing standards in order to promote corporation and industry image and avoid/reduce impacts bring by food safety issues. At present, industry giants are investing and perfecting the control and test of up-stream raw materials.
China is the major producer, consumer and exporter of agricultural commodities and food which with more than 400,000 food processing corporations at present. As the public pay more and more attention to the food safety issue nowadays, potential market space of food safety testing instrument doom to be huge in the future. Currently, there are more than 400,000 food processing corporations and 23,000 testing organizations like agricultural products inspection and quarantine station, Centers for Disease Control Station, Product Quality Supervision and Inspection Station, Import and Export Commodity Inspection and Quarantine Bureau and all kinds of environmental monitoring stations. According to statistics, acquisition expense of product testing instruction is about 1 million Yuan while the configuration cost is about 15 million Yuan to 30 million Yuan. As the data show above, potential market space for China food safety testing instrument is more than 745 billon Yuan (among which food processing corporations take 400 billion Yuan, testing organizations take 345 billion Yuan and the consumption demand is not included).
Huge market space of food safety testing instrument and industry creates opportunities as well as fierce competition for corporations. It requires corporations pay attention to the market research especially the competitor research. With Forward's the long-term tracking and collecting market data of food safety testing instrument industry, we roundly and accurately analyze the structure system for you from the view of mastering the whole industry. This report will base on the macro condition of current food safety testing instrument industry, production and marketing condition, industry demand trend of auto industry, then detailed analyzes the current market capability, market scale, development speed and competitive landscape of China food safety testing instrument industry. Meanwhile, together with the comprehensive and detailed market data which is accumulated for years, Forward helps you to grasp the market and development trends of food safety testing instrument industry, so as to win advantages from competition!
Major characteristics of this report are forward-looking and timeliness. Base on the forward-looking analysis of massive research data, we further analyze the development scale and competitive landscape of food safety testing instrument industry. Along with the industry development route and our practical experience, we analyze and predict the future development prospect of food safety testing instrument industry. This report contains a high value for both industry manufacturers and investment corporations to accurately know the latest industry development trend, obtain market opportunities and determine an insightful operation strategy and development direction. In the meantime, it is the first heavy weight report to analyze the up/down-stream industry chain and industry leading corporations of food safety testing instrument industry in an overall and systemic way.
Here, we'd like to express our sincere gratitude to National Bureau of Statistics of China, International Information Institute, National Institute of the Ministry of Commerce, National Tsing Hua University Library, Institute of Market Economy of the State Council Development Research Center, and Beijing Qinghua Forward Market Research Center, etc. Thank you so much!
Notice: all the market data, especially the corporation list data in this report is only for business reference. Please don't take the data for enterprise publicity. Thank you! Or Forward shall not take any responsibility for any consequences!
Qianzhan Business Information Co., Ltd. Industry Research Center
Research Team of Food Safety Testing Instrument Industry
China Food Safety Testing Instrument Industry Report" related reports »