China Book, Newspaper and Periodical Printing Industry Market Forecast and Investment Forecast Report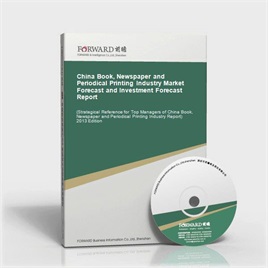 Last Update:2014-05-08
Form of services:Book + (pdf or doc file) + CD
Send method:EMS 2-3 days for delivery
English Service:+86 0755 33220413
Chinese Service:+86 800-8306390 800-8306395
E-mail:service.en@qianzhan.com
Report price:$7900 Print: $7800 CD: $7800
Special statement:
Recently we find there are some sites steal report contents from Qianzhan.com who put those contents on their sites for sale by making a little changes about the contents or remaining the same which deceives buyers(e.g. unable to get full or correct reports, or main body differs from contents that announced on sites).Therefore, we recommend paying a visit to Qianzhan personally or by your friends, and make payment after confirmation. Special statement: Qianzhan is the only and right holder of all the research reports, and has never used a third party to sell any reports, please be aware of the trademark " " when purchasing. Qianzhan is the largest and strongest consultancy, who owns the greatest number of researchers. Here followed "
Nine standards of companies' identificatios
"。
This table of content is original, without written permission of Qianzhan, any unit or individual shall not use, copy, or transfer the reports.
Preface
Table of Content
According to data from National Bureau of Statistics, after the sales size of China book, newspaper and periodical printing industry experiences a small drop in 2009, it rebounds to the two-digital growth in 2010, with the sales revenue of 67.293 billion Yuan. Meanwhile, the industry profit reached 3.177 billion Yuan, with a year-on-year increase of 43.71%.
In recent years, the operational benefit of China book, newspaper, and periodical printing industry keeps steadily, with the net margin rate of 15%-16%, and with the sales profit rate of 12%-14%. However, compared with other industries, the industry investment return is not so much realistic, for the rate industry total asset return is lower than 6% and the rate of asset profit is lower than 8%; fortunately, these two figures show a uprising trend.
According to The "Twelfth Five-year" Development Plan for Press and Publication Industry, the total variety of Chinese publication products will increase to 419,000, and total amount of printing books will increase to 792,000. The total amount of printing newspaper will increase to 5.523 million. And the total amount of printing periodicals will increase to 422,000. The average number of books for per person will increase to 5.8 books/person. The average number of newspaper will increase to 100.6 piece/thousand persons. The national residents' comprehensive reading rate increase to 80%. This shows the book, newspaper and periodical printing industry will grow steadily, and the industry sales size is anticipated to broaden.
At present, with the increasing improvement requirements for energy saving, consumption reducing, emission reducing, green, and safety of printing industry all over the world, green printing has become a mainstream of the global printing industry in the future, and the development of green printing has also become a major direction of the "twelfth five-year" plan for the development of China printing industry. The "Twelfth Five-year" Development Plan for Printing Industry proposes: from primary and secondary school textbooks, government procurement products to package of food and medicines, the State vigorously focuses on promoting the development of green printing. At the end of "twelfth five-year" period, a green and environmental protection printing system will be basically formed, and a number of green printing enterprises strive for taking up 30% of China's total printing enterprises. Meanwhile, the Plan proposes: aiming at digital printing, digital workflow, CTP and digital management system, the State promotes the digital technology in the whole industry. At the end of "twelfth five year" period, the industrial output value of digital printing industry will take up more than 20% of the total printing output. Therefore, it can be seen that China book, newspaper and periodical printing industry will steadily develop in a direction of "digital and green" in the future.
Qianzhan Business Information Co., Ltd. Industry Research Center
Research Team of Book, Newspaper and Periodical Printing Industry
China Book, Newspaper and Periodical Printing Industry Report" related reports »