China Travel Agency Industry Indepth Research and Investment Strategy Planning Report, 2013-2017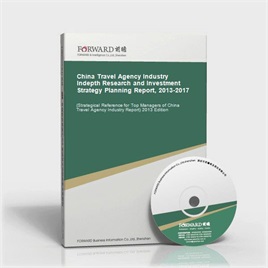 Last Update:2014-05-11
Form of services:Book + (pdf or doc file) + CD
Send method:EMS 2-3 days for delivery
English Service:+86 0755 33220413
Chinese Service:+86 800-8306390 800-8306395
E-mail:service.en@qianzhan.com
Report price:$7900 Print: $7800 CD: $7800
Special statement:
Recently we find there are some sites steal report contents from Qianzhan.com who put those contents on their sites for sale by making a little changes about the contents or remaining the same which deceives buyers(e.g. unable to get full or correct reports, or main body differs from contents that announced on sites).Therefore, we recommend paying a visit to Qianzhan personally or by your friends, and make payment after confirmation. Special statement: Qianzhan is the only and right holder of all the research reports, and has never used a third party to sell any reports, please be aware of the trademark " " when purchasing. Qianzhan is the largest and strongest consultancy, who owns the greatest number of researchers. Here followed "
Nine standards of companies' identificatios
"。
This table of content is original, without written permission of Qianzhan, any unit or individual shall not use, copy, or transfer the reports.
Preface
Table of Content
Since the reform and opening-up, China travel agency industry has experienced the following stages and got a long-term development: initial stage from 1978 to 1989, fast development stage from 1990 to 1994, structure adjustment stage from 1995 to 2001 and all-round opening-up stage from 2002 to now. According to statistics from National Tourism Administration there are 22,784 travel agencies with a year-on-year growth rate of 11.69%; total capital is 66.614 billion Yuan which grows 13.68% comparing with that of last year; the whole industry revenue is 264.901 billion Yuan with a year-on-year growth rate of 46.64%; actual tax payment is 1.277 billion Yuan with a year-on-year growth rate of 0.63%.
However, the industrial gross profit rate is decreasing along with the expanding travel agency industry and increasing revenue and gradually become stable between 0.5%- 0.6%. On one hand, the relatively low threshold of domestic travel agency and increasing national tourist demand promote the rapid expansion of domestic travel agency scale and growth of overall industrial revenue. On the other hand, as lacking of innovation design capability of tourist products, like travel agencies mainly depend on price competition to gain customers. It leads to the decline of industrial profit rate and reduction of new enters.
View from the industrial division system China travel agency industry is on the transition stage which horizontal labor division coexists and transform towards vertical labor division. During the initial development period, the first, second and third grade travel agency as well as classification standards at home and abroad are adopted by China travel agency. The publishment of
Clause for Travel Agency gradually weakens the horizontal labor division system. Part of the large-scale travel agencies has realized the importance of vertical labor division. But for the whole industry the well arranged vertical labor division is still not yet formed. The industry is facing transformation and upgrade.
View from the market structure, China travel agency industry is trending from policy monopoly to market concentration. And the market structure of China travel agency is experiencing from policy monopoly to monopolistic competition then to overall competition. The industrial concentration is trending from high to low. Market share of National Travel Agency, China Travel Agency and China Cyts Tours Holding Co., Ltd. decreases from 79.6% in 1980 to 19.5% in 2000. Concentration degree of domestic and international travel agency industry from 2001 to 2006 maintains between 15%- 17% and 45%- 50%. Current these years, the market standardization and strengthened industry integration up raising the concentration of travel agency industry.
Tourist products in new fields will become new profit growth point in short terms. One of the small profits reasons for travel agency is that tourist products lack of diversity thus price competition is the mainstream for market competition. Therefore, keys to up raise the profit space for travel agency in short term is to strengthen product innovation capability and exploit new tourist market. View from the market development trend, pleasure cruiser tourism and business award tourism will become two major new markets for future travel agencies. Comparing with matured pleasure cruiser tourism market in Euro-America, it just steps into growth stage in China. In other words, market potential is huge for China pleasure cruiser tourism. Comparing with citizen tourism the business award tourism will position in high-end tourism market and feature with higher gross profit and not obvious midseason or off-season. From a long-term view online tourist business, chain-store operation and industrial chain vertical integration have become the mainstream for the development of domestic travel agency. Travel agency online business is one of the top 5 market segmentations in online tourist market.
Even though competition for online tourist market is fierce, the existing development opportunity for online agency business of travel agency is big. According to researches, online purchasing demand and ratio of packaged tour service are both increasing. What's more, the expanding trend of domestic travel agency by the way of chain-store operation is more and more obvious. With the improvement of collectivized degree for large-scale travel agencies, more and more top 100 travel agency corporations will adopt diversification strategy and invest in sub-tourisms like tourist attraction operation, hotel and tourism estate. Under such background, travel agency should pay more attention to research of industry development trend and handle the market direction thus has an early lead in the market.
Qianzhan Business Information Co., Ltd. Industry Research College
Research Team of Travel Agency Industry
China Travel Agency Industry Report" related reports »