China Airport Construction Industry Market Indepth and Investment Strategy Report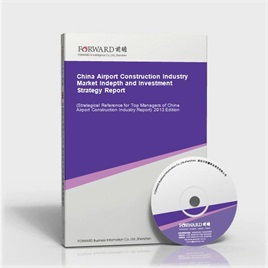 Last Update:2014-04-22
Form of services:Book + (pdf or doc file) + CD
Send method:EMS 2-3 days for delivery
English Service:+86 0755 33220413
Chinese Service:+86 800-8306390 800-8306395
E-mail:service.en@qianzhan.com
Report price:$7900 Print: $7800 CD: $7800
Special statement:
Recently we find there are some sites steal report contents from Qianzhan.com who put those contents on their sites for sale by making a little changes about the contents or remaining the same which deceives buyers(e.g. unable to get full or correct reports, or main body differs from contents that announced on sites).Therefore, we recommend paying a visit to Qianzhan personally or by your friends, and make payment after confirmation. Special statement: Qianzhan is the only and right holder of all the research reports, and has never used a third party to sell any reports, please be aware of the trademark " " when purchasing. Qianzhan is the largest and strongest consultancy, who owns the greatest number of researchers. Here followed "
Nine standards of companies' identificatios
"。
This table of content is original, without written permission of Qianzhan, any unit or individual shall not use, copy, or transfer the reports.
Preface
Table of Content
During the "Eleventh Five-year" Plan period, the direct infrastructure investment in China civil aviation reached 250 billion Yuan, and plus the airline corprations' investment in buying planes, then the total direct and indirect investment exceeded 1 trillion Yuan. There were more newly built 33 airports, 33 newly reconstructed airpoorts, 4 new allocated airports, and 41 airports with the completiton of maintenance, and 11 airport under the construction. As of 2010, there were 175 transport airports with certificate in total.
Through the construction during the period of "Eleventh Five-year" Plan, there are still 3 inadequacies comparing with the developed countries, namely, insufficient quantity, low density and uneven allocation of airports in China. In terms of the airport quantity, there are only 175 airports with transport certificate in China, while there are 5,870 airport in USA, which is more than 30 times as high as that of China; in terms of airpot density, there are 1.8 airports at each 10 thousand sq.km in China, while there are 6.4 airports that of USA; in terms of airport allocation, there are 4 airports at each 10 sq.km in eastern areas of China, while there are only 1.6 airports that of middle areas of China and only 1 airport that of western areas of China. In a word, there is high density in easern areas but low density in middle and western areas. And the density in eastern areas is 4 times as high as that of western areaas. In order to fix these inadequacies, the State will furter support the development of small and medium-sized airports via many measures, including allocating subsidies to the taks offs and landings, the branch airlines, the airport construction loan discount, as well as formulating a futher supporting development policy for small and medium-sized airports.
According to the "Twelth Five-year" Plan on Civil Aviation Development, in terms of infrastructure construction, it's predicted the fixed investment size will reach more than 400 billion Yuan during the period, with an over 60% over the "Eleventh Five-year" period. By 2015, there will be more than 220 transport airports in China, with an increase of more than 45 new airports than that of 2010. There will be 63 newly built airport projects, 88 reconstructed and extended airport projetcs, and 20 airport allocation projects. During the "Tewlfth Five-year" Plan period, the total investment in China airport construction in anticipated to exceed 1.5 trillion Yuan.
With the increasing investment in China airport industry, the market space for airport construction keeps expanding. Since the projecr profitability is the first factor that enterprises take into consideration, however, with the growing rising of raw materials and labor costs, it's really important for airport construction enterprises to control the project costs. And an efficient management regulation for the project is the key for ensuring the profitability of contracting projetcts. With Forward's long-term tracking and collecting market data of airport construction industry, we roundly and accurately analyze the industry structure system for you from the view of mastering the whole industry.
This report mainly focuses on analyzing the development background of China airport construction industry; the development environment of China airport construction industry; the examination and approval procedure for China airport construction projects; China airport construction planning and construction control; the cost control and profitability strategy of China airport construction industry; the feasibility of China general airport construction; the management mode of China airport construction projects; the construction investment and financing management of China airports; as well as the leading corporations' operational conditions in China airport construction industry. Meanwhile, with comprehensive and specific first-hand market data over the past 5 years, Forward helps you to grasp the market and development trends of airport construction industry, so as to win advantages from competition!
The most distinctive characteristics of this report is forward-looking and timeliness. Through analyzing forward-looking characteristic of abundant first-hand market data, we deeply and objectively dissect China current airport construction industry's overall market size, competitive landscape and application situation. Furthermore, based on future development tracks and years' practice experience of airport construction industry, we conduct prudent analysis and forecast for airport construction industry's future development trend. This report helps airport construction' perception enterprises, network enterprises, operation enterprises and investment enterprises to precisely grasp current latest developments of the industry. Afterwards, they can make wise operating decisions and define enterprises' development directions.
Here, we would like to express our sincere gratitude to State Information Center, Bureau of Statistics of China, International Information Research Institute, Chinese Academy of International Trade and Economic Cooperation, Tsinghua University Library, Development Research Center of the State Council and Beijing Essence Forward Research Center, for their great support when we conduct this report!
Notice: All the market data, especially corporations' ranking data in the report, only for business reference. Please do not take the data for enterprise publicity. Thank you! Or Forward shall not take any responsibility for any consequences!
Qianzhan Business Information Co., Ltd. Industry Research Center
Research Team of Airport Construction Industry
China Airport Construction Industry Report" related reports »