China Coalbed Methane Industry Report (2016-2021), Economic Evaluation & Investment Strategic Planning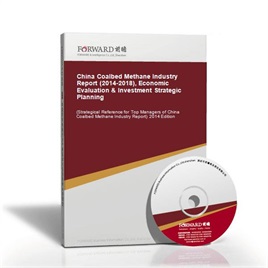 Last Update:2016-09-20
Form of services:Book + (pdf or doc file) + CD
Send method:EMS 2-3 days for delivery
English Service:+86 0755 33220413
Chinese Service:+86 800-8306390 800-8306395
E-mail:service.en@qianzhan.com
Report price:$7900 Print: $7800 CD: $7800
Special statement:
Recently we find there are some sites steal report contents from Qianzhan.com who put those contents on their sites for sale by making a little changes about the contents or remaining the same which deceives buyers(e.g. unable to get full or correct reports, or main body differs from contents that announced on sites).Therefore, we recommend paying a visit to Qianzhan personally or by your friends, and make payment after confirmation. Special statement: Qianzhan is the only and right holder of all the research reports, and has never used a third party to sell any reports, please be aware of the trademark " " when purchasing. Qianzhan is the largest and strongest consultancy, who owns the greatest number of researchers. Here followed "
Nine standards of companies' identificatios
"。
This table of content is original, without written permission of Qianzhan, any unit or individual shall not use, copy, or transfer the reports.
Preface
Table of Content
China's economic structure and energy structure are in a critical period of transition. Coalbed methane, shale gas and other unconventional energy industry face enormous development opportunities. In the growth and expansion stage of an emerging industry, the key to success for enterprises is to find the force point and key points of enterprise development, use internal and external resources to achieve rapid development of enterprises in the process of gradually expanding demand and inside and outside structure evolving.
Coalbed methane is an efficient and clean energy. Coalbed methane industry is an emerging industry with huge space for development in energy industry. According to China's "Twelfth-five-year development plan of coal-bed methane development and utilization ", Coalbed methane industry will face significant development opportunities. Large-scale coalbed methane companies will increase investment and competition is more intense. Therefore,more emphasis is focused on market research for excellent domestic photovoltaic inverter enterprises, especially on the industrial development environment and in-depth study of customer demands.
This report is based on long-term market tracking information by Forward Intelligence on coalbed methane industry. It analyses comprehensively and accurately the structure system from the overall height of the industry for you. This report mainly analyzestechnical expertise, status quo and planning of development of coalbed methane industry chain; economic evaluation of coalbed methane industry; construction of coalbed methane bases and mines; operation of leading enterprises of coalbed methane industry; development experience of the global coalbed methane industry and Inspiration ; finally summary of the factors affecting the development of coalbed methane industry and investment opportunities of coalbed methane industry chain. Meanwhile, based on first-hand market data of the whole industry in the past five years, it can allow you to fully and accurately grasp market trends and development trends of the whole industry.
The greatest featureof this reportisforward-lookingandtimeliness. Based on the development path andyears ofpractical experience, it makescarefulanalysis and prediction of the future developmenttrends ofcoalbed methane industry. It is a rare quality forcoalbed methane exploration enterprises, mining enterprises, utilization enterprises, research institutions and investment companiesto accurately understandthe latest developments of the industry, graspmarket opportunities,make the rightbusiness decisionsand clearcorporate directions.
This report will help coalbed methane exploration enterprises, mining enterprises, utilization enterprises, research institutions and investment companies accurately understand the latest developments of the industry and early detect blank points of industry market, opportunities, growth and profitability points ...... it will help prospectively grasp unmet market needs and trends of the industry and become a good advantage for sustainable development, effectively avoid the investment risks from the industry, more efficiently consolidate or expand appropriate strategic target markets, and firmly grasp the initiative authority in market competition.
During the writing process, the report is supported by Shanxi Coalbed Methane Industry Association, National Economic Information Center, the National Bureau of Statistics, the International Institute of Information, Ministry of Commerce of China, Tsinghua University Library, Market and Economy Research Institute of the State Council's Development Research Center and other institutions. We express our special thanks!
Pls note: This report includes a lot of market data, especially enterprise ranking data. It is for business reference purposes only. We hope corporate advertising clients do not use for advertisement ranking comparison. Otherwise, all the consequences caused, Forward Intelligence will not bear!
Special Notes: Neglection of some subtle signs of dramatic changes in the external environment and untimely update the strategic decisions with environmental changes can lead to loss of competitive advantages. Truly successful enterprises, consciously or unconsciously, will do scientific analysis of the external environment and thus formulate crucial and scientific business strategies!
Qianzhan sincerely wishes every ambitious enterprise can develop high-quality business decisions and continue to achieve success!
Qianzhan Industry Research Institute
Coalbed Methane Industry Research Group
China Coalbed Methane Industry Report" related reports »