China Salt Chemical Industry Production & Marketing Demand and Investment Forecast Report, 2013-2017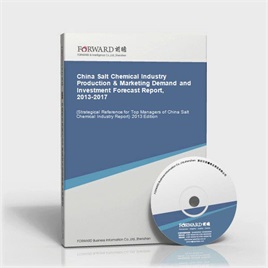 Last Update:2014-05-21
Form of services:Book + (pdf or doc file) + CD
Send method:EMS 2-3 days for delivery
English Service:+86 0755 33220413
Chinese Service:+86 800-8306390 800-8306395
E-mail:service.en@qianzhan.com
Report price:$7900 Print: $7800 CD: $7800
Special statement:
Recently we find there are some sites steal report contents from Qianzhan.com who put those contents on their sites for sale by making a little changes about the contents or remaining the same which deceives buyers(e.g. unable to get full or correct reports, or main body differs from contents that announced on sites).Therefore, we recommend paying a visit to Qianzhan personally or by your friends, and make payment after confirmation. Special statement: Qianzhan is the only and right holder of all the research reports, and has never used a third party to sell any reports, please be aware of the trademark " " when purchasing. Qianzhan is the largest and strongest consultancy, who owns the greatest number of researchers. Here followed "
Nine standards of companies' identificatios
"。
This table of content is original, without written permission of Qianzhan, any unit or individual shall not use, copy, or transfer the reports.
Preface
Table of Content
With the fast development of China's economy, the salt chemical industry develops rapidly, and China has become an important salt chemical producer in the world. The salt chemical industry not only provides sodium hydrate, sodium carbonate, hydrochloric acid, which belong to "three acids and two soda", but also extends to the downstream industry's production, such as producing many kinds of important basic raw chemical materials, such as PVC, methane chloride, propylene oxide, TDI/MDI, etc., and other kinds of fine and specialized chemical products as well. They are the basic raw chemical products which will drive the development of other industries. At present, China salt chemical industrial chain is stepping into a new adjustment and development period, and the industry faces both new opportunities and challenges. Under the background of State vigorously developing low carbon economic, sticking to recycling economy and green development routine will fast drive the development of salt chemical industry.
In recent years, since China salt chemical capacity grows too fast, the industry has shown relatively surplus situation. In 2009, China crude salt production capacity exceeded 70 million tons; the total output of sodium carbonate in the nationwide was 20.01 million tons, with a year-on-year increase of 8.75%; the total output of sodium hydrate was 18.91 million tons, with a year-on-year increase of 8.6%. While the capacities of sodium carbonate and sodium hydrate reached 24 million tons and 27.93 million tons respectively over the same period. In 2010, the capacity surplus situation became worse and worse. It plans to increase the new equipment capacity of SPVC reaching 4.44 million tons/year, the new equipment capacity of EPVC reaching 0.145 million tons/year, and the new equipment capacity of sodium hydrate reaching 5.975 million tons/year.
Since the Q2 2009, the domestic salt chemical market has shown the recovery momentum. From 2010 to 2011, China salt chemical industry maintained relatively fast development trend, and the enterprise benefit was improved prominently over that of 2009. In 2011, the total industrial output value of China salt chemical industry was about 204.314 billion Yuan, with a year-on-year increase of 38.30%; the sales revenue was 206.125 billion Yuan, with a year-on-year increase if 38.5%; and the total profit was 12.676 billion Yuan, with a year-on-year increase of 71.86%.
Fine industry is the development direction for salt chemical industry. On the basis of chlor-alkali equipment, the extension of industrial chain of fine chemical model build the scale-production of chlorine products, and then based on relevant chlorine products, produce downstream products, which consume hydrogen and sodium hydrate. At present, there are some companies which implement this model very well, such as Nanjing Chemical Plant (affiliated with Sinopec Group), Jiangsu Yangnong Chemical Group Co., Ltd., etc. The cores of this industrial chain are: hydrogen gas, chlorine gas, sodium hydrate, and their downstream products. Many kinds of intermediate products interact to each other, which generates various fine chemical products. In addition, the combination of "sodium carbonate and sodium hydrate" is one of effective development models. Taking Shandong Haihua Group as an example, applying the carbide slag, generated by the production of PVC by calcium carbide method, in the production of ammonia and alkali can solve the difficulty of utilizing calcium carbide slag waste in PVC resin industry, meanwhile, it reduces the consumption of limestone and the "three wastes". This model is suitable for the current large-sized ammonia and alkali enterprises and the chlor-alkali enterprise which are soon to remove.
In terms of regional development thinking, coastal sea salt areas are not suitable for planning and developing sodium carbonate industry any more, and they should positively explore the combination of desalination of sea water and salt chemical production, and construct the utility production base of combining chlor-alkali and petrochemical. The central area may be appropriate to build league alkali devices, and combine with competitive coal chemical industry, forming a fine chemical industrial chain which focuses on brine collection, delivery, chlor-alkali, and downstream chlorine, alkali, and hydrate depth processing, and the central area keeps extending the industrial chain, so as to form a utility development model with up, middle and down-stream industries. In order to develop chlor-alkali, the western areas should make full use of advantages of energy and resources, developing with the utility model of coal-salt-electricity-alkali-building materials.
With Forward's long-term tracking and collecting market data of salt chemical industry, we roundly and accurately analyze the industry structure system for you from the view of mastering the whole industry. This report mainly focuses on analyzing China salt chemical industry's market capacity, market size, development speed and competitive situation, depending on macro-prosperity of current salt chemical industry and relying on its production and marketing conditions as well as the demand trend.
The report pay more attention to analyze the development situation of China salt chemical industry; the current market environment of salt chemical industry; the competitive landscape and competitive trend of salt chemical industry; the development situation of salt manufacturing industry; the development situation of inorganic base industry; the leading corporations' operational conditions in salt chemical industry; as well as the investment strategy of salt chemical industry. Meanwhile, with comprehensive and specific first-hand market data over the past 5 years, Forward helps you to grasp the market and development trends of salt chemical industry, so as to win advantages from competition!
The most distinctive characteristics of this report is forward-looking and timeliness. Through analyzing forward-looking characteristic of abundant first-hand market data, we deeply and objectively dissect China current salt chemical industry's overall market capacity, market size, competitive landscape and characteristics of market demand. Furthermore, based on future development tracks and years' practice experience of salt chemical industry, we conduct prudent analysis and forecast for salt chemical industry's future development trend. This report helps salt chemical manufacturing enterprises, R&D institutions, marketing enterprises and investment enterprises to precisely grasp current latest developments of the industry. Afterwards, they can make wise operating decisions and define enterprises' development directions. Moreover, this report is the first and weighty report on analyzing the upstream and downstream industrial chain of salt chemical industry and analyzing its leading corporations in an all-round and systematical way.
Here, we would like to express our sincere gratitude to State Information Center, Bureau of Statistics of China, International Information Research Institute, Chinese Academy of International Trade and Economic Cooperation, Tsinghua University Library, Development Research Center of the State Council and Beijing Essence Forward Research Center, for their great support when we conduct this report!
Notice: All the market data, especially corporations' ranking data in the report, only for business reference. Please do not take the data for enterprise publicity. Thank you! Or Forward shall not take any responsibility for any consequences!
Qianzhan Business Information Co., Ltd. Industry Research Center
Research Team of Salt Chemical Industry
China Salt Chemical Industry Report" related reports »