China Ship Repair Industry Production and Marketing Demand and Investment Forecast Report, 2013-2017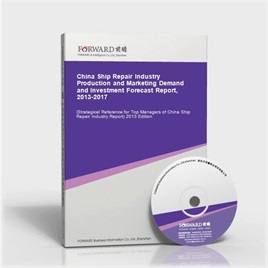 Last Update:2014-05-23
Form of services:Book + (pdf or doc file) + CD
Send method:EMS 2-3 days for delivery
English Service:+86 0755 33220413
Chinese Service:+86 800-8306390 800-8306395
E-mail:service.en@qianzhan.com
Report price:$7900 Print: $7800 CD: $7800
Special statement:
Recently we find there are some sites steal report contents from Qianzhan.com who put those contents on their sites for sale by making a little changes about the contents or remaining the same which deceives buyers(e.g. unable to get full or correct reports, or main body differs from contents that announced on sites).Therefore, we recommend paying a visit to Qianzhan personally or by your friends, and make payment after confirmation. Special statement: Qianzhan is the only and right holder of all the research reports, and has never used a third party to sell any reports, please be aware of the trademark " " when purchasing. Qianzhan is the largest and strongest consultancy, who owns the greatest number of researchers. Here followed "
Nine standards of companies' identificatios
"。
This table of content is original, without written permission of Qianzhan, any unit or individual shall not use, copy, or transfer the reports.
Preface
Table of Content
China Ship Repair Industry Production and Marketing Demand and Investment Forecast Report, 2011-2015
Under the great impact of world economic globalization, China ship repair industry gains precious opportunities for development, but it's facing many serious challenges. At present, China has been a maritime power, and its shipping business has enter the global market. With continuing investment and development for domestic ship repair corporations, many corporations, locating in Liaoning, Tianjin, Shandong, Jiangsu, Zhejiang, Fujian and Guangdong provinces, continues to grow and develop. China ship repair industry has formed a regional competitive landscape, including Bohai Gulf region which regards Dalian city as its center; Golden Triangle of the Yangtze region, which regards Zhoushan city as its center and Pearl River Estuary region, which regards Guangzhou city as its center. And China has gradually formed a comparatively perfect ship repair system, using ship repair enterprises as its core, and being supported by intermediary institutions, professional repairing and design technologies, supply of materials and devices, outsourcing supporting facilities, and personnel training. The ship repair industry is entering the ranks of world's ship repair power, showing at the aspect as following, repairing more and more large-scale ships; continuing expanding the foreign ships quantity of repairing; possessing the capability of refitting a large quantity of high-valued ships; the total value of ship repair maintaining a rapid growth and profits continuing to be improved.
In recent years, the speed of constructing China's shipyard has greatly accelerated and it has achieved great results, enabling the number of China's ship enter a new world stage. In 2010, China achieved 28.6 billion Yuan output value of ship repairing. Major domestic ship repair enterprises repaired around 160 million tons of ships, taking up 12.3% amount of total ships in the world, among which foreign ships were 140 million tons. The top 10 ship repair enterprises in China achieved 14.6 billion Yuan output value, falling by 12% over the previous year; realized 13.5 billion Yuan sales revenue of ship repairing; totally repaired 3,088 ships; accomplished 23% of ship repair over the previous year. Thereinto, they repair 2195 ships and earned 1.8 billion US dollars foreign exchange of ship repair. Beside, they refitted 57 ships. The world ship repair center has been shifting to the region represented by China, and has been initially taken shape, which provides new development opportunities to China ship repair industry.
In 2010, ship repair market maintained a strong development momentum. As of the end of 2010, there are 436 ship repair and remove enterprises above size-designated. Their total industry assets reached 93.493 billion Yuan, growing by 1.31% over the previous year and realizing 69.892 billion Yuan of total industrial output value, with an increase of 20.57% over the previous year; their sales revenue achieved 65.14 billion Yuan, increasing by 25.37% over the previous year, and the industry's profitability capability was greatly improved. It's estimated the total output value of China's ship repair industry may have reached 31.46 billion Yuan, and its total value will complete 70-80 billion Yuan, accounting for 24% amount of world's ship repair output value. Along with the promotion of total ship repair quantity, its technology level will also reach the world-class level.
With Forward's long-term tracking and collecting market data of ship repair industry, we roundly and accurately analyze the industry structure system for you from the view of mastering the whole industry. we mainly focus on analyzing China present flower industry's overall market capacity, development speed of market size, and competitive landscape, depending on macroeconomic prosperity of ship repair industry and relying on production/marketing condition and demand trend of the industry.
This report mainly focuses on China ship repair industry's development status, current market environment of the industry; demand condition and regional competition of the industry; competitive landscape and trend of the industry; leading corporations operational condition in ship repair industry; as well as development trend and prospect forecast of ship repair industry. Meanwhile, with comprehensive and specific first-hand market data in 5 years. Forward helps you to grasp the market and development trends of ship repair industry, so as to win advantages from competition!
The most distinctive characteristics of this report is forward-looking and timeliness. Through analyzing forward-looking characteristic of abundant first-hand market data, we deeply and objectively dissect the status of market capacity of China's present ship repair industry, its market size, its competitive landscape and characteristics of market demand. Furthermore, we conduct prudent analysis and forecast for ship repair industry's future development trend. This report helps ship repair enterprises, R&D institutions, ship manufacturing enterprises, as well as marketing enterprises and investment enterprises to precisely grasp current latest developments of the industry. Afterwards, they can make wise operating decisions and define enterprises' development directions. What's more, this is a comprehensively and systematically weighty report on up/down stream industries of ship repair industry and key enterprises in the industry.
Here, we would like to express our sincere gratitude to State Information Center, Bureau of Statistics of China, China Customs, International Information Research Institute, Chinese Academy of International Trade and Economic Cooperation, Tsinghua University Library, Development Research Center of the State Council and Beijing Essence Forward Research Center, for their great support when we conduct this report!
Notice: All the market data, especially corporations' ranking data in the report, only for business reference. Please do not take the data for enterprise publicity. Thank you! Or Forward shall not take any responsibility for any consequences!
Qianzhan Business Information Co., Ltd. Industry Research Center
Research Team of Ship Repair Industry
China Ship Repair Industry Report" related reports »