China Asset Evaluation Indepth Research and Investment Strategy Planning, 2013-2017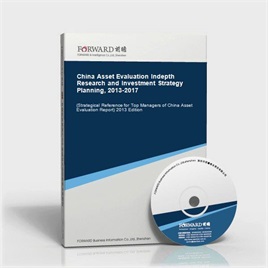 Last Update:2014-05-16
Form of services:Book + (pdf or doc file) + CD
Send method:EMS 2-3 days for delivery
English Service:+86 0755 33220413
Chinese Service:+86 800-8306390 800-8306395
E-mail:service.en@qianzhan.com
Report price:$7900 Print: $7800 CD: $7800
Special statement:
Recently we find there are some sites steal report contents from Qianzhan.com who put those contents on their sites for sale by making a little changes about the contents or remaining the same which deceives buyers(e.g. unable to get full or correct reports, or main body differs from contents that announced on sites).Therefore, we recommend paying a visit to Qianzhan personally or by your friends, and make payment after confirmation. Special statement: Qianzhan is the only and right holder of all the research reports, and has never used a third party to sell any reports, please be aware of the trademark " " when purchasing. Qianzhan is the largest and strongest consultancy, who owns the greatest number of researchers. Here followed "
Nine standards of companies' identificatios
"。
This table of content is original, without written permission of Qianzhan, any unit or individual shall not use, copy, or transfer the reports.
Preface
Table of Content
With the tide of reform and opening up, China Asset Evaluation Industry starts in late of 1980s. The development of China asset evaluation industry benefits from the development of China market-oriented economy as well as the reform of state-owned economy. With the deepening and improvement of China's economic system reform, China asset evaluation, as an independent specialized market intermediary services industry, makes a progress in the development. And it plays a more and more important role in regulating the capital operation, maintaining economic order, and promoting the development of economy, and it has become an important force of the development of China's economy. Meanwhile, the asset evaluation industry is greatly affected by policies. The state-owned reform is going to its ending, so the competitions among asset evaluation enterprises become increasingly serious whereas, the new trend provides the asset evaluation industry huge opportunities.
At present, there are more than 10,000 evaluation enterprises with a wide range of varieties as well as there as hundreds of thousands of registered appraisers and about 300,000 employees in China. Six evaluation majors have been established in China, namely, asset evaluation, real estate appraisal, land appraisal, mineral property evaluation, used vehicle appraisal and insurance appraisal. Among them, there are more than 4,000 asset evaluation enterprises with over 40,000 employees in China, covering all types of assets, like personal property, immovable property, enterprise value, intangible asset, securities and futures.
Taking the top 10 evaluation organizations as an example, the annual growth of domestic large-scale organizations in evaluation business has increased by 19.25% for the past 5 years. Its proportion of the total evaluation revenue increased steadily from 10.8% in 2005 to 15.1% in 2009. In 2005, there were just 3 organizations with evaluation revenue of 30 million Yuan among the top 10 evaluation enterprises, while in 2009 all the top 10 evaluation organizations had evaluation incomes that are over 30 million Yuan. Moreover, the top 4 of them had evaluation revenue that over 60 million Yuan, and 2 of them achieved over 100 million of annual revenue. According to incomplete statistics, the revenue of national asset evaluation achieved an annual growth of over 10%.
On February 27, 2012, the "Asset Evaluation Law" (Draft) was first to be approved in the Twenty-fifth Meeting of the Eleventh National People's Congress, held in Beijing. It's reported there are many problems in China asset evaluation industry, such as lacking of the overall development planning, and law & regulations of the industry; different and chaotic management, deliberately market segmentation of evaluation industry; various industry standards; coexistence of practice standards; as well as weak supervision. Analysts consider, the announcement of new law is beneficial to the healthier and more ordered development of asset evaluation industry.
According to the development planning of evaluation industry, domestic asset evaluation industry will foster 3-5 'flagship-type" enterprises in 3-5 year, which are able to compete in international competition, with more than 200 million Yuan business incomes and more than 200 appraisers; around 30 evaluation institutions which can be qualified to carry out evaluation business for domestic large-scale enterprises, with more than 30 million Yuan incomes and they can adapt to the development needs of regional economy, with regional competitiveness; in 3-5 years, strive for creating advanced cultural ideas, leading the reaches in evaluation ideas and technology renovation and fostering appraisal talents and "appraisal maters" who highly and widely respected by people; fostering" appraiser stars" who have solid vocational moral ability, and high reputation.
According to national "Twelfth Five-year" Plan, the state will take improving the proportion of modern services industry as a main goal of the development of economy and society; regard enhancing the development of modern services industry as a strategic focus of optimizing and upgrading the industrial structure; encourage the acquisition and merger or cooperation; improve industrial concentration in market integration; and develop a number of large-scale services enterprises or enterprise groups, which provides opportunities for asset evaluation enterprises becoming bigger and stronger.
With Forward's long-term tracking and collecting market data of asset evaluation market, this report mainly focuses on analyzing the market environment of domestic asset evaluation industry; the competitive conditions of domestic asset evaluation institutions; the operational conditions of market segmentation of asset evaluation industry; the competitive trend of asset evaluation industry in key regions; as well as the leading corporations' operational conditions in asset evaluation industry. Meanwhile, with comprehensive and specific first-hand market data over the past 5 years, Forward helps you to grasp the market and development trends of asset evaluation industry, so as to win advantages from competition!
The most distinctive characteristics of this report is forward-looking and timeliness. Through analyzing forward-looking characteristic of abundant first-hand market data, we deeply and objectively dissect China asset evaluation industry's influencing factor of the development, competitive landscape and characteristics of market demand. Furthermore, based on future development tracks and years' practice experience of asset evaluation industry, we conduct prudent analysis and forecast for asset evaluation industry's future development trend. This report helps asset evaluation institutions to precisely grasp current latest developments of the industry. Afterwards, they can make wise operating decisions and define enterprises' development directions. Moreover, this report is the first and weighty report on analyzing its leading corporations in an all-round and systematical way.
Here, we would like to express our sincere gratitude to China Appraisal Society, State Information Center, Bureau of Statistics of China, International Information Research Institute, Chinese Academy of International Trade and Economic Cooperation, Tsinghua University Library, Development Research Center of the State Council and Beijing Essence Forward Research Center, for their great support when we conduct this report!
Notice: All the market data, especially corporations' ranking data in the report, only for business reference. Please do not take the data for enterprise publicity. Thank you! Or Forward shall not take any responsibility for any consequences!
Qianzhan Business Information Co., Ltd. Industry Research Center
Research Team of Asset Evaluation Industry
China Asset Evaluation Report" related reports »