China Ticketing System Application Industry Indepth Research and Investment Strategic Planning Report, 2013-2017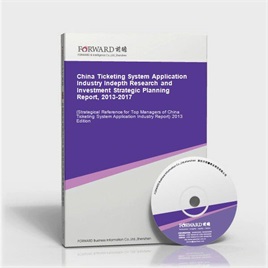 Last Update:2014-05-04
Form of services:Book + (pdf or doc file) + CD
Send method:EMS 2-3 days for delivery
English Service:+86 0755 33220413
Chinese Service:+86 800-8306390 800-8306395
E-mail:service.en@qianzhan.com
Report price:$7900 Print: $7800 CD: $7800
Special statement:
Recently we find there are some sites steal report contents from Qianzhan.com who put those contents on their sites for sale by making a little changes about the contents or remaining the same which deceives buyers(e.g. unable to get full or correct reports, or main body differs from contents that announced on sites).Therefore, we recommend paying a visit to Qianzhan personally or by your friends, and make payment after confirmation. Special statement: Qianzhan is the only and right holder of all the research reports, and has never used a third party to sell any reports, please be aware of the trademark " " when purchasing. Qianzhan is the largest and strongest consultancy, who owns the greatest number of researchers. Here followed "
Nine standards of companies' identificatios
"。
This table of content is original, without written permission of Qianzhan, any unit or individual shall not use, copy, or transfer the reports.
Preface
Table of Content
Automated Fare Collection System (AFC) is a modern network charging system, which has been widely used in rail transit operation of international metropolis. With the enabling of AFC, passengers can buy electronic tickets through the ticket vending machines located in each entrance. At present, AFC is extensively used in many metro stations of rail transit in Shanghai, Beijing, Guangzhou, Tianjin, Shenzhen, and Nanjing, etc., as an important passenger transport management application means.
An AFC is a collection of components that has ticket sales and inspection terminal equipments, as well as software of computer-management, statistics, control and application. It refers to various professional fields, such as lighting, machine, electricity, magnetism, computer, wireless communication and so on, which particularly emphasizes integrated technology. Thus if China AFC industry expects to grow fast, only improving the development of basic industry, establishing AFC professional institutions and gathering experience are not enough. Another crucial way to grow rapidly is depending on national policies support. China AFC industry started very late, and major domestic AFC system mainly concentrate in Shanghai and Guangzhou, for instance, Shanghai Potevio Co., Ltd., Shanghai Hua Ming Intelligent Terminal Equipment Co., Ltd., Shanghai Huahong Co., and Modern Computer Manufacturing Co., Ltd., while Beijing just sets foot in this industry. Compared the products produced by domestics manufacturing corporations with that of international long-established corporations, there is still a gap in the stability and reliability of the system, and China's AFC products are at an immature stage.
China AFC has a huge market potential, and has extensive influences, domestic enterprises should develop some software, matching for China's national condition and produce a system, fitting Chinese people, on the basis of combining Chinese condition and learning international advanced technology and experience of AFC. Along with the rapid development of rail transit construction, the demand for AFC becomes larger and larger. If China keeps importing it from foreign countries, the investment cost must rise up increasingly, so the State Council put forward a request that the localization of AFC should reach by 60%. No wonder, it also put forward related requirements for AFC localization. One percentage of national urban rail transit construction investment capital is used for AFC construction investment.
As of the end of December, 2010, there were more than 5,500 automated ticket vending machines, more than 14,000 automated ticket inspection machines, and more than 2,500 automated add value machines in about 890 urban rail transit stations across mainland China; Shanghai, Beijing and Guangzhou's volume of AFC equipments rank the top three, accounting for 70% of the total quantity in China.
During "Twelfth Five-year" Plan period, China will increase 18,700 km of high speed rail. If a hundred km distance needs 80 automated vending machines, it needs about 15,000 automated vending machines; according to urban rail transit construction planning, approved by the State Council, over 2,500 km urban transit will be added during the "Twelfth Five-year" Plan. If there will be a station per 2 km, and 16 automated vending machines in a station, more than 20,000 machines will be needed.
With the acceleration of subway and high speed rail investment and construction in mainland China, China AFC equipment market will see a high growth from 2011 to 2020. As of the end of 2011, there are 12 cities completing metro construction, with a total line length of 1,395 km and with 2.9 billion Yuan of the AFC equipment market size in urban rail transit. It's predicted that China mainland AFC equipment market size in urban rail transit will reach over 16.4 billion Yuan by 2020; the industry annul compound growth will increase by around 19%. As of the end of 2010, 27 high speed rail lines were operated in China, with a total mileage of 8,358 km; it's predicted that the AFC equipment market size in China high speed rail will break through 4 billion Yuan.
With the growing competition in ticketing system application industry, acquisition and capital operation among large enterprises become more and more frequent. The enterprises related to information and technology of ticketing system pay more attention to the industry market research, especially the indepth research on product buyers. Because of this, a large number of excellent ticketing system market brands rise up rapidly, and gradually become leading corporations in ticketing system application industry!
The report focuses on analyzing the development environment of China ticketing system application industry; the industrial chain situation of ticketing system application industry; the development situation of ticketing system application industry in key regions; the leading corporations' operational condition in ticketing system application industry; as well as the investment analysis and prospect forecast of ticketing system application industry. Meanwhile, with comprehensive and specific first-hand market data, Forward helps you to grasp the market and development trends of ticketing system application industry, so as to win advantages from competition!
The most distinctive characteristics of this report is forward-looking and timeliness. Through analyzing forward-looking characteristic of abundant first-hand market data, we deeply and objectively dissect China current ticketing system application industry's market capacity, market size, competitive landscape and characteristics of market demand. Furthermore, based on future development tracks and years' practice experience of ticketing system application industry, we conduct prudent analysis and forecast for ticketing system application industry's future development trend. This report helps intelligent transport enterprises, IT enterprises, R&D institutions, and investment enterprises to precisely grasp current latest developments of the industry. Afterwards, they can make wise operating decisions and define enterprises' development directions.
Here, we would like to express our sincere gratitude to State Information Center, Bureau of Statistics of China, International Information Research Institute, Chinese Academy of International Trade and Economic Cooperation, Tsinghua University Library, Development Research Center of the State Council and Beijing Essence Forward Research Center, for their great support when we conduct this report!
Notice: All the market data, especially corporations' ranking data in the report, only for business reference. Please do not take the data for enterprise publicity. Thank you! Or Forward shall not take any responsibility for any consequences!
Qianzhan Business Information Co., Ltd. Industry Research Center
Research Team of Ticketing System Application Industry
China Ticketing System Application Industry Report" related reports »