China Financial Corporation Indepth Research and Investment Strategy Report, 2013-2017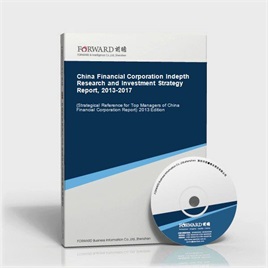 Last Update:2014-04-20
Form of services:Book + (pdf or doc file) + CD
Send method:EMS 2-3 days for delivery
English Service:+86 0755 33220413
Chinese Service:+86 800-8306390 800-8306395
E-mail:service.en@qianzhan.com
Report price:$7900 Print: $7800 CD: $7800
Special statement:
Recently we find there are some sites steal report contents from Qianzhan.com who put those contents on their sites for sale by making a little changes about the contents or remaining the same which deceives buyers(e.g. unable to get full or correct reports, or main body differs from contents that announced on sites).Therefore, we recommend paying a visit to Qianzhan personally or by your friends, and make payment after confirmation. Special statement: Qianzhan is the only and right holder of all the research reports, and has never used a third party to sell any reports, please be aware of the trademark " " when purchasing. Qianzhan is the largest and strongest consultancy, who owns the greatest number of researchers. Here followed "
Nine standards of companies' identificatios
"。
This table of content is original, without written permission of Qianzhan, any unit or individual shall not use, copy, or transfer the reports.
Preface
Table of Content
Financial Corporation is regarded as a synthesized non-bank financial service institution, a treasury for large-scale corporations and a financial organization in charge of business credit. Current these years, with the fast development of financial liberalization and economic globalization financial corporations are enlarging their business fields and scale and become an important industry as well as significant link of enterprise internalization management. At present, more than 2/3 of global top 500 corporations have their own financial corporations. Taking the GE as an example, more than 40% of the annual profit is from its financial corporation.
The appearing financial corporation in China is not only the requirement for the enterprises which develop to a certain extent, but also the inevitable product for the reform of economic system and financial system. The first enterprise group financial corporation established in May, 1987. And by the end of 2011 nearly all the large-scale enterprise groups, which cover basic industries and important fields like Energy and electric power, aerospace, petrochemical, steel, metallurgy and machinery manufacturing, have their own financial corporations. Number of China financial corporations increases from 7 in 1987 to hundreds by the end of 2011. It is predicted that total asset (not includes entrusted asset) of nationwide enterprise group financial corporations reaches about 2 trillion Yuan by the end of 2011.
After 20 years of development, innovation and practice, financial corporations in China have explored a growth path. Nowadays, financial corporations in China possess functions like intensive financial management and industry chain financial supports and promote the development of enterprise group and financial innovation. Enterprise groups pay more and more attention to the position of financial corporation in group overall financial management. By reasonably separating functions of financial corporation and group financial department, the groups realize concentrated fund-raising, financing and fund operation which based on financial corporations. There is an interdependence relationship between China enterprise groups and China financial corporations--they support each other with finance and good service thus promotes development of both. Along with the further development of China large-scale enterprise groups and internationalization operation, operation space for financial corporations will be larger and larger. In other words, financial corporations in China will step into a fast development era.
However, view from the development progress and status, financial institutions in China like financial corporations and commercial banks are relatively undeveloped: presently the traditional deposits and loans business is still the major business; simple profit model and lack of business innovation capability; market-oriented competition is weak; and to a certain extent they have been marginalized. On one hand the undeveloped is caused by regulation restriction, on the other hand is due to the inappropriate positioning of financial corporations for enterprise group which limits the advantages of industry-finance-combination. Financial corporations are facing a new challenge for survival and development in the condition of accelerated commercialization, expanding enterprise group and fierce competition for financial industry. Therefore, accurate positioning of financial corporations plays an important role either for the development of enterprise group or financial corporations.
This report mainly analyzes the following aspects basing on Forward's long-term tracking and collecting market data: market environment for the development of domestic financial corporations; operation experience of international financial corporations; business running condition of domestic financial corporations; investment feasibility for key industry group financial corporations; management status of leading financial corporations; risk avoidance and management of financial corporations. Meanwhile, together with the comprehensive and detailed market data which is accumulated for years, Forward helps you to grasp the market and development trends of financial corporations, so as to ensure financial corporations play an important role in group business running.
Major characteristics of this report are forward-looking and timeliness. Base on the forward-looking analysis of massive research data, we further analyze the development scale and competitive landscape of financial corporations. Along with the industry development route and our practical experience, we analyze and predict the future development prospect of financial corporations. This report contains a high value for enterprise groups and financial corporations to accurately know the latest industry development trend, obtain market opportunities and determine an insightful operation strategy and development direction. In the meantime, it is the first heavy weight report to analyze the up/down-stream industry chain and industry leading corporations of financial corporations in an overall and systemic way.
Here, we'd like to express our sincere gratitude to China National Association of Finance Companies, National Bureau of Statistics of China, International Information Institute, National Institute of the Ministry of Commerce, National Tsing Hua University Library, Institute of Market Economy of the State Council Development Research Center, and Beijing Qinghua Forward Market Research Center, etc. Thank you so much!
Notice: all the market data, especially the corporation list data in this report is only for business reference. Please don't take the data for enterprise publicity. Thank you! Or Forward shall not take any responsibility for any consequences!
Qianzhan Business Information Co., Ltd. Industry Research Center
Research Team of Financial Corporation
China Financial Corporation Report" related reports »