China Municipal Engineering Industry Indepth Research and Investment Strategic Planning Report, 2013-2017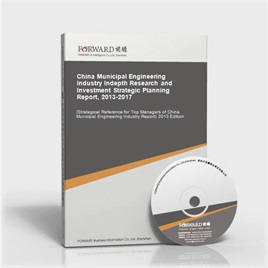 Last Update:2014-04-20
Form of services:Book + (pdf or doc file) + CD
Send method:EMS 2-3 days for delivery
English Service:+86 0755 33220413
Chinese Service:+86 800-8306390 800-8306395
E-mail:service.en@qianzhan.com
Report price:$7900 Print: $7800 CD: $7800
Special statement:
Recently we find there are some sites steal report contents from Qianzhan.com who put those contents on their sites for sale by making a little changes about the contents or remaining the same which deceives buyers(e.g. unable to get full or correct reports, or main body differs from contents that announced on sites).Therefore, we recommend paying a visit to Qianzhan personally or by your friends, and make payment after confirmation. Special statement: Qianzhan is the only and right holder of all the research reports, and has never used a third party to sell any reports, please be aware of the trademark " " when purchasing. Qianzhan is the largest and strongest consultancy, who owns the greatest number of researchers. Here followed "
Nine standards of companies' identificatios
"。
This table of content is original, without written permission of Qianzhan, any unit or individual shall not use, copy, or transfer the reports.
Preface
Table of Content
Urbanization is one of important symbols of a nation or a region's modernization. And urban planning and municipal engineering construction is a vital basis and means to guide the development of urbanization. At present, the world's urbanization rate is about 80%. During the "Eleventh Five-year" Plan, China urbanization develops very rapidly. For the past 4 years, the annual average urbanization rate increases by 0.9%. According to data from National Bureau of Statistics, as of the end of 2011, China's total population reached 1.347 billion, of which there were 691 million urban residents and there were 657 million rural villagers. This is the first time that urban population exceeds rural population. The urbanization rate has present a sharp increase, with a accumulative increase rate of 15.05% since 2000. Moreover, in terms of China's urbanization size, either China's annual net increment or total amount of urban population has been in the first position for a long time. China's total urban population is 2 times as high as USA total population, and China's total urban population is 1/4 higher than the total population of 27 EU countries.
During the "Twelfth Five-year Plan" period, China will enter a new double transformation stage of urbanization and city development. It's predicted the annual increase rate of urbanization will increase by 0.8%-1.0%, which means the urbanization will achieve by around 52% in 2015 and about 65% in 2030. A meaningful milestone for the development of a city is leading its urbanization rate to exceed 50%; the goal of urban population exceeding the population in rural areas was achieved in 2011. Due to the changes of ratio of urban and rural population, the subject position of urban economy in national economy has been strengthened.
In the next 20 years, the world's cities will unprecedented expand themselves in the aspects of speed and size, which mainly concentrate in most populous countries, China and India, locating in the emerging Asia. Compared the urbanization progress in terms of size, efficiency and investment, the urbanization of China is obviously better than that of India.
A survey reveals, currently, thanks to the globalization, marketization, industrialization, informatization, and modernization of infrastructure, the resources, elements, commodities and services are all conveniently flow in the nationwide. In terms of municipal engineering construction and public services, the policies and measures of attaching more importance to cities, preferring big cities, city clusters, and central cities, as well as neglecting edge cities, rural areas, and non-city clusters have taken. Moreover, there is no scientific, reasonable and foresight planning to guide the activities of population and industry, which both result in national human resources tend to rapidly gather in advantageous areas and cities, but city infrastructure and public services can not catch up with the fast pace of over concentration of the population. China has over emphasized the development of cities and the development of China's economy and society is facing lots of severe challenges: there is a further enlarging gap between urban and rural areas; especially in metropolises, the downtowns are extremely prosperous, while the edge urban areas and counties are backward. And some cities have had different kinds of "city disease": traffic jams, environmental pollution, poverty and unemployment, acute housing shortage, health problems, city disasters, safety weakening and so on. The progress of urbanization will lead to many kinds of "city disease", and there is still a long way to achieve "Metropolis Age" for China.
With Forward's long-term tracking and collecting market data of municipal engineering construction industry, we roundly and accurately analyze the industry structure system for you from the view of mastering the whole industry. This report mainly focuses on analyzing China current municipal engineering construction industry's market status, development speed and competitive situation, depending on macro-environment of current municipal engineering construction industry, relying on the background of international and domestic urbanization progress, regarding the structure of municipal engineering construction industry as a main line, as well as combining the construction between the small and medium-sized cities and towns and large-sized cities and towns.
The report mainly analyzes the background environment of China municipal engineering construction industry; the current development status of municipal engineering construction industry; national typical cities and towns construction tracks; the development situation of major segmentation of municipal engineering construction industry; the leading corporations' operational conditions in municipal engineering construction industry; the investment and financing situation of municipal engineering construction industry; as well as the development trend and prospects forecast of municipal engineering construction industry.
The most distinctive characteristics of this report is forward-looking and timeliness. Through analyzing forward-looking characteristic of abundant first-hand market data, we deeply and objectively dissect the development status of China current municipal engineering construction industry. Furthermore, based on future development tracks and years' practice experience of municipal engineering construction industry, we conduct prudent analysis and forecast for municipal engineering construction industry's future development trend. This report helps municipal engineering construction enterprises and investment enterprises to precisely grasp current latest developments of the industry. Afterwards, they can make wise operating decisions and define enterprises' development directions. Moreover, this report is the first and weighty report that fully analyzes the development status of municipal engineering construction industry, and analyzes its leading corporations in an all-round and systematical way.
Here, we would like to express our sincere gratitude to State Information Center, Bureau of Statistics of China, International Information Research Institute, Chinese Academy of International Trade and Economic Cooperation, Tsinghua University Library, Development Research Center of the State Council and Beijing Essence Forward Research Center, for their great support when we conduct this report!
Qianzhan Business Information Co., Ltd. Industry Research Center
Research Team of Municipal Engineering Construction Industry
China Municipal Engineering Industry Report" related reports »