China Wealth Management Industry Market Prospects and Investment Strategy Planning Report, 2013-2017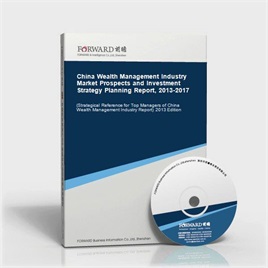 Last Update:2014-04-27
Form of services:Book + (pdf or doc file) + CD
Send method:EMS 2-3 days for delivery
English Service:+86 0755 33220413
Chinese Service:+86 800-8306390 800-8306395
E-mail:service.en@qianzhan.com
Report price:$7900 Print: $7800 CD: $7800
Special statement:
Recently we find there are some sites steal report contents from Qianzhan.com who put those contents on their sites for sale by making a little changes about the contents or remaining the same which deceives buyers(e.g. unable to get full or correct reports, or main body differs from contents that announced on sites).Therefore, we recommend paying a visit to Qianzhan personally or by your friends, and make payment after confirmation. Special statement: Qianzhan is the only and right holder of all the research reports, and has never used a third party to sell any reports, please be aware of the trademark " " when purchasing. Qianzhan is the largest and strongest consultancy, who owns the greatest number of researchers. Here followed "
Nine standards of companies' identificatios
"。
This table of content is original, without written permission of Qianzhan, any unit or individual shall not use, copy, or transfer the reports.
Preface
Table of Content
Wealth management is a new business model coming from domestic financial institutions in recent years. It's different from traditional "asset management", which mainly focuses on investing in stock market. The investable fields of "wealth management" are wider. Wealth management includes investment consultancy, life wealth management planning, and value retaining and increment of asset, with customer-focused. Nowadays, it has become the third main operating business, together with credit business and investment banking business. Furthermore, it's anticipated to be the most important growth field.
At present, there are a large number of middle class people and wealth men in China. Wealth management becomes the focus of business transformation and upgrading for domestic financial institutions. Moreover, in terms of gold and crude oil funds related to global bulk commodity, and the management products related to strong currency, like Australia dollars, to intensified house purchasing tide in overseas, the wealth management demand of affluent people has shown a new trend, which cross the market and is equipped with the characteristic of global asset allocation.
In 2010, China's personal overall investable asset size reached 62 trillion Yuan, with a year-on-year increase of 19% over the end of 2009. The compound average growth rate (CAGR) of capital market product value from 2008 to 2010 was about 55%, and the CAGR of investable real estate net worth was 40%. Meanwhile, the investment represented by Sunshine Private Fund and Private Equity Fund, as well as other types of investment growth fastest. And their CAGR was 100% from 2008 to 2010, which becomes an investment spot for high-net-worth individuals. In addition, the overseas investment becomes another investment spot for high-net-worth individuals. From 2008 to 2010, the main investment concentrates in Hong Kong.
There are generally two kinds of camps of wealth management institutions in the market, "the Public" and "the Private". Banks, trust institutions, insurance institutions and securities traders are the typical representatives of "the Public". In recent years, by means of establishing "wealth management centers", many institutions strive for expanding wealth management business; while those third party wealth management institutions, represented by Noah Wealth, Stock Star, and Rhine Wealth are the main force of "the Private". At present, there are more and more "Private" private-owned institutions involving in China's wealth management market. And the "Public" financial institutions, like banks, trust institutions, insurance institutions and securities traders will definitely meet forcible challenges in the future.
Compared with those mature markets in Europe or Asia continents, China is still in the process of financial reform. With the continuing opening up of China's financial market, the customer demand for products and services becomes increasingly complex.
According to China's "Twelfth Five-year" Plan, behind the policies of income structure adjustment, the Plan also shows China's current investment-driven growth model will be gradually shifted to consumption-driven growth model. Promoted by both structure adjustment and consumption-driven growth model, regarding doubling national income as a starting point, China will surely breed a "popular" social mainstream group. The wealth management is not only suitable for every financial institution's transformation and upgrading demand, but also meets the requirements of domestic economic structure adjustment. Wealth management industry will be in a golden development period in the following years.
With Forward's long-term tracking and collecting market data of wealth management industry, the report mainly analyzes the market environment of domestic wealth management; the operational experience of international wealth management industry; the subject competitive situation of international and domestic wealth management industry; the investment panoramic of wealth management; the investment feasibility of wealth management in key regions; as well as the leading corporations' operational conditions in wealth management industry. Meanwhile, with comprehensive and specific first-hand market data over the past 5 years, Forward helps you to grasp the market and development trends of wealth management industry, so as to win advantages from competition!
The most distinctive characteristics of this report is forward-looking and timeliness. Through analyzing forward-looking characteristic of abundant first-hand market data, we deeply and objectively dissect China current wealth management industry's development influencing factors, competitive landscape and characteristics of market demand. Furthermore, based on future development tracks and years' practice experience of wealth management industry, we conduct prudent analysis and forecast for wealth management industry's future development trend. This report helps all financial institutions, and third party wealth management institutions to precisely grasp current latest developments of the industry. Afterwards, they can make wise operating decisions and define enterprises' development directions. Moreover, this report is the first and weighty report on analyzing the transformation and upgrading of wealth management industry and analyzing its leading corporations in an all-round and systematical way.
Here, we would like to express our sincere gratitude to CBRC, State Information Center, Bureau of Statistics of China, International Information Research Institute, Chinese Academy of International Trade and Economic Cooperation, Tsinghua University Library, Development Research Center of the State Council and Beijing Essence Forward Research Center, for their great support when we conduct this report!
Notice: All the market data, especially corporations' ranking data in the report, only for business reference. Please do not take the data for enterprise publicity. Thank you! Or Forward shall not take any responsibility for any consequences!
Qianzhan Business Information Co., Ltd. Industry Research Center
Research Team of Wealth Management Industry
China Wealth Management Industry Report" related reports »