China Folk Culture Industry Development Process and Investment Strategy Report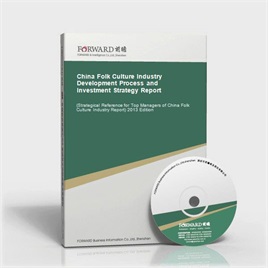 Last Update:2014-06-08
Form of services:Book + (pdf or doc file) + CD
Send method:EMS 2-3 days for delivery
English Service:+86 0755 33220413
Chinese Service:+86 800-8306390 800-8306395
E-mail:service.en@qianzhan.com
Report price:$7900 Print: $7800 CD: $7800
Special statement:
Recently we find there are some sites steal report contents from Qianzhan.com who put those contents on their sites for sale by making a little changes about the contents or remaining the same which deceives buyers(e.g. unable to get full or correct reports, or main body differs from contents that announced on sites).Therefore, we recommend paying a visit to Qianzhan personally or by your friends, and make payment after confirmation. Special statement: Qianzhan is the only and right holder of all the research reports, and has never used a third party to sell any reports, please be aware of the trademark " " when purchasing. Qianzhan is the largest and strongest consultancy, who owns the greatest number of researchers. Here followed "
Nine standards of companies' identificatios
"。
This table of content is original, without written permission of Qianzhan, any unit or individual shall not use, copy, or transfer the reports.
Preface
Table of Content
In recent years, "Chinese Kite Hot" and "Tangzhuang (Chinese suit) Hot" sweep through the world, demonstrating the infinite glamor of Chinese traditional culture. There are tremendous amount of civil and folk culture, including wedding and funeral, sculpture, stone carving, clay figurine, shadow puppet, stone inscription, paper-cut, proverb, folk song, folk belief, sacrifice, festival custom, courtesy, etc., which are all charming and present their unique glamor to us.
However, with the development of the economy and society, these precious civil and folk cultures have been fading, neglecting and destroying gradually, and even some of them have become extinct. Old artist of folk culture is getting older and older, and their traditional craftsmanship has been losing; Some workshops have been pushed down and demolished; Some traditional craftsmanship have been falsifying. Even if there are some classical civil and folk cultures arts in China, such as survival New Year paintings, shadow puppet, paper-cut, and these arts indeed decline little by little. Although a series of protective measures have been taken to protect folk culture for the past few years, which focus on protecting intangible culture and carrying out field investigation with academic associations who launch the activity "saving out country", there are still inadequate research in industrialization development of folk culture and its transformation mechanism in the entire cultural industry.
At present, what cultural fields we mainly develop are natural heritage, history heritage, media culture and fashion culture, while much more attention should be paid to folk culture based on local societies. In contrast, folk culture industry springs up in the nationwide recently, which has a breakthrough for production and sales model, as well as for the simple framework of "Art Promotes Economy Development" over the years, and the industry initially demonstrate its large-scale development in some sense and self-conscious pursuit. But the problems is that there is neither a clear and systematic development layout and nor strong creative strength in the industry. Both of them have become constraint bottlenecks of the sustainable development of China folk culture industry.
The banner of "to realize the great renaissance of the Chinese nation" raised in the Seventeenth Congress is surely a fundamental of realizing overall renaissance for the whole Chinese people. Furthermore, the folk culture with characteristics of "Draw upon it as you will, it never runs dry" should be clearly protected, enhanced and developed in the way of industrialization. This is not only a basis of goal realization, but also the only route to reach the goal.
With an all-round way of investigation and research on China folk culture industry, we roundly and accurately analyze the industry structure for you from the view of mastering the whole industry. The report mainly focuses on analyzing the folk culture industry's development background and environment, development status, the development of market segmentations and key enterprises in this industry. Meanwhile, with the analysis mentioned Above, we summarize various routes to protect and develop folk culture industry in all aspects. We provide creative and forward-looking thinking to enterprises and related research organizations, as so to offer them some experience and thinking for improving China's current cultural structure and effectively advancing the development of communities' cultural construction and economy.
Here, we would like to express our sincere gratitude to State Information Center, Bureau of Statistics of China, International Information Research Institute, Chinese Academy of International Trade and Economic Cooperation, Tsinghua University Library, Development Research Center of the State Council and Beijing Essence Forward Research Center, for their great support when we conduct this report!
Notice: All the market data, especially corporations' ranking data in the report, only for business reference. Please do not take the data for enterprise publicity. Thank you! Or Forward shall not take any responsibility for any consequences!
Qianzhan Business Information Co., Ltd. Industry Research Center
Research Team of Folk Culture Industry
China Folk Culture Industry Report" related reports »