China Sensor Manufacturing Industry Production & Marketing Demand and Investment Forecast Report, 2013-2017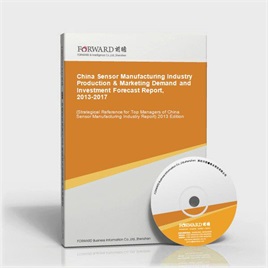 Last Update:2014-04-29
Form of services:Book + (pdf or doc file) + CD
Send method:EMS 2-3 days for delivery
English Service:+86 0755 33220413
Chinese Service:+86 800-8306390 800-8306395
E-mail:service.en@qianzhan.com
Report price:$7900 Print: $7800 CD: $7800
Special statement:
Recently we find there are some sites steal report contents from Qianzhan.com who put those contents on their sites for sale by making a little changes about the contents or remaining the same which deceives buyers(e.g. unable to get full or correct reports, or main body differs from contents that announced on sites).Therefore, we recommend paying a visit to Qianzhan personally or by your friends, and make payment after confirmation. Special statement: Qianzhan is the only and right holder of all the research reports, and has never used a third party to sell any reports, please be aware of the trademark " " when purchasing. Qianzhan is the largest and strongest consultancy, who owns the greatest number of researchers. Here followed "
Nine standards of companies' identificatios
"。
This table of content is original, without written permission of Qianzhan, any unit or individual shall not use, copy, or transfer the reports.
Preface
Table of Content
Current these years, global sensor industry develops quickly. Total sales amount for more than 3,000 global sensor manufacturers in 2008 is about 50 billion USD while global sensor market scale is more than 80 billion USD in 2010. Meanwhile, under the fast development background of Internet of Things, domestic sensor industry is experiencing the golden development period. By 2015, overall market scale of China Internet of Things will reaches 750 billion Yuan and sensor industry will directly benefit from it. Sales revenue for China sensor manufacturing industry corporations of scale (annual sales revenue is more than 5 million Yuan) is 44.027 billion Yuan in 2010. It is predicted that China sensor market will develop steadily and quickly in the following 5 years. Driving by the substantial growth of Internet of Things market scale, the China sensor market scale is hopeful to reach more than 120 billion Yuan in 2015.
There is a relatively fast development for China sensor corporations' amount and industry scale. At present there are more than 1,700 corporations which are engaged in sensor R&D production and, among them there are more than 50 corporations which are engaged in micro-system R&D and production. By the end of 2009, total annual production of sensing elements and sensor has already reached 2 billion and sensor products reached 10 categories, 42 subcategories and more than 6000 varieties. In the meantime, sensor is more and more widely used in the fields of social development and livings, such as industrial automation, agriculture modernization, space technology, military engineering, robotics, resource development, marine exploration, environmental monitoring, security, medical diagnostics, transportation and household appliances, etc. The most popular sensors in 2010 are flow sensors, pressure sensors and temperature sensors which take up 21%, 19% and 14% of the whole sensor market. Market for the pressure sensors, temperature sensors, flow sensors and horizon sensor is mature. And growth of the future sensor market will mainly base on new sensors like wireless sensors, micro-system sensors and biosensors.
China sensor technology and industry have made remarkable achievements with government supports. There is a "double speed-up projects" for China sensor industry that is constructing the production bases of China sensing elements and sensor under the guidance of speed-up support and speed-up development policy. Three major bases are as follow: "An'hui base" which focuses on establishing force photosensitive economies of scale; "Shanxi base" which focuses on establishing voltage sensitivity, thermal and automotive electronics economies of scale; "Heilongjiang base" which focuses on establishing air and humidity sensor economies of scale.
Nowadays, sensor is widely used in daily round, all branches of national economy and national defense construction and contributes to China modernization construction. In the recent years, with the rapid growth of China manufacturing and auto industry, sensor market scale in these two markets has exceed 10 billion Yuan. Global sensor market will develop in a continuous and steady way.
Qianzhan Business Information Co., Ltd. Industry Research Center
Research Team of Sensor Manufacturing Industry
China Sensor Manufacturing Industry Report" related reports »