China Non-steel Sector of Steel Enterprises Market Forecast and Investment Strategy Planning Report, 2013-2017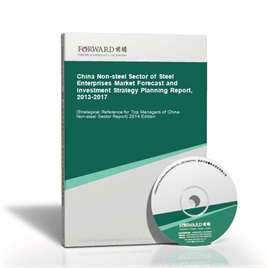 Last Update:2014-06-08
Form of services:Book + (pdf or doc file) + CD
Send method:EMS 2-3 days for delivery
English Service:+86 0755 33220413
Chinese Service:+86 800-8306390 800-8306395
E-mail:service.en@qianzhan.com
Report price:$7900 Print: $7800 CD: $7800
Special statement:
Recently we find there are some sites steal report contents from Qianzhan.com who put those contents on their sites for sale by making a little changes about the contents or remaining the same which deceives buyers(e.g. unable to get full or correct reports, or main body differs from contents that announced on sites).Therefore, we recommend paying a visit to Qianzhan personally or by your friends, and make payment after confirmation. Special statement: Qianzhan is the only and right holder of all the research reports, and has never used a third party to sell any reports, please be aware of the trademark " " when purchasing. Qianzhan is the largest and strongest consultancy, who owns the greatest number of researchers. Here followed "
Nine standards of companies' identificatios
"。
This table of content is original, without written permission of Qianzhan, any unit or individual shall not use, copy, or transfer the reports.
Preface
Table of Content
With the high price of steel, ore and other materials, steel industry enters a meager profit age. In 2010, the average sales profits of large and medium-sized enterprises was only 2.91%, which ranked the last one among the 39 industries in the national wide. Meanwhile, under the serious surplus circumstance of crude steel production capacity, large-sized enterprises no longer develop themselves via expanding production. Therefore, on the basis of merging and expanding, they extended to the upstream and downstream industries of the industrial chain, striving for developing non-steel sector. This is becoming a new choice for China's steel enterprises under these new trends.
China's large-sized enterprises have generally accelerated the speed of diversified operation. For example, Baosteel has formed a diversified operational system with six kinds of business, including sources development, logistics, steel extension processing industry, production services industry, engineering and technical services industry, coal and chemical industry, as well as financial and investment industry. Besides, the revenue of group external business surpassed the income of group internal business. In 2010, the income of six kinds of business in Baosteel accounted for 27% of its total operating revenue, and the realized profits took up 22% of the group's total operating revenue. Since 1980s, Shougang group has entered a diversified operation field, and since 1990s, it has begun to develop unrelated diversified hi-tech fields. After more than 20 years of development, it has formed a operational pattern with nine industries, including mining industry, international trade, international project, construction, mechanical and eletronical, hi-tech, real estate, education and industry. In 2010, the non-steel sector achieved 3.82 billion Yuan of profits, which is 1.94 times as high as the 1.97 billion Yuan of group's profits. And it became an important support of Shougang group's benefits. In all "Twelfth Five-year" Plans, which are announced by each steel enterprise in succession, they happen to accelerate the development of non-steel sector.
Similarly, foreign large-sized steel enterprises early start to develop the non-steel sector, in order to maintain the steady development and avoid marker risks. Apart from providing steel, the main business, Arcelor Mittal Group also caters for mining industry, logistics and offers solutions and services of steel industry, etc.; the revenue of industries of services, overall industrial solutions, and elevator in ThyssenKrupp Group is always accounting for as high as 60% of its total revenue; besides steel business, Nippon Steel Corporation steps foot into many other fields, such as engineering technology, urban development, chemical, new materials, system integration, and the non-steel sector takes up 35%; JFE is gradually making investment in aspects of solar battery, environmental protection and large-scale integrated circuit.
The most distinctive characteristics of this report is forward-looking and timeliness. Through analyzing forward-looking characteristic of abundant first-hand market data, we deeply and objectively dissect the optional roads to enter non-steel sector for steel enterprises. Meanwhile, we deeply analyze some typical cases of non-steel sector strategies, such as Baosteel, Shougang, Wugang and so on, in order to provide some experiential learning and thought for those steel enterprises which are struggling for success. This report helps non-steel enterprises of steel industry, R&D institutions and investment enterprises to precisely grasp current latest developments of the industry. Afterwards, they can make wise operating decisions and define enterprises' development directions.
Here, we would like to express our sincere gratitude to State Information Center, Bureau of Statistics of China, China Customs, International Information Research Institute, Chinese Academy of International Trade and Economic Cooperation, Tsinghua University Library, Development Research Center of the State Council and Beijing Essence Forward Research Center, for their great support when we conduct this report!
Notice: All the market data, especially corporations' ranking data in the report, only for business reference. Please do not take the data for enterprise publicity. Thank you! Or Forward shall not take any responsibility for any consequences!
Qianzhan Business Information Co., Ltd. Industry Research Center
Research Team of Non-steel Sector of Steel Industry
China Non-steel Sector Report" related reports »