China Rare Earth Industry Indepth Research and Investment Strategy Planning Report, 2013-2017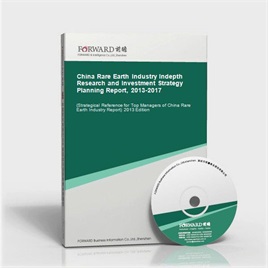 Last Update:2014-05-24
Form of services:Book + (pdf or doc file) + CD
Send method:EMS 2-3 days for delivery
English Service:+86 0755 33220413
Chinese Service:+86 800-8306390 800-8306395
E-mail:service.en@qianzhan.com
Report price:$7900 Print: $7800 CD: $7800
Special statement:
Recently we find there are some sites steal report contents from Qianzhan.com who put those contents on their sites for sale by making a little changes about the contents or remaining the same which deceives buyers(e.g. unable to get full or correct reports, or main body differs from contents that announced on sites).Therefore, we recommend paying a visit to Qianzhan personally or by your friends, and make payment after confirmation. Special statement: Qianzhan is the only and right holder of all the research reports, and has never used a third party to sell any reports, please be aware of the trademark " " when purchasing. Qianzhan is the largest and strongest consultancy, who owns the greatest number of researchers. Here followed "
Nine standards of companies' identificatios
"。
This table of content is original, without written permission of Qianzhan, any unit or individual shall not use, copy, or transfer the reports.
Preface
Table of Content
After 40 years of development and construction, China rare earth industry makes a great progress in manufacturing and application aspects. At present, China has established a completed rare earth industry system. Especially in recent 10 years, the development of rare earth industry has formed a good trend, shifting from raw materials to deep processing, and the application to high tech field. Nowadays, with the development and construction, China has become a largest producer, application nation and exporter of rare earth; moreover, it's the only nation, which is qualified to provide every level and specification of products.
In 2010, China rare earth industry attracted attention from all parties. The national policies are all focusing on the loopholes and drawbacks of the industry. Taking all into consideration, Chinese government sets about to control rare earth market. In 2011, the Ministry of Land and Resources designated the first batch national planning regions for rare earth and iron mines to control the exploitation and utilization of resources, via strategy planning and macro-regulation, and to strength government voice over the rare earth market, which will both point a bright direction for the development of current rare earth industry.
Rare earth is a kind of precious strategic resource, also known as "industry MSG" and "mother of new materials", which is widely used in high-end scientific and technologic field, as well as military field. According to data from the Ministry of Industry and Information Technology, China produced 130 thousand tons of rare earth mines in total, accounting for a 97.31% of the global rare earth total output in 2010. China's rare earth reserves occupy a 36% of the global total reserves, with a continuous declining trend annually. In the long run, China takes up a 90% of the rare earth market size and trading size, however. It has no right to speak in the market.
This is mainly because China cannot well protect the resources, exploit and dig the resources, compete with each other in a disorder way, and conduct weak management over rare earth production and exporting. So, in such a circumstance the State draws up a "2009-2015 Rare Earth Industry Development Plan" to improve regulatory level of rare earth industry, to elevate the production level of rare earth application materials, and to speed up the industry consolidation and reorganization. It's predicted the quantity of China rare earth smelting and separating enterprises will reduce from about 100 to around 20.
The plan shows, China sets quotas for the total amount of rare earth export in a 35,000 tons/year, prohibits the export of primary products and limits the export amount of some parts of elements. By 2015, the total output of China rare earth application materials will reach 138,000 tons, among which there will be 92,000 tons high-end rare earth application materials, By 2015, the total output of China rare earth luminescent materials, hydrogen storage materials and rare earth permanent magnet materials will occupy a 70% of the output for global development goal. Its estimated China rare earth demand will be about 110,000 tons.
With Forward's long-term tracking and collecting market data of rare earth industry, we roundly and accurately analyze the industry structure system for you from the view of mastering the whole industry. This report mainly focuses on analyzing China current rare earth industry's market size and development situation, depending on policy environment of current rare earth industry and relying on the policy lead as well as the production and marketing situation.
The report pay more attention to analyze the policy and economic environment of domestic rare earth industry; the supply and demand status of international rare earth industry; the supply and demand situation of domestic rare earth industry; the technologies and application fields of rare earth industry; the import and export markets of rare earth industry; the integration situation of rare earth industry; the leading corporations conditions in rare earth industry; as well as the development trend and prospect of rare earth industry. Meanwhile, with comprehensive and specific first-hand market data over the past 5 years Forward helps you to grasp the market and development trends of rare earth industry, so as to win advantages from competition!
Here, we would like to express our sincere gratitude to State Information Center, Bureau of Statistics of China, China Customs, International Information Research Institute, Chinese Academy of International Trade and Economic Cooperation, Tsinghua University Library, Development Research Center of the State Council and Beijing Essence Forward Research Center, for their great support when we conduct this report!
Notice: All the market data, especially corporations' ranking data in the report, only for business reference. Please do not take the data for enterprise publicity. Thank you! Or Forward shall not take any responsibility for any consequences!
Qianzhan Business Information Co., Ltd. Industry Research Center
Research Team of Rare Earth Industry
China Rare Earth Industry Report" related reports »