China Construction Machinery Leasing Industry Indepth Research and Investment Strategy Report, 2013-2017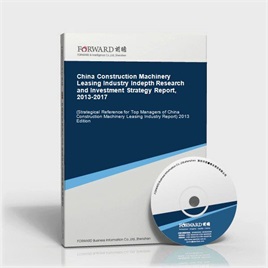 Last Update:2014-05-18
Form of services:Book + (pdf or doc file) + CD
Send method:EMS 2-3 days for delivery
English Service:+86 0755 33220413
Chinese Service:+86 800-8306390 800-8306395
E-mail:service.en@qianzhan.com
Report price:$7900 Print: $7800 CD: $7800
Special statement:
Recently we find there are some sites steal report contents from Qianzhan.com who put those contents on their sites for sale by making a little changes about the contents or remaining the same which deceives buyers(e.g. unable to get full or correct reports, or main body differs from contents that announced on sites).Therefore, we recommend paying a visit to Qianzhan personally or by your friends, and make payment after confirmation. Special statement: Qianzhan is the only and right holder of all the research reports, and has never used a third party to sell any reports, please be aware of the trademark " " when purchasing. Qianzhan is the largest and strongest consultancy, who owns the greatest number of researchers. Here followed "
Nine standards of companies' identificatios
"。
This table of content is original, without written permission of Qianzhan, any unit or individual shall not use, copy, or transfer the reports.
Preface
Table of Content
With the progressing construction technology, the proportion of construction machinery implementation to engineering construction composition is higher and higher. Therefore, increasing equipment utilization rate and decreasing production cost and capital share have become important means for every construction corporations to improve their competitiveness. Because the lease has the strengths of saving enterprises purchase capital investment, lowering operating costs and improving the overall efficiency of enterprises, it is an efficient way and development trend to configure engineering machinery and equipment through leasing.
View from the international range, the market scale of engineering machinery is huge that the global sales revenue is about 40 billion USD, which is about 25% of the total output value of engineering machinery. In North America, Europe and Japan and other developed markets, the engineering machinery which is sold by leasing accounts for 65% of the local market. And the leasing has become a primary sales channel. However, the annual sales revenue of leasing engineering machinery in China is only about 15 to 20 billion Yuan which is less than 10% of the application amount to domestic engineering machinery equipment. Gap between China and international level is big. In the meantime, the supply market of domestic construction machinery equipment is enormous. It can be anticipated that with the deepening corporation system reform and leasing regulation, the potential and space of construction machinery market is large. To sum it up, it is with great leasing opportunities for the market.
China engineering machinery leasing business has become a hot field for corporations at home and abroad due to the great market potential. According to the statistics from Machinery Management and Leasing Branch of China Construction Industry Association, there are more than 11,500 engineering machinery leasing corporations in China. But most of them are of medium and small scale. Number of the corporations with over 50 million capitals is only about 100. In contrast, the proportion of middle size leasing corporations to the industry is 92%; and 10% of the leasing corporations are large-scale and listed corporations in America, in which the leasing industry is mature and advanced in the world. Accordingly, the competition of China engineering machinery leasing industry will be fierce. And it is trend for the industry to reorganization.
At present, the uncompleted domestic policies, laws and regulations impede the development of engineering machinery leasing industry and bring uncertainty to the industry development as well. Meanwhile, as the competition of engineering machinery leasing industry is fiercer, the domestic outstanding engineering machinery leasing corporations pay more and more attention to the industry market research, especially the in-depth research of industry development environment, product consumers and business model. With Forward's the long-term tracking and collecting market data of engineering machinery leasing industry, we roundly and accurately analyze the structure system for you from the view of mastering the whole industry.
Major characteristics of this report are forward-looking and timeliness. Base on the forward-looking analysis of massive research data, we further analyze the development scale and competitive landscape of engineering machinery leasing industry. Along with the industry development route and our practical experience, we analyze and predict the future development prospect of engineering machinery leasing industry. This report contains a high value for engineering machinery leasing corporations and investment corporations to accurately know the latest industry development trend, obtain market opportunities and determine an insightful operation strategy and development direction. In the meantime, it is the first heavy weight report to analyze the up/down-stream industry chain and industry leading corporations of engineering machinery leasing industry in an overall and systemic way.
Here, we'd like to express our sincere gratitude to National Statistics Bureau of China, International Information Institute, National Institute of the Ministry of Commerce, National Tsinghua University Library, Institute of Market Economy of the State Council Development Research Center, and Beijing Tsinghua Forward Market Research Center, etc. Thank you so much!
Notice: all the market data, especially the corporation list data in this report is only for business reference. Please don't take the data for enterprise publicity. Thank you! Or Forward shall not take any responsibility for any consequences!
Qianzhan Business Information Co., Ltd. Industry Research Center
Research Team of Engineering Machinery Leasing Industry
China Construction Machinery Leasing Industry Report" related reports »