China LED Industry Production & Marketing Demand and Investment Forecast, 2013-2017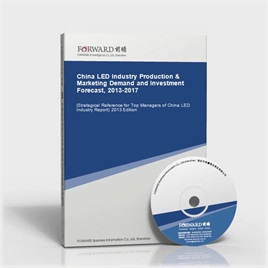 Last Update:2014-05-15
Form of services:Book + (pdf or doc file) + CD
Send method:EMS 2-3 days for delivery
English Service:+86 0755 33220413
Chinese Service:+86 800-8306390 800-8306395
E-mail:service.en@qianzhan.com
Report price:$7900 Print: $7800 CD: $7800
Special statement:
Recently we find there are some sites steal report contents from Qianzhan.com who put those contents on their sites for sale by making a little changes about the contents or remaining the same which deceives buyers(e.g. unable to get full or correct reports, or main body differs from contents that announced on sites).Therefore, we recommend paying a visit to Qianzhan personally or by your friends, and make payment after confirmation. Special statement: Qianzhan is the only and right holder of all the research reports, and has never used a third party to sell any reports, please be aware of the trademark " " when purchasing. Qianzhan is the largest and strongest consultancy, who owns the greatest number of researchers. Here followed "
Nine standards of companies' identificatios
"。
This table of content is original, without written permission of Qianzhan, any unit or individual shall not use, copy, or transfer the reports.
Preface
Table of Content
As the world's most notable new generation light, LED has been called the green light source with a most bright development prospect, due to its energy saving, environmental protective, excellent color rendering and long life circle advantages. Starting from 1970s, China's LED industry has a great progress under the guidance of national supporting policies and industry base construction. In 2011, China's LED industry sales revenue reached 155.968 billion Yuan, with a growth of 30% over the previous year. And comparing to that of during "Eleventh Five-year" Plan, sales revenue increases several times over in China's LED industry.
As a new and high efficient solid-state light source, the down stream industries of LED have a wide range of application. Currently, LED has been applied to home appliance, automobile, communication, lighting, traffic signal, billboard fields and so on, as point light source or area light source. In 2011, the overall size application area of China's LED reached 121 billion Yuan, with an increase of 34.44% over the previous year. It is the fastest growth link in LED industrial chain, among which lighting field has the most obvious increase, accounting for 25% of the overall shares. So, it becomes a application area with the largest market shares, followed by landscape lighting and backlight application.
Analysis from industrial chain pattern, the patent of up stream epitaxial wafer and chip has been monopolized by Japanese, European and American-owned enterprises, so a substantial expansion will lead to LED chip over-capacity, especially in domestic market; as to encapsulation link of middle stream industry, the Taiwan and Korean-owned enterprises rise up abruptly. And good supply and demand condition of the industry will require the product value-added in encapsulation products; as to application link of down stream industry, depending on governmental supporting policies and localization advantages domestic enterprises are able to fight against with international well-known enterprises.
In 2011, global MOCVD increased to 704 annually, with a total quantity of 2547, however, since the overall utilization rate of MOCVD is low, the chip was over-capacity. In 2012, the global LED chip will still be over-capacity. Since the LED TV sales was lower than expectation in the second half of 2011, and China reduced subsidy related to the investment, LED chip and panel manufacturer in South Korea and taiwan has been reducing their capital expenses.
In 2012, China will be a main driving force of the global LED market. The outdoor lighting market in LED light market is decided by public procurement budget, while indoor lighting, back lighting and other lighting application are more positively correlated with macroeconomic. In 2012, China's government will widely adopt green energy planning of LED lighting for civil use and commercial use, which is expected to help LED industry recover from the economic recession.
From industry base construction, China's government accelerate its speed to cultivate domestic LED enterprise cluster. There are hundreds of chip manufacturing plants in Peal River Delta, Yangtze River Delta, southeastern coastal regions as well as in Northern China; and there are over a thousand encapsulation enterprises in China. According to official data released recently, the output value of domestic LED up and middle stream industries reached 41.4 billion Yuan in 2011, with an annual increase of 38%. It's estimated that it will grow by 60% by 2012, but the capacity expansion and new competitors will keep lowering the profitability capability of chip manufacturing plants and encapsulation enterprises.
Qianzhan Business Information Co., Ltd. Industry Research Center
Research Team of LED Industry
China LED Industry Report" related reports »