China Utility Boiler Industry Indepth Research and Investment Forecast Report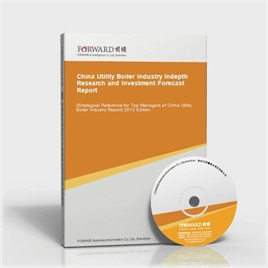 Last Update:2014-05-14
Form of services:Book + (pdf or doc file) + CD
Send method:EMS 2-3 days for delivery
English Service:+86 0755 33220413
Chinese Service:+86 800-8306390 800-8306395
E-mail:service.en@qianzhan.com
Report price:$7900 Print: $7800 CD: $7800
Special statement:
Recently we find there are some sites steal report contents from Qianzhan.com who put those contents on their sites for sale by making a little changes about the contents or remaining the same which deceives buyers(e.g. unable to get full or correct reports, or main body differs from contents that announced on sites).Therefore, we recommend paying a visit to Qianzhan personally or by your friends, and make payment after confirmation. Special statement: Qianzhan is the only and right holder of all the research reports, and has never used a third party to sell any reports, please be aware of the trademark " " when purchasing. Qianzhan is the largest and strongest consultancy, who owns the greatest number of researchers. Here followed "
Nine standards of companies' identificatios
"。
This table of content is original, without written permission of Qianzhan, any unit or individual shall not use, copy, or transfer the reports.
Preface
Table of Content
The thermal power generation is the major power generation in China. In 2010 the installed capacity of power generation equipment in China is 962.19 million kilowatts with a year-on-year growth of 10.08%; among which the thermal power is 706.63 million kilowatts with a year-on-year growth of 8.37% and accounts for 73.44%. And the total electricity generation in China is 4,141.3 billion KWH, among which the thermal power generation is 3,325.3 billion KWH with a year-on-year growth of 11.7% and accounts for over 80%. The utility boiler is one of the three main process equipments for thermal generating plants. It develops together with the thermal power generation industry in China. The latest data from State Statistics Bureau shows that the output of utility boiler in 2010 is 399,948.70 tons, up 14.30% comparing with that in 2009.
Current these years the environmental and energy saving become an important direction for structure adjustment of power industry in China. Guiding by the policy of "encourage big companies and limit small size companies", the thermal power industry actively upgrades and optimizes the industry structure that a butch of small thermal power units with low energy efficiency and serious pollution has been shut down. It dramatically fastens the updating of domestic thermal power equipments. By the end of 2010 the proportion of the thermal power units which with a unit capacity of 300,000 kilowatts or above to total capacity is over 60%. The policy of "encourage big companies and limit small size companies" for thermal power industry also promote the utility boilers developing towards high parameter and high capacity. Besides, clean coal technologies such as circulating fluidized bed and IGCC are gradually mature and widely applied. It promotes the development of CFB boiler and IGCC gasifier.
Historically, three major manufacturing bases for power plant equipments in China—Shanghai Electric Group, Haerbing Power Group, and Dongfang Electric Group—with independent R&D and manufacturing capacity for complete set of power plant equipment in large scale. They are leaders of domestic power plant equipment manufacturing, as well as domestic boiler manufacturing. The output of the three companies accounts for over 60% of the domestic market share. The second major utility boiler manufacturers include old brands like ALSTOM, JINANJIGUO, Huaguang Boiler, BEIGUO, and Hangzhou Boiler Group. For the new brands, there are Qingdao Xin Feng Yuan, BABCOCK & WILCOX (joint venture), and Western Power which with their own special features.
During the "twelfth five years" the proportion of thermal power to the national power decreases 4-5%. Still, as China features as abundant coal and short of power, the thermal power will be important in power industry in the future. Even though the current thermal power grows slowly, the prospects of thermal power industry are optimistic from a long term view due to the active factors like improvement of environmental technology, lowering of power generation cost, and increase of power demand. Consequently, the utility boiler market with dramatic potential. Among which the CFB boiler, IGCC gasifier with a greater potential. Calculating by 80 million kilowatts of thermal power which plan to put into production in 2011, the output of utility boiler in 2011 may exceed 470,000 tons and with a growth rate of 18%.
With Forward's the long-term tracking and collecting market data of utility boiler industry, we roundly and accurately analyze the structure system for you from the view of mastering the whole industry. This report will base on the macro condition of current utility boiler industry, production and marketing condition, industry demand trend of auto industry, then detailed analyzes the current market capability, market scale, development speed and competitive landscape of China utility boiler industry. Meanwhile, together with the comprehensive and detailed market data which is accumulated for years, Forward helps you to grasp the market and development trends of utility boiler industry, so as to win advantages from competition!
Major characteristics of this report are forward-looking and timeliness. Base on the forward-looking analysis of massive research data, we further analyze the development scale and competitive landscape of utility boiler industry. Along with the industry development route and our practical experience, we analyze and predict the future development prospect of utility boiler industry. This report is of a high value for utility boiler manufacturers and investment corporations to accurately know the latest industry development trend, and obtain market opportunities and determine an insightful operation strategy and development direction. In the meantime, it is the first heavy weight report to analyze the up/down-stream industry chain and industry leading corporations of utility boiler industry in an overall and systemic way.
Here, we'd like to express our sincere gratitude to National Statistics Bureau of China, International Information Institute, General Administration of Customs, National Institute of the Ministry of Commerce, National Tsing Hua University Library, Institute of Market Economy of the State Council Development Research Center, and Beijing Qinghua Forward Market Research Center, etc. Thank you so much!
Notice: all the market data, especially the corporation list data in this report is only for business reference. Please don't take the data for enterprise publicity. Thank you! Or Forward shall not take any responsibility for any consequences!
Qianzhan Business Information Co., Ltd. Industry Research Center
Research Team of Utility Boiler Industry
China Utility Boiler Industry Report" related reports »