China Pharmaceutical Industry Monthly Market Monitoring Report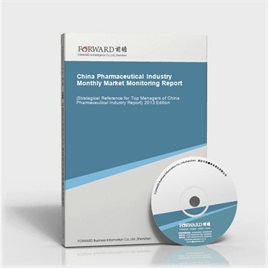 Last Update:2014-05-06
Form of services:Book + (pdf or doc file) + CD
Send method:EMS 2-3 days for delivery
English Service:+86 0755 33220413
Chinese Service:+86 800-8306390 800-8306395
E-mail:service.en@qianzhan.com
Report price:$12500 Print: $11500 CD: $11500
Special statement:
Recently we find there are some sites steal report contents from Qianzhan.com who put those contents on their sites for sale by making a little changes about the contents or remaining the same which deceives buyers(e.g. unable to get full or correct reports, or main body differs from contents that announced on sites).Therefore, we recommend paying a visit to Qianzhan personally or by your friends, and make payment after confirmation. Special statement: Qianzhan is the only and right holder of all the research reports, and has never used a third party to sell any reports, please be aware of the trademark " " when purchasing. Qianzhan is the largest and strongest consultancy, who owns the greatest number of researchers. Here followed "
Nine standards of companies' identificatios
"。
This table of content is original, without written permission of Qianzhan, any unit or individual shall not use, copy, or transfer the reports.
Preface
Table of Content
In 2012, the State will further enlarge the investment in medical health services, so the pharmaceutical market size is expected to enlarge. The improvement of basic pharmaceutical system, the continuously deepening of new healthcare reform and the implementation of every plans in the "Twelfth Five-year" Plan on Pharmaceutical Industry in succession, as well as the lasting adjustment of medical product price will all deeply affect the pharmaceutical industry in the aspect of structure. In addition, national support on innovation increases, thus pharmaceutical enterprises are expected to develop rapidly in a new round.
The information scope of pharmaceutical industry monthly monitoring report covers the entire pharmaceutical industry; meanwhile, it focuses on medicine market. The eleven core tasks of this report are listed below: firstly, concerning about the latest development trend of international pharmaceutical market; secondly, dynamically monitoring China monthly policy environment, economic environment, trading environment, investment and financing environment, social environment and so on; thirdly, analyzing the monthly macroeconomic operational conditions of pharmaceutical industry and its sub-industries; fourthly, concerning about the monthly up and down stream industries of pharmaceutical industry, intensively focusing on the pharmaceutical raw materials and drug packing materials; fifthly, dynamically monitoring monthly investment trend of pharmaceutical market, including merger and restructuring, capital investment and financing, the trend of foreign investment in China, etc; sixthly, intensively monitoring monthly market competition situation of pharmaceutical industry, including drug price, quality supervision, product recall, etc; seventhly, intensively monitoring and analyzing monthly listing of new drugs and development & progress of medicine study; eighthly, intensively monitoring the monthly marketing mode and channel construction trend of pharmaceutical industry; ninthly, intensively monitoring key investment regions and development trend of domestic pharmaceutical industry; tenthly, intensively analyzing the latest operational and development trends of domestic pharmaceutical enterprises; eleventhly, under the fully monitoring circumstance of monthly massive data, analyzing the hot issues during pharmaceutical industry operation period from different perspectives and in a deep analytical way, and providing some functional management strategies and suggestions for pharmaceutical industry.
The use and value of this report: with a long-term and consecutive dynamically monitoring and analyzing of the first hand market data, Forward continuously provide strategic references for enterprises in a objective perspective. Therefore, it's helpful for enterprises to fully grasp the latest news of the industry, to study and judge the market competition environment monthly and timely to adjust their management and competition strategies. Meanwhile, the report is very useful for many related investment departments.
Here, we would like to express our sincere gratitude to Bureau of Statistics of China, China Customs, State Information Center and Beijing Essence Forward Research Center, for their great support when we conduct this monthly pharmaceutical report!
Qianzhan Business Information Co., Ltd. Industry Research Center
Monthly Monitoring Research Team of Pharmaceutical Industry
China Pharmaceutical Industry Report" related reports »