China Tea Industry Production & Marketing Demand and Investment Forecast Report, 2013-2017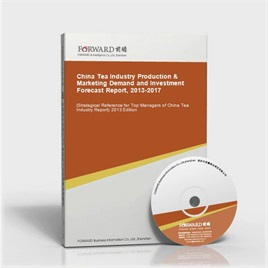 Last Update:2014-05-15
Form of services:Book + (pdf or doc file) + CD
Send method:EMS 2-3 days for delivery
English Service:+86 0755 33220413
Chinese Service:+86 800-8306390 800-8306395
E-mail:service.en@qianzhan.com
Report price:$7900 Print: $7800 CD: $7800
Special statement:
Recently we find there are some sites steal report contents from Qianzhan.com who put those contents on their sites for sale by making a little changes about the contents or remaining the same which deceives buyers(e.g. unable to get full or correct reports, or main body differs from contents that announced on sites).Therefore, we recommend paying a visit to Qianzhan personally or by your friends, and make payment after confirmation. Special statement: Qianzhan is the only and right holder of all the research reports, and has never used a third party to sell any reports, please be aware of the trademark " " when purchasing. Qianzhan is the largest and strongest consultancy, who owns the greatest number of researchers. Here followed "
Nine standards of companies' identificatios
"。
This table of content is original, without written permission of Qianzhan, any unit or individual shall not use, copy, or transfer the reports.
Preface
Table of Content
China is the origin of tea plant as well as the first country which discovers and makes use of tea plant in the world. Since the reform and opening-up, the tea industry develops rapidly and has become a significant industry to the rural economy in main producing areas, and an advanced agricultural industry to earn foreign exchange through export. It drives highly attention from government.
As the market competition is fierce, the tea industry trend to develop towards brand integration, industrialization and intensification. Many production bases trend to be in scale while numerous supporting policies are issued to promote the enthusiasm of tea farmers, tea dealers and tea corporations. The industry is showing a spatial aggregation and local specialization.
In 2010 China has become the biggest tea producer and the second biggest tea exporter in the world. However, facing with various restraining factors, the industry is in the general trend to transform and upgrade in full range.
Data shows that the total output of global tea in 2010 is 4.067 million tons. And China ranks first by 1.37 million tons. Even though there are many disadvantages, such as RMB appreciation, production goods, and increase of labor cost, China's tea export still ranks second by 0.3029 million tons that the export amount is historically high as 0.784 billion USD.
However, since August 2005, the EU adjusts the residual quantity of endosulfan in tea from 30mg/kg into 0.01mg/kg, China's tea export maintains between 0.25-0.3 million tons on the whole. The international green barrier dramatically limits the tea export.
In the aspect of varieties, the export of China's green tea, flower tea and Pu'er tea in 2010 showing a increasing trend while that of the Oolong tea and black tea showing a decreasing trend due to the fierce competition in the international market. In the aspect of market, exports of America and Russia in 2010 grow rapidly while the traditional export market in west Africa shows a declining trend for the shortage of raw material supply, increase of production cost and regulation of quality.
There is a fast development as well as numerous problems for China's tea industry. For instance, among a large number of tea corporations in China there are seldom industry giants or well-known brands in the world. The tea production chain of scale, standardization and regulation is not yet formed. Presently, most of the tea exports are raw material products that major as the low-end price competition. Most corporations lack of independent R&D capability.
Nowadays there are over 6,000 tea corporations of scale in China, among which the China Tea Co., Ltd. with a strongest competitiveness and biggest market share. The sales revenue of the company in 2009 is 1,457 million Yuan which ranks the first in "top 100 enterprises' sales revenue in 2010 China's tea industry". It keeps No. 1 in 2011 and is as high as 61.12% comparing with the sales revenue of Hunan Tea Co., Ltd. which ranks the second in 2011. Corporations with market influence include An'hui Tea Import and Export Co., Ltd., Zhejiang Tea Group, Beijing Wuyutai Tea Co., Ltd. and so on.
Major characteristics of this report are forward-looking and timeliness. Base on the forward-looking analysis of massive research data, we further analyze the development scale and competitive landscape of tea industry. Along with the industry development route and our practical experience, we analyze and predict the future development prospect of tea industry. This report is of a high value for enterprises like tea producing corporations, R&D institutions, sales corporations and investment corporations to accurately know the latest industry development trend, and obtain market opportunities and determine an insightful operation strategy and development direction. In the meantime, it is the first heavy weight report to analyze the up/down-stream industry chain and industry leading corporations of tea industry in an overall and systemic way.
Here, we'd like to express our sincere gratitude to National Statistics Bureau of China, International Information Institute, General Administration of Customs, National Institute of the Ministry of Commerce, National Tsing Hua University Library, Institute of Market Economy of the State Council Development Research Center, and Beijing Qinghua Forward Market Research Center, etc. Thank you so much!
Notice: all the market data, especially the corporation list data in this report is only for business reference. Please don't take the data for enterprise publicity. Thank you! Or Forward shall not take any responsibility for any consequences!
Qianzhan Business Information Co., Ltd. Industry Research Center
Research Team of Tea Industry
China Tea Industry Report" related reports »