China Adult Education Industry Market Prospect and Investment Forecast Report, 2013-2017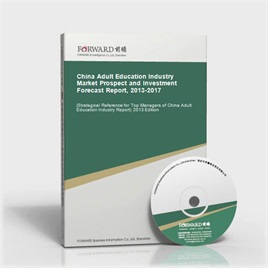 Last Update:2014-05-18
Form of services:Book + (pdf or doc file) + CD
Send method:EMS 2-3 days for delivery
English Service:+86 0755 33220413
Chinese Service:+86 800-8306390 800-8306395
E-mail:service.en@qianzhan.com
Report price:$7900 Print: $7800 CD: $7800
Special statement:
Recently we find there are some sites steal report contents from Qianzhan.com who put those contents on their sites for sale by making a little changes about the contents or remaining the same which deceives buyers(e.g. unable to get full or correct reports, or main body differs from contents that announced on sites).Therefore, we recommend paying a visit to Qianzhan personally or by your friends, and make payment after confirmation. Special statement: Qianzhan is the only and right holder of all the research reports, and has never used a third party to sell any reports, please be aware of the trademark " " when purchasing. Qianzhan is the largest and strongest consultancy, who owns the greatest number of researchers. Here followed "
Nine standards of companies' identificatios
"。
This table of content is original, without written permission of Qianzhan, any unit or individual shall not use, copy, or transfer the reports.
Preface
Table of Content
Adult Education is not only a part of national modern education system, but also a way to develop adult's wisdom/potential, and to improve adult's scientific and cultural qualities, as well as upgrade their ideological and ethical levels, so as to meet the basic education demand of adapting to economic, cultural and social development changes. It's also a way to fulfill people's various demand for social life. Moreover, it's an education channel to realize the self-development and perfect human character.
Adult education mainly provides further education like advancing education degree, professional and continuing education for employees after they graduate from school. There are two kinds of adult education. One is called "Degree education", which means you will get an academic certificate issued by Ministry of Education after graduating. The other one is called "Non-degree Education", which means you will get a certificate issued by the training organization after graduating.
There are 4 types of education forms in adult "Degree education", namely, adult primary education, adult technical secondary education, adult senior secondary education, and adult advanced education. By the end of 2010, the number of "Degree Education" school in all types decreased. At the same time, the number of faculty reduced, too. There is a difference among adult education schools. Specifically, the number of adult technical and senior secondary schools goes up, whereas the number of adult primary and advanced education schools cuts down.
There are many types of adult education forms in "Non-degree Education", such as further education, vocational qualification certificate education, "professional certificate" education, job training and so on. By the end of 2010, there were 3.3289 million students who received adult advanced education in "Non-degree Education". Statistically, 7.1256 million students had graduated at the end of that year. There were 52.9191 million students who received adult secondary education in "Non-degree Education". At the same year, there were 59.8637 million students graduating from school.
From the perspective of adult advanced education trend, "Degree Education" is still a main task of adult education. What's more, the objective demand of society development and individual development will prompt the development of adult education towards a higher level. Adult education has a wide range of student source, because of lots of advantages, such as various types, diversified education models, different teaching methods, and multiple school main body. Furthermore, adult education will seek a closer tie with the job market, and operates with the directions of market-oriented demand and vocational education.
From the perspective of "Non-degree Education" market, further education in colleges and universities is still a key task in the future. Besides, colleges and universities' further education has gradually turned to high-end training. It mainly because, firstly, huge demand for high-end training; secondly, enormous capital advantage attracts many enterprises and governmental organizations. As we can see, one of high-end training's characteristics is the complementation between training content and former major, so colleges and universities will present advantages comprehensive multi-subjects at that time. Naturally, it will become a momentum for the development of further education towards high-end training.
Nowadays, with the background of life-long education accepted by people day by day, so there is a popularization of advanced education, a decreasing demand of adult further education in "Degree Education", and a growing demand for various "Non-degree Education" on account of economic and social development. In a word, further education in colleges and universities is entering a transition period, while "Non-degree Education" is stepping into the stage of further education and becoming a key role in it.
Qianzhan Business Information Co., Ltd. Industry Research Center
Research Team of Adult Education Industry
China Adult Education Industry Report" related reports »