China Financing Leasing Industry Indepth Research and Investment Strategy Report, 2013-2017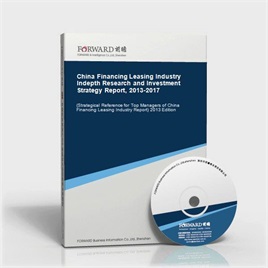 Last Update:2014-04-25
Form of services:Book + (pdf or doc file) + CD
Send method:EMS 2-3 days for delivery
English Service:+86 0755 33220413
Chinese Service:+86 800-8306390 800-8306395
E-mail:service.en@qianzhan.com
Report price:$7900 Print: $7800 CD: $7800
Special statement:
Recently we find there are some sites steal report contents from Qianzhan.com who put those contents on their sites for sale by making a little changes about the contents or remaining the same which deceives buyers(e.g. unable to get full or correct reports, or main body differs from contents that announced on sites).Therefore, we recommend paying a visit to Qianzhan personally or by your friends, and make payment after confirmation. Special statement: Qianzhan is the only and right holder of all the research reports, and has never used a third party to sell any reports, please be aware of the trademark " " when purchasing. Qianzhan is the largest and strongest consultancy, who owns the greatest number of researchers. Here followed "
Nine standards of companies' identificatios
"。
This table of content is original, without written permission of Qianzhan, any unit or individual shall not use, copy, or transfer the reports.
Preface
Table of Content
As one of the top five finances, the financing leasing closely joints the commercial credit and bank credit, financing and object leasing together. In the financial industry, leasing is as important as bank, insurance, entrust and securities. And it trends to be the most important one. The turnover of Financing Leasing in many developed countries takes 20% to 30% of the GDP and over 30% of the year-round total sales volume. China as a monetary control country, the financing leasing is one of the few non-financial institutes which operating financial business. It greatly promotes the financial market develops towards diversification, integration and profession. Meanwhile, it is also important for the "agriculture-rural areas-farmers" construction. And the Financing Leasing has been contained in the Central Committee's Document No. 1 in 2011 for the first time.
According to the World Leasing Yearbook, Financing Leasing follows loan and ranks the second among the five financings in the aspect of total financing amount. The loan volume in 1995 is 559 billion USD while the Financing Leasing amount is 345 billion USD, and the other threes are as follows: European bond is 248 billion USD, European commercial bond is 55 billion USD and the EMTNs are 46 billion USD. Another statistics show that the total trading volume of 2003 global leasing breaks through 461.6 billion USD, among which the American turnover is 204 billion USD; and the total trading volume of top 50 countries in 2008 is 644 billion USD. To sum up, Financing Leasing has become the second major financing way which follows the bank loan in developed countries.
By the end of 2011, there are about 286 various financing leasing corporations in China which is about 104 more comparing with 182 corporations at the beginning of year; the Financing Leasing contract balance is about 930 billion Yuan with a growth rate of 32.9 and up 230 billion Yuan comparing with 700 billion Yuan at the beginning of the year. Among which, there are 20 Financing Leasing corporations which are about 390 billion Yuan and with the growth rate of 11.4%; 66 domestic financing leasing corporations which are about 320 billion Yuan and with the growth rate of 45.5%; about 200 foreign Financing Leasing corporations which is about 220 billion Yuan and with the growth rate of 69.2%.
Although number of China Financing Leasing corporation increases in 2011, the business growth significantly slows down. It is so even in the fast developing areas such as Tianjin, Shanghai and Beijing and shows a clear contrast with the annual explosive growth during the "eleventh five years". It mainly due to the monetary tightening policy and increasing negative impacts of European debt crisis, that relevant departments adopt scale controlling policies for the Financing Leasing corporations which are the biggest business contributors in Financing Leasing industry. Data shows that the total Financing Leasing business scale in 2010 is about 50% of the national business amount. However, the business growth rate is only 11.4% in 2011. The slowest growth rate decreases the proportion to 41.9% in 2011. In spite of business scale control, the Financing Leasing corporations also have various impacts in the aspect of bank loan, which is regarded as the most important financing channel for domestic and foreign Financing Leasing corporations.
There are both disadvantages as well as advantages for Financing Leasing corporations, such as controlling business scale and slowing down growth trend; narrowing financing channels; raising manufacturer-oriented Financing Leasing corporations; reform in value-added tax; the
Guidance on Promoting the Development of Financing Leasing Industry during the "Twelfth Five Years" which is issued by Commerce Department and the Notices on Financing Leasing Businesses which is issued by Commerce Department and State Administration of Taxation propose the following requirements: every province and cities should choose one or two pilot Financing Leasing corporations in the fields of equipment manufacturing, engineering machine, medical equipment, communication equipment, scientific research equipment, inspection or testing equipment, and transport facilities (includes aircrafts, auto and ships). But it can be predicted that Financing Leasing corporations will have a transformation during the "twelfth five years".
The "twelfth five years" is the key time to accelerate the economic development transformation and promote the sustainable development of national economy. Speeding up the development of Financing Leasing industry is significant for efficiently enlarging investment, produce and consumption, supporting financing of middle and small size corporations, exploiting international market and promoting modern service development. Whatsoever, there are some immediate problems for China Financing Leasing industry: small scale market, uncompleted laws and regulation, policy system, not uniform market supervision, uncompleted industry standards and trading regulations, weak basis of statistics system and business model, and simple financing channels.
This report mainly base on investment and operation of China Financing Leasing industry, and analyzes the following aspects: business model of financing leasing industry, industry attractiveness, industry investment and operation risks, investors' entry barriers, investment and operation environment of domestic Financing Leasing industry, and industry development barriers. Meanwhile, together with the comprehensive and detailed market data which is accumulated for 5 years, Forward helps you to grasp the market and development trends of financing leasing industry, so as to win advantages from competition!
Major characteristics of this report are forward-looking and timeliness. Base on the forward-looking analysis of massive research data, we further analyze the development scale and competitive landscape of financing leasing industry. Along with the industry development route and our practical experience, we analyze and predict the future development prospect of financing leasing industry. This report contains a high value for Financing Leasing corporations or corporations which plan to invest Financing Leasing industry, that they can accurately know the latest industry development trend, obtain market opportunities and determine an insightful operation strategy and development direction. In the meantime, it is the first heavy weight report to analyze the up/down-stream industry chain and industry leading corporations of financing leasing industry in an overall and systemic way.
Here, we'd like to express our sincere gratitude to China Banking Regulatory Commission, National Statistics Bureau of China, International Information Institute, National Institute of the Ministry of Commerce, National Tsinghua University Library, Institute of Market Economy of the State Council Development Research Center, and Beijing Tsinghua Forward Market Research Center, etc. Thank you so much!
Notice: all the market data, especially the corporation list data in this report is only for business reference. Please don't take the data for enterprise publicity. Thank you! Or Forward shall not take any responsibility for any consequences!
Qianzhan Business Information Co., Ltd. Industry Research College
Research Team of Financing Leasing Industry
China Financing Leasing Industry Report" related reports »