China Village Bank Indepth Research and Investment Strategy Report, 2013-2017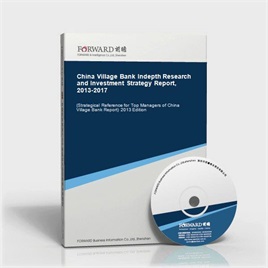 Last Update:2014-04-27
Form of services:Book + (pdf or doc file) + CD
Send method:EMS 2-3 days for delivery
English Service:+86 0755 33220413
Chinese Service:+86 800-8306390 800-8306395
E-mail:service.en@qianzhan.com
Report price:$7900 Print: $7800 CD: $7800
Special statement:
Recently we find there are some sites steal report contents from Qianzhan.com who put those contents on their sites for sale by making a little changes about the contents or remaining the same which deceives buyers(e.g. unable to get full or correct reports, or main body differs from contents that announced on sites).Therefore, we recommend paying a visit to Qianzhan personally or by your friends, and make payment after confirmation. Special statement: Qianzhan is the only and right holder of all the research reports, and has never used a third party to sell any reports, please be aware of the trademark " " when purchasing. Qianzhan is the largest and strongest consultancy, who owns the greatest number of researchers. Here followed "
Nine standards of companies' identificatios
"。
This table of content is original, without written permission of Qianzhan, any unit or individual shall not use, copy, or transfer the reports.
Preface
Table of Content
On March 28th, 2012 Premier Wen Jiabao chaired a State Council executive and made a decision to establish a comprehensive financial reform experimental area in Wenzhou city. Among the "twelve" reform targets, one proposes that "to encourage and support private fund to engage in the local financial institutes reform; to establish or equity participate in new financial institutions like village bank, finance house, and rural fund cooperative; to allow the petty loan enterprises which match requirements to reform as village bank." Even though such new policy is conservative, it still promotes the enthusiasm for private funds especially for the petty loan enterprise to invest village bank. The village bank becomes a significant channel for private funds to participate in banking and finance. The increasingly opening financial market maybe a chance for private funds to improve the importance in domestic financial market.
The village bank drives a highest attention since the establishment as it is the most significant one in rural financial system. Currently, farmers have a more and more urgent demand to finance for the increasing per-capita income and consumption level. However, the backward rural financial system can hardly provide strong supports to farmers and agricultural enterprises. To hold down such condition, government has adopted a strategic adjustment of access rule for rural banks by the end of 2006 that the range of access capital is wider, banking capital at home and abroad, industrial capital and private capital are encouraged and guided to establish village banks in rural areas. By the end of 2011, the number of villages and towns which have no financial institutes in China has reduced from 2,945 at the beginning of the work to 1,696 by now while the number provinces (including city specifically designated in the state plan) which cover rural institutes and service increases from 9 to 24.
New rural financial institutes like village banks start in Sichuan, Qinghai, Gansu, Inner Mongolia, Jilin and Hubei in the year of 2007. Then it is found that the domestic banks show little interests to village banks while foreign investments show great interests. And there is a rare case for village banks that the large banks are not as good as small banks and China-capital is not as good as foreign investment. By the end of 2009, there are only 148 new village banks in China which declines in a certain degree comparing with that in 2008. Under such a condition, the CBRC had a meeting with 5 major banks and 12 shareholding banks in December 2009 to discuss about the framework of innovation management. Since then there is a booming growth of village banks in China that all together there are 349 village banks in China by 2010. But as village banks are limited in central and west China, and less developing rural areas by CBRC, the prospect of village bank is not that clear: the enthusiasm of middle and large-scale financial institutes to establish village bank is not high; the number of village bank grows slowly which is far from the high-speed growth target in 2010 and 1,027 village banks in 2011 planned by CBRC. Data shows that there are 726 village banks by the end of 2011 while there are 473 in the central and west provinces which account for 60%.
View from the management condition, by the end of 2011 the loan balances for village banks in China is 131.6 billion Yuan that over 80% for "agriculture-countryside-farmer" and small corporations. Among which the loan balance for farmers is 43.55 billion Yuan while it is 63.15 billion Yuan for small corporations, and the proportion of loan farmer amount in the central and west China accounts for over 70%. The average capital adequacy ratio is 30.5% for village banks that the business runs smoothly and risks are manageable in general. Moreover, the registered capital is increasing. According to statistics, before September 2007 the average registered capital for top 12 village banks in the 6 experimental provinces and cities is 10.6 million Yuan with a largest registered capital of 20 million Yuan and the smallest one of only 2 million Yuan. However, the registered capital of Henan Nanyang Village Bank Co., Ltd. reaches 500 million Yuan.
View from the promoters structure of village bank, by the end of 2010 the village banks which promoted by 4 major banks account for 7% while it is about 10% for the one promoted by shareholding commercial banks, 50% for the one promoted by urban commercial banks, about 30% for the one promoted by rural commercial banks (including rural cooperative banks and rural credit cooperatives), and about 3% for the one promoted by foreign banks. With the current system, most of the middle and large scale banks show little interest to village bank while the urban and rural commercial banks are still major forces for the present village banks. Limiting by self capital scale and management capability, the capability for urban and rural commercial banks is limited. Yet, with the innovation equity and management model in 2012, the village bank becomes a channel for commercial banks to realize inter-regional management as well as a wider path for private funds to participate in finance.
This report will stand in the position of investors and base on Forward's long-term tracking and collecting market data of village bank, then mainly analyzes the following aspects: market investment environment of domestic village bank; typical management model of foreign village bank; running condition and competitive landscape of domestic village bank. Moreover, the report will divide key areas into the east and west area, developed area and developing area according to the adjustment of "cooperation between the east and west provinces" from Notice on the Adjustment of Village bank Establishment which issued by CBRC. Lastly, there will be an indepth analysis of the strategy model and management characteristics to village bank promoters and some village banks in the aspects of system level. Meanwhile, together with the comprehensive and detailed market data which is accumulated for 5 years, Forward helps you to grasp the market and development trends of village bank, so as to win advantages from competition!
Presently, China is studying and formulating the financial bankruptcy law. The financial institutes will face a more severe challenge in the future. And risks and profitability is the focus of this report. Base on the forward-looking analysis of massive research data, we further analyze the development scale and competitive landscape of village bank. Along with the industry development route and our practical experience, we analyze and predict the future development prospect of village bank. This report is of a high value for village banks to accurately know the latest industry development trend, and obtain market opportunities and determine an insightful operation strategy and development direction. In the meantime, it is the first heavy weight report to analyze the up/down-stream industry chain and industry leading corporations of village bank in an overall and systemic way.
Here, we'd like to express our sincere gratitude to CBRC, National Statistics Bureau of China, International Information Institute, National Institute of the Ministry of Commerce, National Tsing Hua University Library, Institute of Market Economy of the State Council Development Research Center, and Beijing Qinghua Forward Market Research Center, etc. Thank you so much!
Notice: all the market data, especially the corporation list data in this report is only for business reference. Please don't take the data for enterprise publicity. Thank you! Or Forward shall not take any responsibility for any consequences!
Qianzhan Business Information Co., Ltd. Industry Research Center
Research Team of Village Bank
China Village Bank Report" related reports »