China Fluorine Chemical Industry Indepth Research and Investment Strategic Planning Report, 2013-2017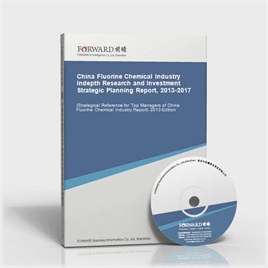 Last Update:2014-05-26
Form of services:Book + (pdf or doc file) + CD
Send method:EMS 2-3 days for delivery
English Service:+86 0755 33220413
Chinese Service:+86 800-8306390 800-8306395
E-mail:service.en@qianzhan.com
Report price:$7900 Print: $7800 CD: $7800
Special statement:
Recently we find there are some sites steal report contents from Qianzhan.com who put those contents on their sites for sale by making a little changes about the contents or remaining the same which deceives buyers(e.g. unable to get full or correct reports, or main body differs from contents that announced on sites).Therefore, we recommend paying a visit to Qianzhan personally or by your friends, and make payment after confirmation. Special statement: Qianzhan is the only and right holder of all the research reports, and has never used a third party to sell any reports, please be aware of the trademark " " when purchasing. Qianzhan is the largest and strongest consultancy, who owns the greatest number of researchers. Here followed "
Nine standards of companies' identificatios
"。
This table of content is original, without written permission of Qianzhan, any unit or individual shall not use, copy, or transfer the reports.
Preface
Table of Content
As China's economy maintains a rapid development and its GDP keeps growing at the speed of nearly 10%, the demand of fluorine chemical increases by more than 15% annually. In particular, the fast development of automobile industry, IT industry, architecture industry, oil industry and chemical industry provides broad market space for fluorine chemical industry. In recent years, the sales revenue of fluorine chemical industry in China(including inorganic and organic fluorine chemical products) basically maintains growing by 15% to 20% annually; the growth rate of important products' capacity and output reach over 20%, moreover, some of them exceed by 40%.At present China has not only been the largest importer an exporter of primary fluorine chemical products, but also a major importer of deep processing products. With technology advancement and demand growth, fluorine chemical products are used in many new fields, which shift from some traditional industries to new fields like electronic, energy, environmental protection, information, biological medicine. And the demand for fluororesin, fluorine rubber, fluoro coatings, as well as fluorine-containing fine chemicals is growing rapidly.
Due to the need of getting close to raw materials production centers, China's fluorine chemical enterprises mainly concentrate in Zhejiang, Jiangsu, Shandong, especially those organic fluorine chemical product enterprises for R&D. And fluorine medicine enterprises mainly concentrate in Jiangsu and Zhejiang provinces. Among them, fluorine chemical manufacturing enterprises, located in Zhejiang, Jiangsu, Shandong and Shanghai, take up 80% of national total output of fluorine chemical products. Major fluorine enterprises are listed below, Zhejiang Juhua Co., Ltd.; Shanghai 3F New Materials Co., Ltd.; Shandong Dongyue Chemical Co., Ltd.; Jiangsu Meilan Group, etc.
Currently, international fluorine chemical industry has 80-year long development histroy amd it has become one of well-development and mature industries. The output of the eight enterprises takes up 80% of world's fluorine materials and gas fluorine chemicals, namely, Dupont, Solvay, Daikin, 3M, Asahi Glass, Arkema, Ineos Fluro and Honeywell.Nowadays, the world's fluorine chemical industry is growing fast due to the rapid development of Asia fluorine chemical markets(especially China's market). And the demand of Asia fluorine chemical products is being an impetus to promote the development of fluorine chemical industry.
Along with the State's further control to fluorite resources and the announcement of "Access Condition of Fluorine Chemical Industry", they will be beneficial for international fluorine chemical industry shifting to China,moreover, fluorine chemical industry is facing strong integration expectations; industry concentration will be further evaluated. All those will be good for China fluorine chemical industry's long-term development and for leading enterprises in this industry. However, China's fluorine chemical industry is still lagging behind; most of big giants of fluorine chemical industry concentrate in up stream of the industrial chain, and the structure is unreasonable. Therefore, it's very urgent for China's fluorine chemical industry to improve the unreasonable industry structure, and to develop in the direction toward marking value-added and fine products.
At present, it's necessary for China's fluorine chemical industry to transform and upgrade, because domestic fluorine chemical products concentrate in the field of primary products. If the fluorine chemical industry can be listed in "Twelfth Five-year" Plan, it will forcefully led the industry layout and planning to a rational direction. At the same time, with the growing competition in fluorine chemical industry, more and more wind power equipment manufacturing enterprises pay attention to the industry market research, especially indepth researches on the industry development environment and product buyers. Because of this, a large number of excellent fluorine chemical product brands rise up rapidly, and gradually becomes leading corporations in fluorine chemical industry!
With Forward's long-term tracking and collecting market data of fluorine chemical industry, we roundly and accurately analyze the industry structure system for you from the view of mastering the whole industry. This report mainly focuses on analyzing China fluorine chemical industry's market capacity, market size, development speed and competitive trend, depending on macro prosperity condition of current fluorine chemical industry and relying on hi-tech R&D and industry demand.
The most distinctive characteristics of this report is forward-looking and timeliness. Through analyzing forward-looking characteristic of abundant first-hand market data, we deeply and objectively dissect the status of market capacity of China's fluorine chemical industry, its market size, its competitive landscape and characteristics of market demand. Furthermore, we conduct prudent analysis and forecast for fluorine chemical industry's future development trend. This report helps fluorine chemical manufacturing enterprises, R&D institutions, marketing enterprises and investment enterprises to precisely grasp current latest developments of the industry. Afterwards, they can make wise operating decisions and define enterprises' development directions. What's more, is is not only the first report on fluorine chemical production and supply industry and its up/down stream industries, but also an important and weighty research report.
Notice: All the market data, especially corporations' ranking data in the report, only for business reference. Please do not take the data for enterprise publicity. Thank you! Or Forward shall not take any responsibility for any consequences!
Qianzhan Business Information Co., Ltd. Industry Research Center
Research Team of Chemical Industry
China Fluorine Chemical Industry Report" related reports »