China Anti-counterfeiting Industry Prospects and Investment Strategy Report, 2013-2017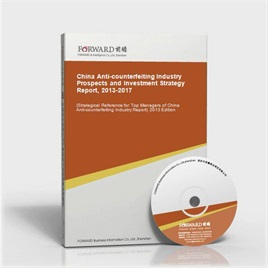 Last Update:2014-05-11
Form of services:Book + (pdf or doc file) + CD
Send method:EMS 2-3 days for delivery
English Service:+86 0755 33220413
Chinese Service:+86 800-8306390 800-8306395
E-mail:service.en@qianzhan.com
Report price:$7900 Print: $7800 CD: $7800
Special statement:
Recently we find there are some sites steal report contents from Qianzhan.com who put those contents on their sites for sale by making a little changes about the contents or remaining the same which deceives buyers(e.g. unable to get full or correct reports, or main body differs from contents that announced on sites).Therefore, we recommend paying a visit to Qianzhan personally or by your friends, and make payment after confirmation. Special statement: Qianzhan is the only and right holder of all the research reports, and has never used a third party to sell any reports, please be aware of the trademark " " when purchasing. Qianzhan is the largest and strongest consultancy, who owns the greatest number of researchers. Here followed "
Nine standards of companies' identificatios
"。
This table of content is original, without written permission of Qianzhan, any unit or individual shall not use, copy, or transfer the reports.
Preface
Table of Content
Counterfeiting is one of the economic crimes which with the fastest growth in current world. It does great harm to legitimate business, employment, public health and safety order. Statistics from WTO shows that USD 300 billion of global market is influenced by counterfeiting products while the annual turnover of counterfeiting products accounts for 10% of the global total trading amount. The market scale of counterfeiting products in China is 300-400 billion Yuan. Counterfeiting products are especially serious for industries like tobacco, wine, farming materials, food and cosmetics. Consequently, anti-counterfeiting industry is a sun rising industry with enormous market potentials. After years of development, China's anti-counterfeiting industry has developed from anti-counterfeiting brands and packing in the early stage to finger-print anti-counterfeiting and DNA, etc. It has formed a complete industrial chain which covers large sum of fields.
China's anti-counterfeiting industry develops rapidly in current years. Since anti-counterfeiting technology "graft" with numerous industries, a series of new and high anti-counterfeiting technology and method like anti-forgery ink, phone and code anti-counterfeiting, heavy particle anti-counterfeiting, finger-print anti-counterfeiting, DNA counterfeiting and automatic recognition come into being. The whole anti-counterfeiting industrial chain covers abundant fields like printing and packing, information, biology, automatic control, chemical, logistics, and intellectual property protection. The anti-counterfeiting technology R&D has entered the stage of multimedia communion and collaborative development. Digital anti-counterfeiting, the popular anti-counterfeiting method, begins to involve with various anti-counterfeiting technologies. For chemical anti-counterfeiting, laser anti-counterfeiting, pattern-texture design anti-counterfeiting, bar-code anti-counterfeiting and DNA anti-counterfeiting, which are competitors for each other, begin to cooperate and develop together.
There are more than 2,000 anti-counterfeiting corporations, about 100 laser holography anti-counterfeiting product manufacturers in the crest stage, and 4-5 corporations with hundred millions of sales amount in China. The China's anti-counterfeiting market with too much manufacturers, surplus products and excessive competition. The industry corporations can be divided into three categories as follows: firstly, transnational corporations with abundant capital and advanced technology to seize the high-end market, such as Germany Kurtz, Fargo Group, API, and K LASER; domestic leading corporations with relatively advanced technology, regulated management and local advantages to lead the middle and low-end market, such as HG company and Beijing Zhongbiao Fangyuan; thirdly, individual workshops with small scale, backward technology and low price. They seize the market share by price war.
The present anti-counterfeiting market grows steadily. As the digital identity management application technology is gradually mature and the application cost is decreasing, it has been gradually accepted by market. More and more corporations use the technology in anti-counterfeiting, anti product changing, promotion and consumption information management. The technology is entering the fast development stage. The application of digital identity management technology gradually transferred from single function application in the past (such as anti-counterfeiting, anti product changing, score accumulation, and lucky draw which with only one item) to comprehensive function application (such as anti-counterfeiting, anti product changing, score accumulation, and lucky draw which with compounded application). It will increase the market demand for anti-counterfeiting products to digital identity management technology. The anti-counterfeiting market with fast development and broad prospects.
Qianzhan Business Information Co., Ltd. Industry Research College
Research Team of Anti-counterfeiting Industry
China Anti-counterfeiting Industry Report" related reports »