Chinese Patent Medicines Industry Production & Marketing Demand and Investment Forecast Report, 2013-2017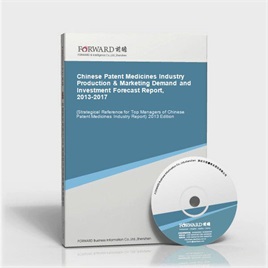 Last Update:2014-04-26
Form of services:Book + (pdf or doc file) + CD
Send method:EMS 2-3 days for delivery
English Service:+86 0755 33220413
Chinese Service:+86 800-8306390 800-8306395
E-mail:service.en@qianzhan.com
Report price:$7900 Print: $7800 CD: $7800
Special statement:
Recently we find there are some sites steal report contents from Qianzhan.com who put those contents on their sites for sale by making a little changes about the contents or remaining the same which deceives buyers(e.g. unable to get full or correct reports, or main body differs from contents that announced on sites).Therefore, we recommend paying a visit to Qianzhan personally or by your friends, and make payment after confirmation. Special statement: Qianzhan is the only and right holder of all the research reports, and has never used a third party to sell any reports, please be aware of the trademark " " when purchasing. Qianzhan is the largest and strongest consultancy, who owns the greatest number of researchers. Here followed "
Nine standards of companies' identificatios
"。
This table of content is original, without written permission of Qianzhan, any unit or individual shall not use, copy, or transfer the reports.
Preface
Table of Content
As a large country for medicine use, the total size of China medicine market increased from 178.2 billion Yuan in 2011 to the 755.6 billion Yuan in 2010, in the past ten years, with a compound average growth rate of 17.41%. Moreover, it accelerated to develop in 2009 and 2010, with the increase of 20.56% and 29.87% respectively.
In terms of changes of medicine consumption volume, the per capital medicine for Chinese residents increased from 341 Yuan in 2006 to 574 Yuan in 2009, with an annual growth of 19%. However, compared with the per capital medicine of USD 300 in developed countries, there is still a huge gap. Moreover, there is also a large gap between urban and rural places in China. So, the industry has huge space for growth.
With the development of China's economy and the improvement of people's living standard, people's concept of prevention disease has changed, to focus on prevention and healthcare, and prompt adjustment of sub-health status. That is from the "cure illness they suffer" in the past to "cure disease in the future". The medical care model transfers from simple disease treatment the compound model of prevention, healthcare and recovery as well. Compared with chemical drugs and biological products, Chinese patent medicines are more expert in healing chronic diseases. Chinese patent medicines are suitable for healthcare and aftercare. In terms of health maintenance and healthcare, cardiovascular and cerebrovascular diseases, respiratory system diseases, and other diseases, which need to take medicine for a long time, Chinese patent medicines have more advantages in these fields. Therefore, under the new market concept, Chinese patent medicine will develop very well. The medicine consumption market will be gradually large and the Chinese patent medicine will become a hot spot in medical industry.
As an important link in traditional Chinese medicine, Chinese patent medicines industry is the second main force in China's pharmaceutical industry, just following chemical drug industry, in terms of enterprise number, industrial total output value, sales revenue and total profit sum. In the internal of the whole pharmaceutical industry, the profitability of Chinese patent medicines is the strongest, with the highest profit ratio. In recent years, the market size keeps growing by more than 19%. And even though during the period of 2008 to 2009, it showed the high prosperity degree.
In 2010, the State clearly defines the biological pharmaceutical industry, including modern Chinese patent medicines into the seven key fields of emerging industries. During the "twelfth five-year" period, the development of Chinese patent medicines industry may mainly focus on the construction of enterprise's technological platform and technology innovation.
With the continuing development of global economy, the modernization of traditional Chinese medicine will face new opportunities and challenges. Since the launch of traditional Chinese medicine modernization in 2007, the supporting efforts of the State has kept increasing. After more than 10 years of development, traditional Chinese medicine modernization in China makes a group of important phased objectives and progress, in the following aspects: the platform construction of traditional Chinese medicine modernization, the planting and processing technologies research of traditional Chinese medicine's materials, the common technology research of traditional Chinese medicine, the construction of traditional Chinese medicine bases, the research on traditional Chinese medicine quality standards, etc. As a remarkable result, a group of modern traditional Chinese medicine enterprises spring up, forming a industry system with a certain size; a batch of modern traditional Chinese medicine products have been made. Although there are not too many, the sales volume of simple variety has reached 100 million.
Meanwhile, China's Patent Office is conducting researches on intellectual property right protection of "increasing the advantages of traditional Chinese medicine". The investment priorities and hot spots have gradually shifted to traditional Chinese medicine industry. Many local governments have regarded traditional Chinese medicine as local pillar industries, such as Hong Kong, Tianjin, Chengdu, Guizhou, Yunnan, Sichuan, Jilin, etc. The traditional Chinese medicine modernization has vest prospects for development.
Here, we would like to express our sincere gratitude to State Information Center, Bureau of Statistics of China, International Information Research Institute, Chinese Academy of International Trade and Economic Cooperation, Tsinghua University Library, Development Research Center of the State Council and Beijing Essence Forward Research Center, for their great support when we conduct this report!
Notice: All the market data, especially corporations' ranking data in the report, only for business reference. Please do not take the data for enterprise publicity. Thank you! Or Forward shall not take any responsibility for any consequences!
Qianzhan Business Information Co., Ltd. Industry Research Center
Research Team of Chinese Patent Medicines Industry
Chinese Patent Medicines Industry Report" related reports »