China Forestry Carbon Sequestration Industry Indepth Research and Investment Strategy Report, 2013-2017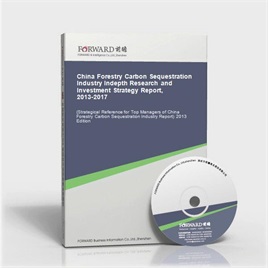 Last Update:2014-05-22
Form of services:Book + (pdf or doc file) + CD
Send method:EMS 2-3 days for delivery
English Service:+86 0755 33220413
Chinese Service:+86 800-8306390 800-8306395
E-mail:service.en@qianzhan.com
Report price:$7900 Print: $7800 CD: $7800
Special statement:
Recently we find there are some sites steal report contents from Qianzhan.com who put those contents on their sites for sale by making a little changes about the contents or remaining the same which deceives buyers(e.g. unable to get full or correct reports, or main body differs from contents that announced on sites).Therefore, we recommend paying a visit to Qianzhan personally or by your friends, and make payment after confirmation. Special statement: Qianzhan is the only and right holder of all the research reports, and has never used a third party to sell any reports, please be aware of the trademark " " when purchasing. Qianzhan is the largest and strongest consultancy, who owns the greatest number of researchers. Here followed "
Nine standards of companies' identificatios
"。
This table of content is original, without written permission of Qianzhan, any unit or individual shall not use, copy, or transfer the reports.
Preface
Table of Content
The global climate change of which the global warming the main feature has a great impact on ecosystem and social economic system. And on the other hand, the increasing greenhouse gases which caused by human activities become the main reason of the global warming. As the main body to maintain terrestrial ecosystem, forests are with the function of carbon dioxide absorption and fixation. Forestry has become an important way to ease the global climate change. The Kyoto Protocol proposes the CDM and allows industrialized countries to offset the promised carbon emission reduction index by the carbon emission reduction which resulting in projects implementing in developing countries. And the afforestation/reforestation project activity is the first qualified CDM forestry project which is committed by the Kyoto Protocol (2008-2012). During the commitment period in the future, the forestry still plays an important role in the greenhouse gases reduction.
Chinese government launched a global carbon sequestration project in 2001 and provided great supports to afforestation/reforestation carbon sequestration project and related works. Such policies aim to gain the following targets: to improve the value of forests ecological benefit in China; to cultivate carbon sequestration market of Chinese forest and gains more international investment in Chinese forestry ecological development; to know the whole progress of forestry carbon sequestration in CDM implementation and cultivate Chinese forestry carbon sequestration experts. The State Carbon Sequestration Administration Office launched forestry carbon sequestration pilot projects in Guangxi, Inner Mongolia, Yunnan, Sichuan, Shanxi and Liaoning in 2004. Among which the Guangxi carbon sequestration project will deal with 773,000 tons of carbon dioxide from 2006 to 2035; while the Inner Mongolia carbon sequestration project will deal with 240,000 tons of carbon dioxide by 2012 and Yunnan Tengchong small-sized reforestation carbon sequestration project will absorb 170,000 tons of carbon dioxide in 30 years. Total absorptive amount of these three carbon sequestration projects will reach 1.183 million tons of carbon dioxide.
According to nationwide ecological construction plan there are some data as follow: by 2020 the national annual afforestation area should be over 5 million hectares, the forest coverage rate should increase to 23%, while the wood storage should reach 14 billion cubic meters and the forest carbon sequestration should further improve; by 2050 the increased forest area which comparing with that in 2020 will be 47 million hectares, and the forest coverage rate will keep above 26%. The forest carbon sequestration capability in China will enhance along with the enlarging forest areas. Moreover, the area of the waste mountains and lands suitable for afforestation is vast in China. And the forestry development is accelerating while the afforestation area is enlarging in current years. These provide land resource advantages for CDM afforestation carbon sequestration project. What's more, the scientific and efficient management of the existing forest resources improves the overall carbon sequestration capability of Chinese forest. To sum up, the market prospects for China forestry carbon sequestration industry is vast.
This report mainly analyzes the following aspects basing on the development background of forestry carbon sequestration industry: structure and operating system of domestic forestry carbon sequestration market; supply and demand status of forestry carbon sequestration market; management status and trend of domestic forestry carbon sequestration industry; technology of forestry carbon sequestration project; progress and investment/financing condition of current forestry carbon sequestration project. Thus to provide authorized reference value for related departments which are involved in forestry carbon sequestration management, as well as for project investment corporations.
Qianzhan Business Information Co., Ltd. Industry Research College
Research Team of Forestry Carbon Sequestration Industry
China Forestry Carbon Sequestration Industry Report" related reports »