China Intellectual Property Agent Industry Market Prospects and Investment Strategy Planning Report, 2013-2017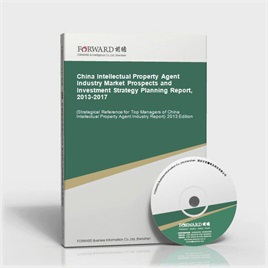 Last Update:2014-05-01
Form of services:Book + (pdf or doc file) + CD
Send method:EMS 2-3 days for delivery
English Service:+86 0755 33220413
Chinese Service:+86 800-8306390 800-8306395
E-mail:service.en@qianzhan.com
Report price:$7900 Print: $7800 CD: $7800
Special statement:
Recently we find there are some sites steal report contents from Qianzhan.com who put those contents on their sites for sale by making a little changes about the contents or remaining the same which deceives buyers(e.g. unable to get full or correct reports, or main body differs from contents that announced on sites).Therefore, we recommend paying a visit to Qianzhan personally or by your friends, and make payment after confirmation. Special statement: Qianzhan is the only and right holder of all the research reports, and has never used a third party to sell any reports, please be aware of the trademark " " when purchasing. Qianzhan is the largest and strongest consultancy, who owns the greatest number of researchers. Here followed "
Nine standards of companies' identificatios
"。
This table of content is original, without written permission of Qianzhan, any unit or individual shall not use, copy, or transfer the reports.
Preface
Table of Content
The development of society and economy results in a lot of intellectual achievements. Due to the limitations of their own conditions, such as the lack of the necessary intellectual property law knowledge and experience in handling intellectual property rights with management authority organizations, the owner of these intellectual achievements will entrust all the law affairs related to their intellectual achievements to intellectual property agencies, so that they can pay full attention to the development and application of the intellectual achievements. The frequency of income for intellectual achievement owners has a direct proportion relationship with the use of intellectual achievements. The intellectual achievement owners are all hoping that their achievements can be used in a wider and wider scope. After China accesses to the WTO, and the domestic market open to foreign countries, the profits will increase the intellectual property of the extraterritorial application and cross-border intellectual property disputes, which will greatly increase the demand for intellectual property agent. Therefore, it can be concluded intellectual property agent industry is an emerging industry with fast development, based on the rise of knowledge-based economy, the highlights of the world economic integration trend, and the production of a lot of intellectual achievements.
With the strengthening of science and technology degree and intellectual property protection degree, setting up barriers of intellectual property has become a new means of business for enterprises or countries to limit competitors' access to monopoly profits. In the international trade, it becomes a new type of non-tariff barrier with the characteristics of trade protectionism. Since the strong hidden nature of this new barrier, all enterprises and all countries (especially developed countries and multinationals) consciously strengthen to set up the barriers, which will inevitably lead to a large number of lawsuits related to related to intellectual property disputes, which promotes the rapid development of China intellectual property agent industry.
In 2010, the State Intellectual Property Office (SIPO) accepted 1.2223 million lawsuits on patent application, which was first to break through a million applications, with a year-on-year of 25.1%. Among them, there were 1.1094 million applications, accounting for 90.8% of the total amount, with a year-on-year of 26.4%;the foreign patent application in China reached to 112,900, accounting for 9.2% of the total amount, with a year-on-year of 13.9%. By type, the invention patent application was 391,200, accounting for 32.0% of the total amount, with a year-on-year increase of 24.4%; the utility model patent application was 409,900, accounting for 33.5%, with a year-on-year increase of 31.9%; the design patent application was 421,300, accounting for 34.5% of the total amount, with a year-on-year increase of 19.9%. In a whole year, SIPO granted to patent for 814,800 applications, with a year-on-year increase of 40.4%.
In 2010, the State Trademark Bureau accepted 1.072 million trademark registration applications, with a year-on-year increase of 29.1%, hitting a record high, and becoming the world's first for 9 consecutive years. In addition, China trademark registration realized the "three world's first", which meant the accumulated trademark applications in China were 8.295 million; there were 5.628 million trademarks registered; and there were 4.604 million trademarks registered validity. They all ranked the first in the world.
With the expansion of intellectual property application registration size, China intellectual property agent industry keeps expanding. At present, there are more than 800 patent agencies, and more than 5,000 trademark agencies in China. In 2010, a pubic quantity of patent applications in patent agencies was 671,000, accounting for 54.90% of the total amount of patent application; and a quantity of trademark applications in trademark agencies accounts for about 80% of the total amount of trademark application.
It shows, China intellectual property agent industry still has vast space for development. In addition, with the improving and perfection of intellectual property laws and regulations, the intellectual property awareness and protectiveness of enterprises and residents keeps improving, and the intellectual property agent industry has vast prospects for development.
Here, we would like to express our sincere gratitude to SIPO, State Administration for Industry & Commerce, State Information Center, Bureau of Statistics of China, China Customs, International Information Research Institute, Chinese Academy of International Trade and Economic Cooperation, Tsinghua University Library, Development Research Center of the State Council and Beijing Essence Forward Research Center, for their great support when we conduct this report!
Notice: All the market data, especially corporations' ranking data in the report, only for business reference. Please do not take the data for enterprise publicity. Thank you! Or Forward shall not take any responsibility for any consequences!
Qianzhan Business Information Co., Ltd. Industry Research Center
Research Team of Intellectual Property Agent Industry
China Intellectual Property Agent Industry Report" related reports »