China Express Delivery Industry Market Forecast and Investment Strategy Planning Report, 2013-2017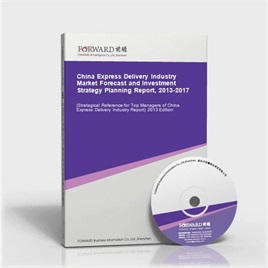 Last Update:2014-05-12
Form of services:Book + (pdf or doc file) + CD
Send method:EMS 2-3 days for delivery
English Service:+86 0755 33220413
Chinese Service:+86 800-8306390 800-8306395
E-mail:service.en@qianzhan.com
Report price:$7900 Print: $7800 CD: $7800
Special statement:
Recently we find there are some sites steal report contents from Qianzhan.com who put those contents on their sites for sale by making a little changes about the contents or remaining the same which deceives buyers(e.g. unable to get full or correct reports, or main body differs from contents that announced on sites).Therefore, we recommend paying a visit to Qianzhan personally or by your friends, and make payment after confirmation. Special statement: Qianzhan is the only and right holder of all the research reports, and has never used a third party to sell any reports, please be aware of the trademark " " when purchasing. Qianzhan is the largest and strongest consultancy, who owns the greatest number of researchers. Here followed "
Nine standards of companies' identificatios
"。
This table of content is original, without written permission of Qianzhan, any unit or individual shall not use, copy, or transfer the reports.
Preface
Table of Content
In 2010, the business revenue of China express delivery industry achieved 57.46 billion Yuan, and business volume was 23.4 pieces of products, which were the 250% and 300% comparing that of the end of "twelfth five-year" period. The express delivery industry's supporting importance to national economy becomes increasingly prominent. In terms of business volume, the business volume of China express delivery industry has broke through 10 million pieces, which makes China ranking to the third of the world. In terms of per capital volume, China's per capital volume is lagged behind the international average level of 4.1pieces, which is far more lagged behind the 26 pieces in US and the 25 pieces in Japan.
As of the end of 2010, there were 5,883 enterprises with legal operation licenses. After the recent years of development, there are 20 key brand enterprises in China. In 2010, there were 6 enterprises in China with more than 2 billion Yuan of express business volume, among which there were 2 enterprises with more than 10 billion Yuan of business volume. At present, the express delivery market has formed a new pattern that all the ownership economies, including State-owned, private-owned, and foreign-owned, develop collaboratively.
From January to October, 2011, the accumulated business volume of express delivery service enterprises above designated size achieved 2.85 billion pieces, with a year-on-year increase of 54.7%; the accumulated income completed 59.78 billion Yuan, with a year-on-year increase of 29.1%, among which the accumulated business income within the same city was 5.23 billion Yuan, with a year-on-year increase of 29.1%; the accumulated inter-city business income was 34.66 billion Yuan, with a year-on-year increase of 38.1%; the accumulated international and Hong Kong/Taiwan/Macau business income reached 15.1 billion Yuan, with a year-on-year increase of 4%. With the official implementation of The Postal Law (revised) on October 1st 2009, the private express delivery can be promoted from then on. And since the some requirements for on doing business with certificate, capital size, service capability and safety guarantee and so on, they promote the re-shuffle in the industry.
Meanwhile, the capital operation of express delivery industry develops very well, such as Alibaba officially became a shareholder of Stars Express; HNA Group purchased TTK; Best Logistics purchased HTKY; and the New China Cargo Airlines re-organized three in one. With the fast development of E-commercial business, the "bust" atmosphere in express delivery industry is very server. The industry operational flows need to be regulated and the industry market order needs to be improved.
Therefore, the State Post Bureau announced, during the "twelfth five-year" period, they will increase efforts to improve the development environment of express delivery, encourage and accelerate to build enterprise innovation operation mechanism, promote the integration of enterprise function and the extension of services, promote the collaborative development of express delivery services, E-commercial business, and manufacturing industry, strengthen the construction capability relying on comprehensive transport system, and accelerate the transformation of comprehensive express delivery logistics operators, guide and help the enterprises to build the modern enterprise system, and accelerate to implement the "Going Out" strategy which mainly depends on enterprises. By 2015, there will be a group of large express delivery enterprises with international competitiveness, and a convenient, high-efficient, safe and well-organized, technical advanced and well-layout express delivery service system will be basically formed.
It's predicted, at the end of the "twelfth five-year" period, China express delivery industrialization progress will show a strong development momentum, the industry profit will be equalized, and the scale production benefit will promote the market to concentrate in "good brand, large scale, strong strengths and sufficient aftereffect" express enterprises. Promoted by the economic growth, market demand increase, development of E-commerce as well as the policies support, the domestic and international express market will maintain by the growth of 23% and 13% respectively.
The report mainly analyzes the development environment of China express delivery industry;the development planning of China express delivery industry; the development situation of international express delivery industry; the development situation of China express delivery industry; the logistics and delivery situation of China's on-line shopping; the development situation of express delivery industry in key regions; the development situation of private express delivery industry; the competitive landscape of express delivery industry; the merger and acquisition of express delivery industry; the leading corporations' operational conditions in express delivery industry; as well as the investment risks and prospects forecast of express delivery industry. Meanwhile, with comprehensive and specific first-hand market data over the past 5 years, Forward helps you to grasp the market and development trends of express delivery industry, so as to win advantages from competition!
The most distinctive characteristics of this report is forward-looking and timeliness. Through analyzing forward-looking characteristic of abundant first-hand market data, we deeply and objectively dissect China current express delivery industry's overall market size and competitive landscape. Furthermore, based on future development tracks and years' practice experience of express delivery industry, we conduct prudent analysis and forecast for express delivery industry's future development trend. This report helps express delivery enterprises and investment enterprises to precisely grasp current latest developments of the industry. Afterwards, they can make wise operating decisions and define enterprises' development directions.
Here, we would like to express our sincere gratitude to China Federation of Logistics & Purchasing, State Information Center, Bureau of Statistics of China, International Information Research Institute, Chinese Academy of International Trade and Economic Cooperation, Tsinghua University Library, Development Research Center of the State Council and Beijing Essence Forward Research Center, for their great support when we conduct this report!
Notice: All the market data, especially corporations' ranking data in the report, only for business reference. Please do not take the data for enterprise publicity. Thank you! Or Forward shall not take any responsibility for any consequences!
Qianzhan Business Information Co., Ltd. Industry Research Center
Research Team of Express Delivery Industry
China Express Delivery Industry Report" related reports »