China Fire Protection Engineering Industry Research Report 2014-2018, In-depth Research and Investment Forecast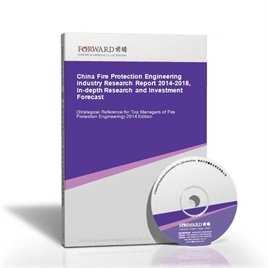 Last Update:2015-11-03
Form of services:Book + (pdf or doc file) + CD
Send method:EMS 2-3 days for delivery
English Service:+86 0755 33220413
Chinese Service:+86 800-8306390 800-8306395
E-mail:service.en@qianzhan.com
Report price:$7900 Print: $7800 CD: $7800
Special statement:
Recently we find there are some sites steal report contents from Qianzhan.com who put those contents on their sites for sale by making a little changes about the contents or remaining the same which deceives buyers(e.g. unable to get full or correct reports, or main body differs from contents that announced on sites).Therefore, we recommend paying a visit to Qianzhan personally or by your friends, and make payment after confirmation. Special statement: Qianzhan is the only and right holder of all the research reports, and has never used a third party to sell any reports, please be aware of the trademark " " when purchasing. Qianzhan is the largest and strongest consultancy, who owns the greatest number of researchers. Here followed "
Nine standards of companies' identificatios
"。
This table of content is original, without written permission of Qianzhan, any unit or individual shall not use, copy, or transfer the reports.
Preface
Table of Content
With the improvement in the level of urban modernization, high concentration of population and materials, diversification of fuels, the use of new materials, new energy, new processes, new technologies, appearance of various large scale industrial buildings and special civil buildings in large numbers, especially the rapid development of large space buildings, high-rise buildings and high fire risk industries such as petroleum, chemical, building materials and the increase of flammable and explosive places, fire factors are increasing and fires are increasingly serious.
In public buildings and facilities of education, health, sports and government, because of public safety concerns, higher requirements are for the safety performance and fire protection rating. Investment in fire protection engineering is almost the same as that in commercial and office buildings.
Meanwhile, petrochemical, metallurgy, electric power, telecommunications and other industrial behaviors have growth capacity for the market scale of fire protection engineering industry. Take petrochemical industry for example, related to forecasts, by 2015, output value of oil and chemical industries will reach 16 trillion yuan.
This report is based on long-term market tracking information by Forward Intelligence on fire protection engineering industry. It analyses comprehensively and accurately the structure system from the overall height of the industry for you.
This report mainly analyzes overview of development of China's fire protection engineering industry; development environment of fire protection engineering industry; development of domestic and foreign fire protection engineering industry; downstream demand of fire protection engineering industry; leading enterprises of fire protection engineering industry; development trends and investment opportunities of fire protection engineering industry. Meanwhile, based on first-hand market data of the whole industry in the past five years, it can allow you to fully and accurately grasp market trends and development trends of the whole industry.
The greatest feature of this report is forward-looking and timeliness. Based on much first-hand market tracking information of the industry, it does thorough and objective analysis of development of downstream industries and trends of market demand changes of fire protection engineering. It focuses on the research of marketing of current China's fire protection engineering enterprises.
It is a rare quality for fire protection engineering enterprises, research institutes and investment companies to accurately understand the latest developments of the industry, grasp market opportunities, make the right business decisions and clear corporate directions.
Fire Protection Engineering" related reports »