China Advertising Industry Indepth Research and Investment Strategy Planning Report, 2013-2017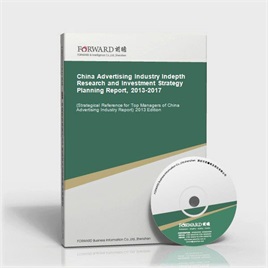 Last Update:2014-05-30
Form of services:Book + (pdf or doc file) + CD
Send method:EMS 2-3 days for delivery
English Service:+86 0755 33220413
Chinese Service:+86 800-8306390 800-8306395
E-mail:service.en@qianzhan.com
Report price:$7900 Print: $7800 CD: $7800
Special statement:
Recently we find there are some sites steal report contents from Qianzhan.com who put those contents on their sites for sale by making a little changes about the contents or remaining the same which deceives buyers(e.g. unable to get full or correct reports, or main body differs from contents that announced on sites).Therefore, we recommend paying a visit to Qianzhan personally or by your friends, and make payment after confirmation. Special statement: Qianzhan is the only and right holder of all the research reports, and has never used a third party to sell any reports, please be aware of the trademark " " when purchasing. Qianzhan is the largest and strongest consultancy, who owns the greatest number of researchers. Here followed "
Nine standards of companies' identificatios
"。
This table of content is original, without written permission of Qianzhan, any unit or individual shall not use, copy, or transfer the reports.
Preface
Table of Content
Since the founding of PRC, China has been restricted by highly centralized planned economy, and China's economy has developed slowly for a long time. With the development of reform and opening up policies and Chinese characteristic market economy, the operation size of advertising industry has gained 4 digital growth, ranging from 10 million Yuan in the initial development period to hundreds of billion today, and the advertising industry has formed a certain size. In recent years, with the steady development of national macro-economy, as well as the fast development of mobile communication, internet, and emerging media, like social media, the advertising industry has gained rapid development.
In 2011, China's advertising market continued to grow steadily. If calculated by periodicals' price, the total investment amount of advertising reached 669.3 billion Yuan, with an increase of 14.5% over the year of 2010, higher than 9.2% of GDP growth rate. In 2011, the actual operational volume broke through 300 billion Yuan, and China's advertising market has entered into the world's top list.
In terms of market segmentation of advertising industry, the new media advertising surely shocks the traditional media advertising, but it's not easy to shake the traditional media advertising market, since it has accumulated much strength which can't be removed easily, and the traditional media advertising still occupies the market's dominant place. From 2008-2011, TV station, newspaper office, radio station, periodicals and other traditional media advertising all have realized different levels of growth in business revenue, and they all adjust their development strategies for responding to the shocks brought by new media advertising. In addition, with the fast popularization of triple play and 3G mobile terminal, internet advertising, cell phone advertising and other new media advertising have gain great development, among which the market size of network advertising reaches a year-on-year increase of more than 50%.
In terms of advertising industry investment, in 2011, the driving effects of key industries were eased. Among the overall growth rate of 13% in advertising industry, cosmetics/bathroom products, commercial and services industries, and real estate/construction projects contribute most, with the growth rate of 1.4%, 1.3% and 1.3% respectively. With the continuing improvement of people's living quality and personal wealth management concept, cleaning supplies (37.6%), computer and office automation products (37.1%), and financial industry (36.6%) invest actively in the advertising industry. Transportation industry shifted from one of fast growth industries in 2010 to one of slowest growth industries in 2011, only with an increase of 8.4%. Although real estate invests a large sum of money in advertising, the industry has begun to reduce the advertising investment since the Q4 2011, because of the continuing implementation of governmental regulation and limiting purchasing order.
In terms of regional development situation of advertising industry, the first-tier market almost occupies half of the national market shares, while the second and third-tier markets begin to expand rapidly. In 2010, the national advertising markets in the fastest growing areas include the markets in Hunan, Ningxia, Heilongjiang, Shaanxi, Zhejiang, Gansu and Anhui, which are all with an increase of more than 25%; in recent years, it's obviously clear that the advertising market begin to shift to the second and third-tiers cities, or even the third and fourth-tiers cities, where regional markets have been a new round of profit tipping point.
China advertising industry has made a great progress in development. Although the industry faces bottlenecks of talents shortage, brand difficulty, etc., China advertising industry has optimistic market prospects, with the continuing and steady development of China economy in the future, and the formation of enterprise marketing idea and brand idea.
Qianzhan Business Information Co., Ltd. Industry Research Center
Research Team of Advertising Industry
China Advertising Industry Report" related reports »