China Woodworking Machinery Industry Production & Marketing Demand and Investment Forecast Report, 2013-2017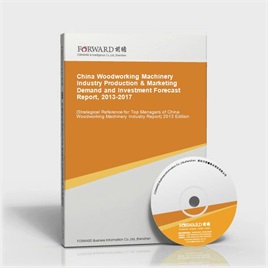 Last Update:2014-04-21
Form of services:Book + (pdf or doc file) + CD
Send method:EMS 2-3 days for delivery
English Service:+86 0755 33220413
Chinese Service:+86 800-8306390 800-8306395
E-mail:service.en@qianzhan.com
Report price:$7900 Print: $7800 CD: $7800
Special statement:
Recently we find there are some sites steal report contents from Qianzhan.com who put those contents on their sites for sale by making a little changes about the contents or remaining the same which deceives buyers(e.g. unable to get full or correct reports, or main body differs from contents that announced on sites).Therefore, we recommend paying a visit to Qianzhan personally or by your friends, and make payment after confirmation. Special statement: Qianzhan is the only and right holder of all the research reports, and has never used a third party to sell any reports, please be aware of the trademark " " when purchasing. Qianzhan is the largest and strongest consultancy, who owns the greatest number of researchers. Here followed "
Nine standards of companies' identificatios
"。
This table of content is original, without written permission of Qianzhan, any unit or individual shall not use, copy, or transfer the reports.
Preface
Table of Content
After half century's development, China woodworking machinery has formed a completed set of development system with Chinese characteristics which includes product design, manufacturing, selling and technical services. China woodworking machinery industry shows a strong recovery capability after experiencing the 2009 Financial Crisis. According to data from State Statistics Bureau, there are 209 woodworking machinery manufacturers of scale; total capital is 9.092 billion Yuan; gross sales revenue is 12.076 billion Yuan with a year-on-year growth rate of 32.74%; total profit is 0.626 billion Yuan with a year-on-year growth rate of 84.40%. Total industry sales revenue in 2011 is 10.09 billion Yuan with a year-on-year growth rate of 27.68%.
Current these years, the fast development of China's economy and people's living standard continuously increase the woodworking demand and provide enormous market space for woodworking machinery. A series of significant strategies approved by government, such as Western Development, Northeastern Old Industrial Base Reconstruction, Urbanization Construction, New Socialist Countryside Construction and Affordable Housing Construction, bring rare development opportunities to the development of woodworking machinery industry.
The middle-end products of China woodworking machinery industry is with strong competitiveness in the international market. The aspects like geometric accuracy, appearance, product structure, performance and noise indicators for China middle-end products are close to the international woodworking machinery. However, the China middle-end products with a more reasonable price, that is a fraction of the international price. In one word, the middle-end products of China woodworking machinery are with high quality and strong competitiveness. Still, view from the technological development status of the whole industry, there is a certain gap of popularity and acceptable level between China woodworking machinery manufacturers and foreign advancing corporations in the aspect of technology innovation. It is an inevitable development trend of synchronous R&D and new products promotion along with the fast development of global furniture industry and woodwork industry. Lack of self-innovation capability and synchronous R&D capability will bring impacts on the survival and development for woodworking machinery corporations.
If China woodworking machinery want to achieve a real all-round go-out, it is necessary to absorb foreign advanced technology combining with China's specific conditions, and operate a self-development road that new products are with independent intellectual property rights. In the following years, the domestic woodworking machinery corporations should enhance R&D and steps towards high-end woodworking products to strengthen the international competitiveness.
This report mainly analyzes the following aspects: industrial chain overview of China woodworking machinery industry; operation condition and balance between production and marketing of woodworking machinery industry; market environment of woodworking machinery industry; market competitive condition of woodworking machinery industry; merger condition of woodworking machinery industry; import and export condition of woodworking machinery industry; leading corporations' operational condition of woodworking machinery industry; market prospects of woodworking machinery industry. Meanwhile, together with the comprehensive and detailed market data which is accumulated for 5 years, Forward helps you to grasp the market and development trends of woodworking machinery industry, so as to win advantages from competition!
Major characteristics of this report are forward-looking and timeliness. Base on the forward-looking analysis of massive research data, we further analyze the development scale and competitive landscape of woodworking machinery industry. Along with the industry development route and our practical experience, we analyze and predict the future development prospect of woodworking machinery industry. This report contains a high value for enterprises like woodworking machinery producing corporations, R&D institutions, sales corporations and investment corporations that they can accurately know the latest industry development trend, obtain market opportunities and determine an insightful operation strategy and development direction.
Here, we'd like to express our sincere gratitude to National Statistics Bureau of China, International Information Institute, National Institute of the Ministry of Commerce, National Tsing Hua University Library, Institute of Market Economy of the State Council Development Research Center, and Beijing Qinghua Forward Market Research Center, etc. Thank you so much!
Notice: all the market data, especially the corporation list data in this report is only for business reference. Please don't take the data for enterprise publicity. Thank you! Or Forward shall not take any responsibility for any consequences!
Qianzhan Business Information Co., Ltd. Industry Research College
Research Team of Woodworking Machinery Industry
China Woodworking Machinery Industry Report" related reports »