China Sewage Treatment Industry Market Research and Investment Forecast Report, 2013-2017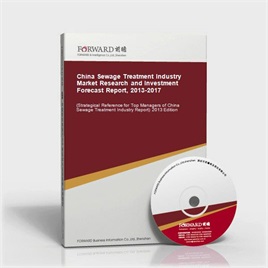 Last Update:2014-04-22
Form of services:Book + (pdf or doc file) + CD
Send method:EMS 2-3 days for delivery
English Service:+86 0755 33220413
Chinese Service:+86 800-8306390 800-8306395
E-mail:service.en@qianzhan.com
Report price:$7900 Print: $7800 CD: $7800
Special statement:
Recently we find there are some sites steal report contents from Qianzhan.com who put those contents on their sites for sale by making a little changes about the contents or remaining the same which deceives buyers(e.g. unable to get full or correct reports, or main body differs from contents that announced on sites).Therefore, we recommend paying a visit to Qianzhan personally or by your friends, and make payment after confirmation. Special statement: Qianzhan is the only and right holder of all the research reports, and has never used a third party to sell any reports, please be aware of the trademark " " when purchasing. Qianzhan is the largest and strongest consultancy, who owns the greatest number of researchers. Here followed "
Nine standards of companies' identificatios
"。
This table of content is original, without written permission of Qianzhan, any unit or individual shall not use, copy, or transfer the reports.
Preface
Table of Content
At present, there is undeniable that human being is facing water crisis. In recent years, China increases efforts to invest in urban infrastructure construction and environmental protection, and strengthen the comprehensive environment treatment, so that effectively control the total amount of emission, and the environment quality in some part of regions and cities has been improved somewhat. However, according to the statistical analysis of environmental monitoring results, China water pollution situation is still very severe. The total amount of every kind of pollutant is large, and the degree of pollution is still at a very high level.
In 2010, the total amount of national sewage discharge was 6.1 million tons, with a year-on-year increase of 3.4%. Since the "eleventh five-year" period, the total amount of sewage discharge has slowed down, decreasing from the around 8% during the "eleventh five-year" period to the around 3% in 2010.
In terms of urbanization degree, China's urbanization development progress has entered an internationally recognized high-speed development period at present. China urbanization level nearly approached to 50% in 2010. It's predicted the development of urbanization will reach around 58%. Through comparing the changing mechanism and rule of urban water consumption with that of construction land use, it's easily found when the national urbanization level increases by 1%, it needs 1.7 billion m3, among which there are 940 million m3of newly increased urban life-water, and there are 760 million m3of newly increased urban industrial-water. With the acceleration of urbanization degree, the water consumption increases. At the same time, since the water discharge increases, the demand for sewage treatment will also increase. Thus, it's an effective way to utilize reuse water to coping with water resource pressure.
As of the end of 2011, the total amount of water resource in China was about 2.4 trillion m3, accounting for 7% of world's total amount of water, ranking the sixth in the world. However, China's population occupies 20% of the world's population, China's per capital water resources is only 1/4 of the world's average level, ranking the 88th in the world, and China has been listed as one of the water shortage countries in the world. At present, among more than 660 cities in China, more than 400 cities lack of water, and 114 of them severely lack of water resource. Although in Yangtze river areas where there are a plenty of water resource, there are 59 cities and 155 counties lacking of water. Among them, there are many water shortage cities belonging to water-quality type shortage cities. The sharp increase of water shortage cities bring into correspondence with urbanization progress.
The water concept in many developed countries is minimizing to reduce to use clean water, reduce the sewage discharge, and realize the cyclic utilization of water resource. The utilization of reuse water has a long history, which can be traced back to the 19th century. In that century, some cities, such as London, Boston, and Paris released the bills of utilizing reuse water. With the increasing improvement of sewage reuse technology, the reuse water plays a wider and wider role in many aspects, such as industry, agriculture and municipal life. In addition, reuse water, as a kind of important water resource, has been widely used in many developing countries around the world. For example, Mexico, Argentina, Brazil, and other countries begin to utilize re-use water. And the reuse water is mainly used in agricultural irrigation. Compared with seawater desalination and inter-basin water diversion, reuse water has lower cost. Moreover, reuse water is helpful for improving ecological environment, and realizing the virtuous circle of water ecology. No matter from technology and economy, or other routines, it's one of the best ways to utilize reuse water to coping with water crisis.
With Forward's long-term tracking and collecting market data of sewage treatment industry, we roundly and accurately analyze the industry structure system for you from the view of mastering the whole industry. This report mainly focuses on analyzing China sewage treatment industry's market capacity, market size, development speed and competitive situation, depending on macro-prosperity of current sewage treatment industry and relying on its production and marketing conditions as well as the demand trend.
The report pay more attention to analyze the production and development of sewage treatment industry; the current market environment and enterprise competitiveness of sewage treatment industry; the market demand characteristics of sewage treatment industry; the competitive landscape and competitive trend of sewage treatment industry; the development situation of product market segmentation of sewage treatment industry; the leading corporations' operational conditions in sewage treatment industry; as well as the development trend and prospects forecast of sewage treatment industry. Meanwhile, with comprehensive and specific first-hand market data over the past 5 years, Forward helps you to grasp the market and development trends of sewage treatment industry, so as to win advantages from competition!
The most distinctive characteristics of this report is forward-looking and timeliness. Through analyzing forward-looking characteristic of abundant first-hand market data, we deeply and objectively dissect China current sewage treatment industry's overall market capacity, market size, competitive landscape and characteristics of market demand. Furthermore, based on future development tracks and years' practice experience of sewage treatment industry, we conduct prudent analysis and forecast for sewage treatment industry's future development trend. This report helps sewage treatment enterprises, R&D institutions, and investment enterprises to precisely grasp current latest developments of the industry. Afterwards, they can make wise operating decisions and define enterprises' development directions. Moreover, this report is the first and weighty report on analyzing the upstream and downstream industrial chain of sewage treatment industry and analyzing its leading corporations in an all-round and systematical way.
Here, we would like to express our sincere gratitude to Ministry of State Information Center, Bureau of Statistics of China, China Customs, International Information Research Institute, Chinese Academy of International Trade and Economic Cooperation, Tsinghua University Library, Development Research Center of the State Council and Beijing Essence Forward Research Center, for their great support when we conduct this report!
Notice: ⑴ In 2011, the National Bureau of Statistics revised the standard for enterprise above designated size, increasing from the 5 million Yuan before to 20 million Yuan at present. If there is no any special notice in this report, the relevant fiscal data on sewage treatment industry will comply with to the new statistical caliber. ⑵All the market data, especially corporations' ranking data in the report, only for business reference. Please do not take the data for enterprise publicity. Thank you! Or Forward shall not take any responsibility for any consequences!
Qianzhan Business Information Co., Ltd. Industry Research Center
Research Team of Sewage Treatment Industry
China Sewage Treatment Industry Report" related reports »