China Satellite Application Industry Market Forecast and Investment Strategy Planning Report, 2013-2017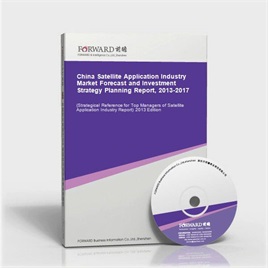 Last Update:2014-05-26
Form of services:Book + (pdf or doc file) + CD
Send method:EMS 2-3 days for delivery
English Service:+86 0755 33220413
Chinese Service:+86 800-8306390 800-8306395
E-mail:service.en@qianzhan.com
Report price:$7900 Print: $7800 CD: $7800
Special statement:
Recently we find there are some sites steal report contents from Qianzhan.com who put those contents on their sites for sale by making a little changes about the contents or remaining the same which deceives buyers(e.g. unable to get full or correct reports, or main body differs from contents that announced on sites).Therefore, we recommend paying a visit to Qianzhan personally or by your friends, and make payment after confirmation. Special statement: Qianzhan is the only and right holder of all the research reports, and has never used a third party to sell any reports, please be aware of the trademark " " when purchasing. Qianzhan is the largest and strongest consultancy, who owns the greatest number of researchers. Here followed "
Nine standards of companies' identificatios
"。
This table of content is original, without written permission of Qianzhan, any unit or individual shall not use, copy, or transfer the reports.
Preface
Table of Content
In 2010, the global satellite industry achieved 168.1 billion US dollars of revenue, with an increase of around 5%, among which there was 101.3 US dollars of satellite services revenue, accounting for about 60%; there was 10.8 billion US dollars of satellite manufacturing revenue, including 5.6 billion Yuan of US dollars for USA satellite manufacturing revenue; there were 54 satellites having been launched, with the revenue of 4.3 billion US dollars, including 1.2 billions US dollars revenue in USA; and there was 51.6 billion Yuan of satellite earth equipment. In 2010, there were more than 900 orbit satellites around the world, among which there were 400-500 satellites in USA, while China only accounts for 1/10 of USA.
The satellite and its application are an important component of China strategy emerging industries, mainly including satellite manufacturing, launch, operation and the manufacturing and services of earth equipment, and so on, among which satellite navigation, broadcasting communication, and satellite remote sensing are the mainstream of satellite application market. In recent years, satellite and its application industries have played a vital role in each field of national economy, and fleetly infiltrate into traditional industries, presenting the high growth and industry integration capabilities as well as promoting the adjustment of industry structure and transformation of development ways. It's predicted China will have hundreds of satellites in orbit and forms a pretty perfect satellite application system, in order to lay a good foundation for the fast development of satellite application industry at the end of "Twelfth Five-year" Plan. China satellite application industry will usher in a fast development period in the future.
As a segment of satellite industry——satellite navigation industry will enter an explosive growth period with the establishment of Beidou, or COMPASS, navigation satellite system in Asia-Pacific Regions. China satellite navigation industry started in 2002, only with a market size of 4 billion Yuan in the year of 2003. In recent years, with the implementation of the major engineering project, China "industrialization of satellite navigation application", the consumer market increases swiftly and the size of national satellite navigation application market doubles every two years. China launched the eighth, ninth and tenth Beidou Navigation Satellites in April, August, December of 2011 respectively. The tenth navigation satellite is the fifth synchronous orbit of Beidou navigation system network. This successful launch marks a great step for the construction of China Beidou regional satellite navigation system.
At present, Beidou satellite navigation system has basically been established, which provides China and surrounding areas with continuous navigation and positioning, timing commissioning services, to meet the needs of transportation, fishing industry, forest industry, meteorology, telecommunication, water conservancy and mapping industries. In accordance with "Three Steps" development strategy, Beidou satellite navigation system will possess services capability for Asia-Pacific Regions. By around 2010, Beidou satellite navigation industry will become a global coverage of large-sized aerospace system, with more than 30 satellites, surface zones and all kinds of user terminals. So far, it has expanded to more than 50 billion US dollars, with a compound average growth rate of over 50%. It's predicted the industrial output value of global satellite navigation industry will increase to 400-500 billion US dollars.
During the "Twelfth Five-year" Plan period, there are some major projects related to Beidou satellite application: the State Grid plans to invest more than one trillion Yuan in constructing the "National Intelligence Grid Project", which includes Beidou system; National Disaster Reduction Center of Ministry of Civil Affairs plans to invest more than 10 billion Yuan in building a "Beidou disaster reduction information system"; the Ministry of Transport plans to investment hundreds of millions Yuan in constructing "key transportation model monitoring and management providers demonstration projects", based on Beidou system; and some systems of "Beidou hydrological monitoring" by the Ministry of Water resources, the "Beidou Timing System" by the Ministry of Industry and Information Technology, and the "Beidou Decision Support System for Emergency Management of Marine Disasters" by the State Oceanic Administration have been approved and begin to construct.
With the growing competition in satellite application industry, acquisition and capital operation among large enterprises become more and more frequent. The domestic excellent satellite application manufacturing enterprises pay more attention to the industry market research, especially to the in-depth researches on the industry development environment and product buyers. Because of this, a large number of excellent satellite application market brands rise up rapidly, and gradually become leading corporations in satellite application industry!
The report mainly analyzes the development environment of China satellite application industry; the development situation of satellite application industry; the development situation of satellite navigation market; the market situation of satellite navigation application fields; the market situation of satellite broadcasting communication; the development situation of satellite remote sensing market; the development situation of satellite application industry in key regions; the leading corporations' operational conditions in satellite application industry; as well as the investment analysis and prospect forecast of satellite application industry. Meanwhile, with comprehensive and specific first-hand market data over the past 5 years Forward helps you to grasp the market and development trends of satellite application industry, so as to win advantages from competition!
The most distinctive characteristics of this report is forward-looking and timeliness. Through analyzing forward-looking characteristic of abundant first-hand market data, we deeply and objectively dissect China current satellite application industry's overall market capacity, market size, competitive landscape and characteristics of market demand. Furthermore, based on future development tracks and years' practice experience of satellite application industry, we conduct prudent analysis and forecast for satellite application industry's future development trend. This report helps satellite manufacturing enterprises, satellite launch enterprises, satellite navigation enterprises, satellite communication enterprises, satellite remote sensing enterprises, R&D institutions and investment enterprises to precisely grasp current latest developments of the industry. Afterwards, they can make wise operating decisions and define enterprises' development directions.
Here, we would like to express our sincere gratitude to State Information Center, Bureau of Statistics of China, International Information Research Institute, Chinese Academy of International Trade and Economic Cooperation, Tsinghua University Library, Development Research Center of the State Council and Beijing Essence Forward Research Center, for their great support when we conduct this report!
Notice: All the market data, especially corporations' ranking data in the report, only for business reference. Please do not take the data for enterprise publicity. Thank you! Or Forward shall not take any responsibility for any consequences!
Qianzhan Business Information Co., Ltd. Industry Research Center
Research Team of Satellite Application Industry
Satellite Application Industry Report" related reports »